Here is your ultimate and complete travel guide to the tourist spots in Ifugao!
Ifugao is world-renowned for its majestic Banaue Rice Terraces. These man-made structures signify the brilliant and ancient engineering skills of the Ifugao people. If connected from one end to another, these terraces can span halfway around the globe.
But more than these earthen masterpieces, Ifugao also boasts of other eco-cultural wonders. In fact, the rice terraces are just icing to what Ifugao could potentially offer.
As usual, many of the spots I included are off-beaten. This means that they are unspoiled by the impacts of mass tourism. It is my hope that showcasing them would lead to sustainable management. This will not only sustain the natural environment and protect local culture but also promote community-based development.
Now, here are the top 20 must-see Ifugao tourist spots.
1. Tappiyah Falls
Tappiyah falls is one of the most popular tourist spots in Ifugao. It cascades on the face of a massive rock cliff for more than 75 meters. Because of its sheer water volume and force, it created a wide and deep pool.
To get here, one needs to hike for about an hour. The initial trail cuts across the famed Batad Rice Terraces. Later, one then hikes down a steep slope. This is the most challenging part of the trek especially during the ascend back.
But the exhaustion will eventually dissipate as one finally gazes on the majestic beauty of Tappiyah falls. Its waters are cold and crystal-clear. They emanate from the mossy forests of Mt. Amuyao and its adjacent ridges.
Location/Jump-Off: Brgy Batad, Banaue, Ifugao
Trekking Time: 30 minutes to 1 hour
Guide Fee: Php 600 (up to 4 pax)
Entrance/Heritage Fee: Php 50 each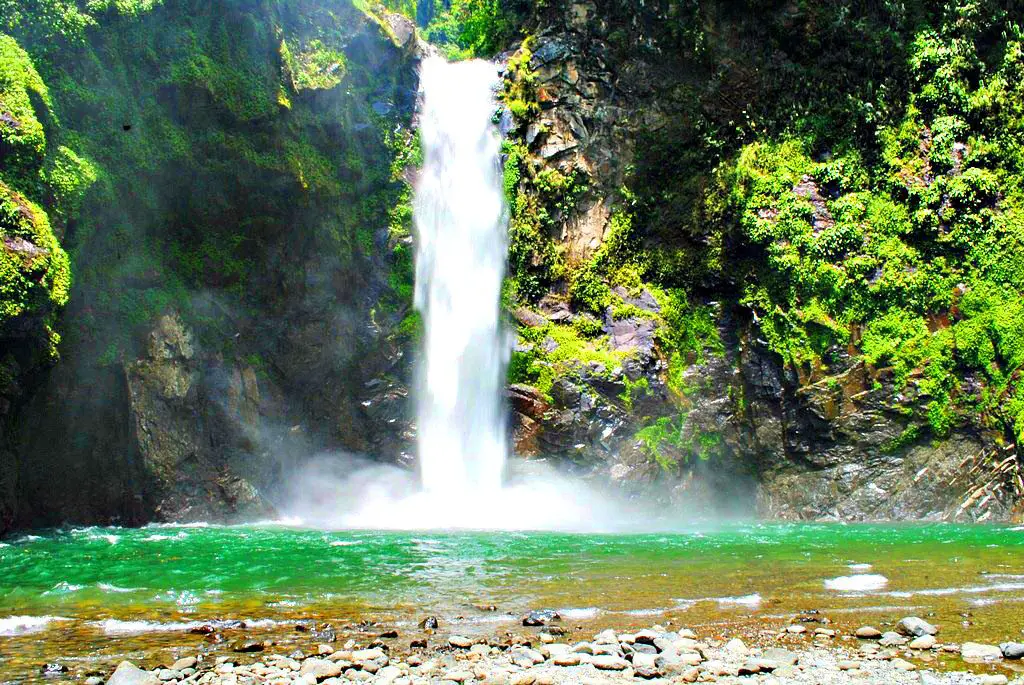 2. Batad Amphitheater Terraces
Batad Amphitheater Terraces are easily recognizable tourist spots in Ifugao. From the vantage viewpoint, the terraces look like a cascading waterfall.
One could just imagine how the Ifugao's ancestors were able to build such an earthen structure using only wooden tools and stones. For sure, the locals were would have a lot of stories to share. Not just historical stories but legends as well.
Far from what many of us know, the rice terraces are not merely a showcase for tourism. They are lasting testimonies of the ancient engineering skills of the people. They provide rice and vegetables for the community. And these terraces show how the people and their natural environment have been living in harmony for centuries.
Location: Brgy Batad, Banaue, Ifugao
Entrance Fee: Php 50
Guide Fee: Php 600 (up to 4 pax)
Read: Eighth Wonder of the World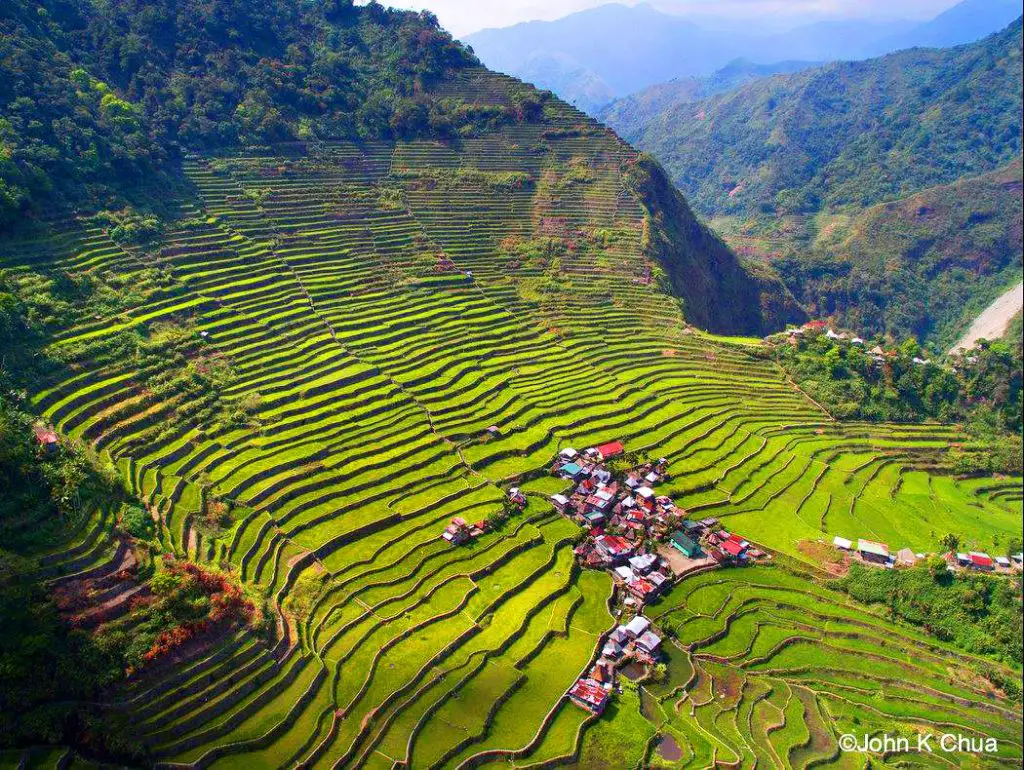 3. Mt. Napulauan
Mt. Napulawan projects one of the most fascinating views in Ifugao. It rises to more than 2,642 meters above sea level. Mt. Napulawan is derived from the Ifugao term, "Tuwale," which literally means, white. Perhaps, this is because of the cloud and fog which perpetually cover the mountain. Locals also say that Bibiyo ( a fairy) guard the mountain.
To reach its peak, one needs to hike for six to seven hours from Ny-o campsite. The trail passes along beautiful mossy forests. One notable spot is the so-called dead lake. It could be a quicksand covered in dense moss, similar to the Siblaw Taraw in Barlig.
The summit of Mt. Napulawan offers breathtaking sights of Ifugao and the adjacent mountain ranges. Mt. Tabayoc, Mt. Pulag, and Mt. Amuyao are visible from here. Occasionally, a stunning sea of cloud formations can also be seen.
Location/Jump-Off: Brgy Bokiawan, Hungduan, Ifugao
Entrance Fee: Php 100
Guide Fee: Php 1000 each
Trekking Time: 9 hours-1 to 2 days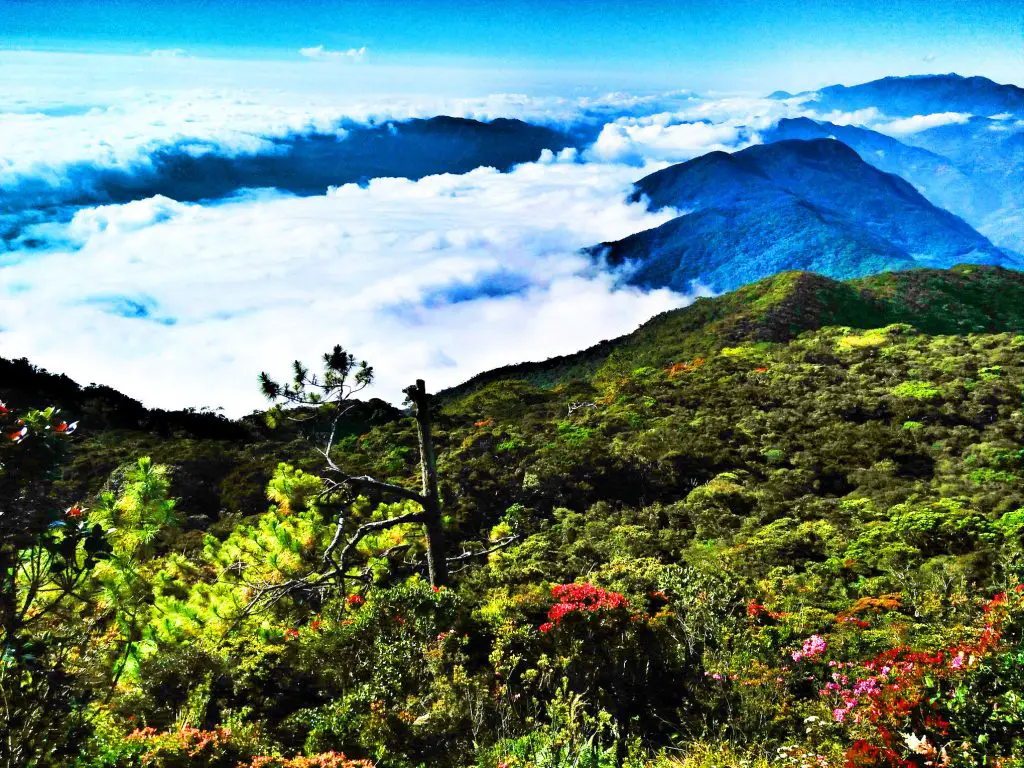 4. Hungduan Rice Terraces (Hungduan)
Banaue Rice terraces are obviously overrated. If you are looking for a more rustic view of terraces, then do visit those of Hungduan. They don't make it to the top of Ifugao's tourist spots. But visiting them would really make a difference in your trip.
The most popular in Hungduan are Hapao Rice Terraces, the Bacung Spider Web Terraces, and the Dakkitan Rice Terraces. Each of these has a unique feature to offer.
Abundant brooks and rivers from the mountains provide water to these terraces all year round. They yield premium heirloom rice varieties. For those who don't know, heirloom rice is organically-grown. They are known for their distinct taste and nutritional value as compared to commercial rice.
Location/Jump-Off: Hungduan, Ifugao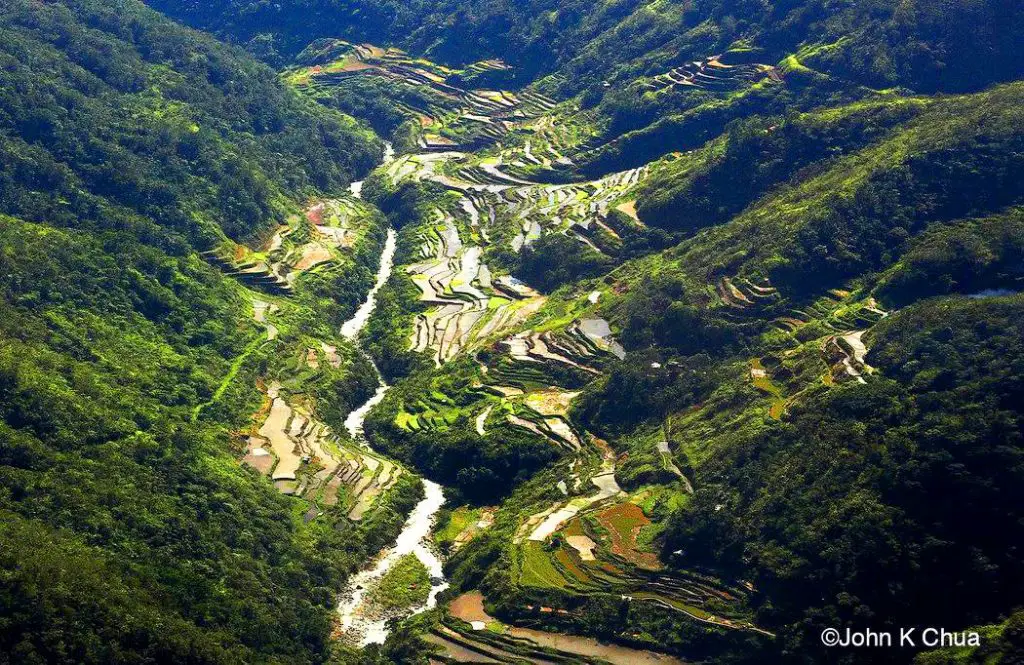 5. Mayoyao Rice Terraces (Mayoyao)
These are clusters of beautifully-carved terraces in the said municipality. They are some 44 kilometers away from Banaue proper. The municipal center of Mayoyao itself is surrounded amidst majestic rice terraces. One interesting spot here are the dikes which are tiered with flat stones.
Just like most of Ifugao's rice terraces, the forested mountains provide abundant water supply all year round. Locals say that tourists could side trip to several uncharted falls of Mayoyao. These nestle deep on the distant mountains, bordering the municipalities of Barlig and Natonin in Mountain Province. These mountains are also local game reserves and host endangered species such as deer and wild pigs.
Location/Jump-Off: Mayoyao, Ifugao
Trekking Time: Minutes from the Community
Guide Fee: Donation
Entrance Fee: None
6. Kiangan Shrine
Kiangan Shrine is one of the historical tourist spots in Ifugao. It signifies the locals" valiant resistance against the Japanese invaders. In fact, this is where Gen. Yamashita and his troops informally surrendered, thus, ending World War II in the Philippines.
Upon the orders of former Pres. Ferdinand E. Marcos, the Shrine was established by the Philippine Tourism Authority with the cooperation of the provincial government of Ifugao and the municipality of Kiangan, on April 19, 1973.
A museum is also built within the shrine's compound. This showcases the rich culture and traditions of the locals. Visiting this place, therefore, leads you into both the historical and cultural fabrics of Ifugao.
Location/Jump-Off: Kiangan, Ifugao
Entrance Fee: None
Guide: Not Necessary
7. Mt. Nagchayan
Mt. Nagchayan rises to more than 1,455 MASL. It was a battleground during the Japanese invasion. Both the locals and the Americans pursued relentless drives until the Japanese finally surrendered. Several grottos and stonewalled trenches and foxholes can be found here.
There are also old rustic shells scattered on the site. Still, this mountain can make up your trek worth it if you simply want to experience nature's beauty.
After all, climbing here would reward you views of rice terraces and surrounding mountain ranges. And the trail to its summit is just as rustic as in many other famous mountains.
Location/Jump-Off: Brgy Chaya, Mayoyao, Ifugao
Trekking Time: 30 minutes to 1 hour
Guide Fee: Donation
Entrance Fee: None
8. Bintakan and Nah-toban Caves
Bintakan cave is nestled on the slopes of Ibulao, some 2 kilometers away from the provincial capital. It contains three major chambers. The dripping waters formed various stalactite and stalagmite rock formations of various shapes and sizes.
To get here, ride a tricycle and from the trailhead, walk for some 20 minutes to reach the cave's mouth. By the way, the entrance overlooks the Ibulao River. On the other hand, Nah-toban has much bigger rooms. So far, only four of these have been explored and assessed for tourism. It hosts colonies of bats. Thus, guano (bat pooping) can be seen all around.
Location/Jump-off: Lagawe, Ifugao
9. Buyukan Falls
Buyukan Falls can be reached via a three-hour walk from Poblacion. Expect to walk on forested trails. Thus, it is only recommended for experienced hikers. During rainy months, leeches abound. So it's best to visit the falls during the summer.
By the way, this is already between the border of Tinoc and Hungduan. The waters of the falls emanate from the mossy forests upstream. Take note. The mountain ridges of Tinoc and Hungduan along with Banaue and Mayoyao still host pristine forests. These are also a potential come-on. Thus, the local authorities must implement strict measures to protect and sustainably manage these resources.
Location/Jump-Off: Poblacion, Hungduan, Ifugao
Trekking Time: 3 hours
10. Ambuwaya Lake
Don't expect buwaya (Filipino term for crocodiles) when you come here. Because there are none. However, the lake does hold mysteries of its own. According to a local legend, the lake used to be a community. It suddenly turned into a lake after some children killed and made fun of leeches on a nearby spring.
Ambuwaya lake offers a serene and enchanting view. Boating, fishing, or swimming can be done here. In fact, it is becoming a favorite picnic site among the locals. Verdant vegetation surrounds the lake, giving it a rustic atmosphere. Hopefully, the locals will continue to responsibly manage the lake.
Location/Jump-Off: Brgy Ambabag, Kiangan, Ifugao
Trekking Time: Minutes from the Community
Guide Fee: Donation
Entrance Fee: None
11. Tenogtog Falls
Tenogtog falls is a three-layered falls with pools in between. According to locals, Tenogtog is an Ifugao word which means, "chopped." The falls is named as such because this is where hunters used to chop the meat of deer or wild pigs. Interestingly, they share the chopped meat with passersby.
Getting here can be a challenge though it only takes some 30 minutes of moderate walk. But the trail is usually slippery. There are other layers of the falls, however, only the last descend is visible.
One would need to climb an adjacent ridge to catch a glimpse of the other falls. However, the entire falls is visible from the opposite mountain. Oh, how I would love to conquer all these when I visit.
Location/Jump-off: Brgy Mapawoy, Mayoyao, Ifugao
Entrance Fee: Php 45 each
Contact: Ms Carolina Kimmayong- (globe) 09260643459or (smart) 09282957995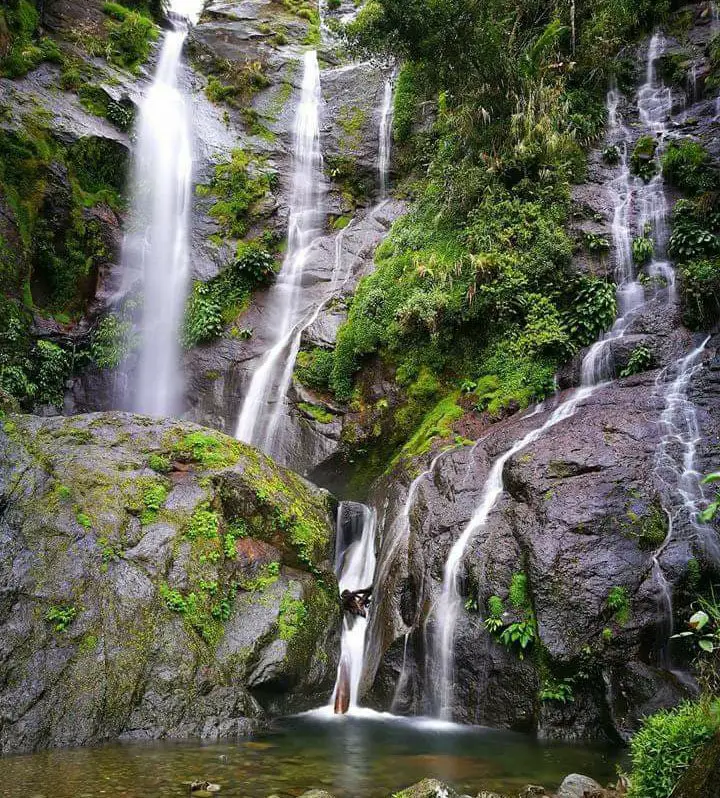 12. Mt. Anapowan
Mt. Anapowan towers over the landscape of central Ifugao. It is being eyed as a premium mountaineering and camping site. From its summit, one can witness a breathtaking view of Hungduan including its forest-covered peaks and majestic rice terraces. The low-lying municipalities of Kiangan and Lagawe, as well as the rice terraces of Hingyon, are also visible from here.
13. Nagacadan Rice Terraces
These terraces are less popular but such that should make up to your bucket list. They are nonetheless, among the most preserved in Ifugao, away from the damaging impacts of mass tourism. Interestingly, these terraces portray the intimate connection of the locals to their forests. In fact, the Muyung system still plays an integral role.
As a backgrounder, Muyung is a preserved lot of forest. This supplies wood, and even wildlife to the communities sustainably. More importantly, they provide water for irrigating the rice terraces all year round. Nagacadan terraces, therefore, exemplify the crucial need for preserving forests.
Location/Jump-Off: Kiangan, Ifugao
Trekking Time: Minutes from the Community
Entrance Fee: None
Guide Fee: Donation
14. Balentimol Falls
Balentimol Falls is one of the several hidden waterfalls found in Hungduan. It lies on the foot of famed Mt. Napulawan and hikers can do a side trip here before or after assaulting the mountain's summit. Balentimol falls measures around 30 feet high. It cascades like drizzles from the heavens.
The sheer sight of it gives a rewarding and soothing experience. The best way to enjoy the falls is to position on its base while its waters give a rejuvenating massage. Oh, the surrounding trees and vegetation are added beauty to see.
Location/Jump-Off: Brgy Abatan, Hungduan, Ifugao
Trekking Time: 20 minutes
Guide Fee: Donation
15. Bogyah Hot Spring
Bogyah Hot Spring lies beside the Hungduan river. Its sulfuric waters offer a healing and a relaxing bath. A pool has been erected to contain the thermal waters. This can fit around 10 individuals. According to the locals, the spring emanates from rock crevices. The spring's presence shows that there might be a nearby volcano.
After dipping in the spring, you can then take a cold bath on the rapids and pools of the Hungduan river. Its waters are crystal-clear. They teem with endemic marine species such as small fishes, eels, and crabs. The best time to come here is during the summer months for one to enjoy the full beauty of the river.
Location/Jump-Off: Brgy Hapao, Hungduan, Ifugao
Trekking Time: 40 minutes
Guide Fee: Php 300
16. Pikhu Falls
Unlike most falls, Pikhu falls cascades in a sliding and gentle manner. It has an estimated height of more than 20 meters. It has no pool since big boulders cover its base. However, visitors can lay down on its cascade and feel the relishing effect of its waters.
Beautiful rainforests surround the waterfalls. This makes it a perfect getaway for those seeking complete nature immersions. Since it is not yet well-established as a tourism site, getting here can be quite challenging. You will need an experienced local to guide you here.
But fret not, the sheer serenity and beauty of the falls and its surrounding will make up your trek. Obviously, this is one of the remote tourist spots in Ifugao.
Location/Jump-Off: Mayoyao, Ifugao
Trekking Time: 30 minutes to 1 hour
Guide Fee: Donation
Entrance Fee: None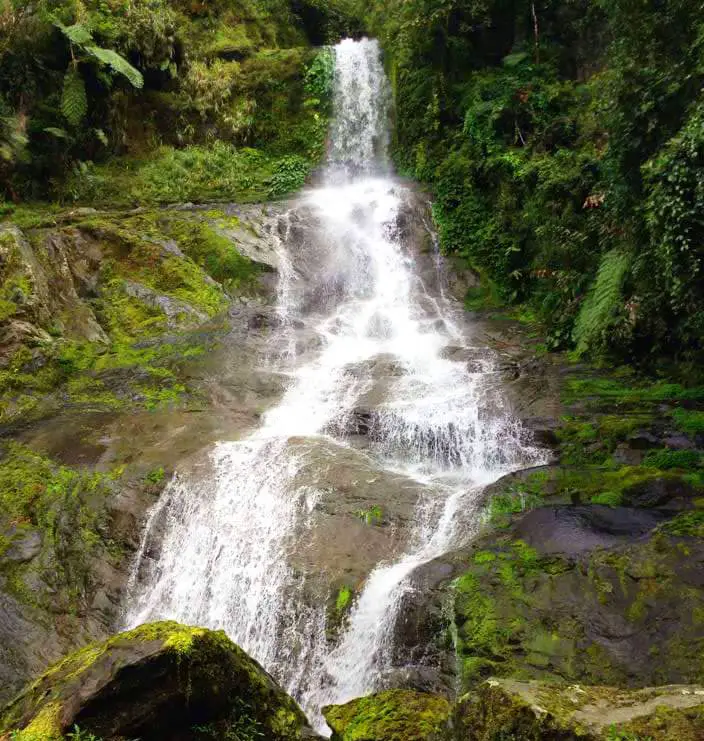 17. Pangagawan Caves
Pangagawan Cave is one of the hidden gems found in barangay Bolog. To get here, one has to hike for two hours through forested trails. Expect you might catch sight of unique flora and fauna along the way. Inside the cave, there are tight spaces and literally, you will need to squeeze yourself to get deeper. You will also get wet and muddy. After all, there is a running stream inside.
As you tread on this stream, a waterfall awaits you. You bet! Its waters are crystal-clear. All in all, the nooks and crannies of the cave can be explored in two-three hours. Among the tourist spots in Ifugao, this will certainly hit the media in the near future.
Location/Jump-Off: Brgy Bolog, Kiangan, Ifugao
Contact: 0920 467 1020 (Municipal Tourism Officer)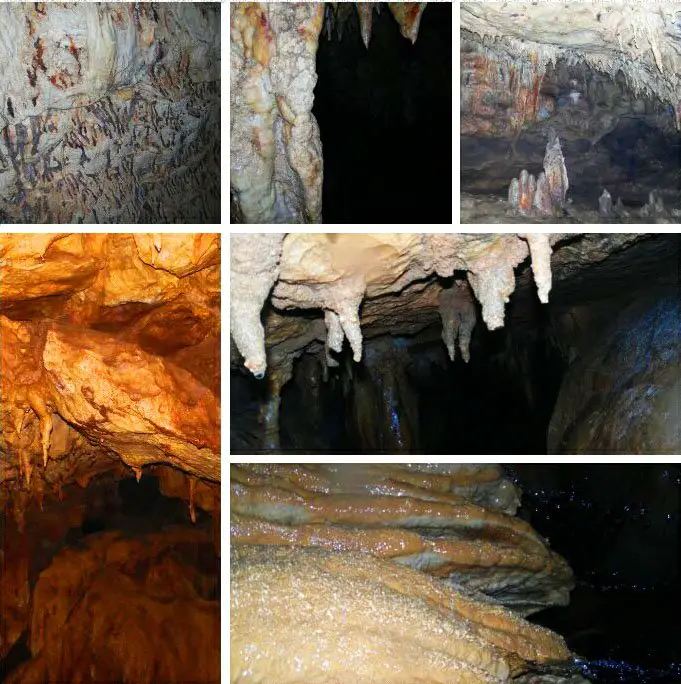 18. Apho-or Burial Tomb
The Ifugaos are known for their stone-walled terraces. But did you know that they also used their skill in erecting tombs? The Aphfo'or certainly proves this. These are usually rounded structures built using stone walls. The dead were placed inside in a sitting position. The structure protects the corpse from rodents.
As per local customs, only well-to-do persons are buried in tombs. Interestingly, the Ifugao ancestors built the structures using their bare hands. It must have been difficult but they did it! These are masterpieces indeed.
Just like the rice terraces, these should also be maintained as potential come-ons. But they should be handled with sensitivity. It should be up to the community in the end. Definitely, this is one of the cultural tourist spots in Ifugao.
Location/Jump-Off: Mayoyao, Ifugao
Trekking Time: Minutes from the Community
Guide Fee: Donation
Entrance Fee: None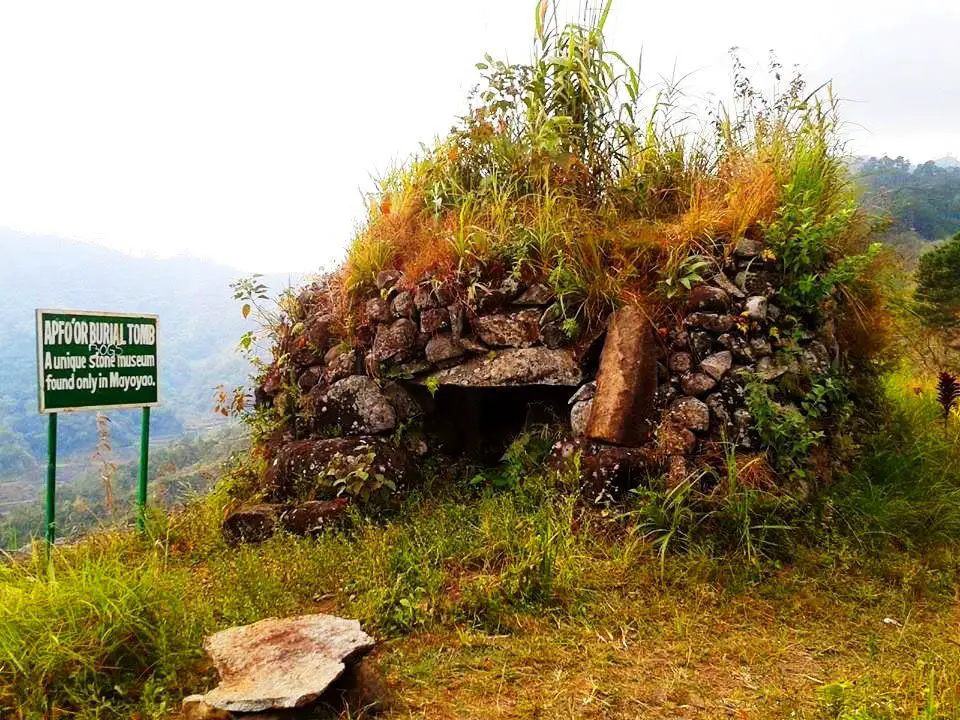 19. Bangaan Rice Terraces
This is one of the five rice terraces of Ifugao listed in the UNESCO World Heritage Sites. While it is less popular, it stands out as the most accessible. It also offers a more rustic setting since there are only a few families living here.
Location/Jump-Off: Brgy Bangaan, Banaue, Ifugao
Trekking Time: Minutes from the Community
Guide Fee: Donation
Entrance Fee: None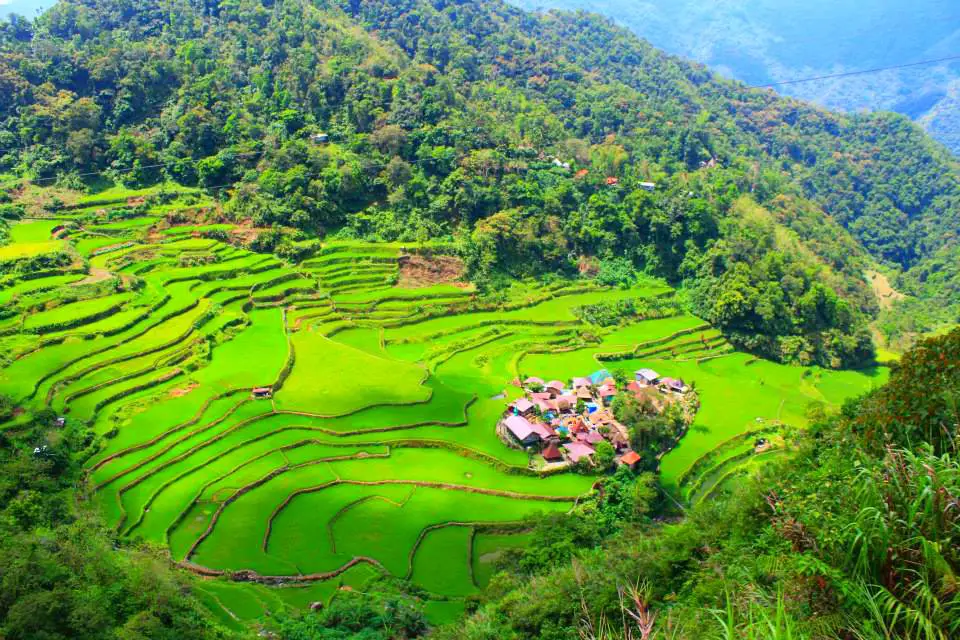 20. Bagnit Falls (Kiangan)
Bagnit Falls roars down for more than 120 meters. This makes it one of the highest falls in Ifugao. It cascades in a multi-layered manner, making it ideal for canyoneering and rappelling.
To get to the falls, follow the Kiangan-Tinoc road, pass through Nagacadan, enter Barangay Julongan and stop at Awwa. From Awwa, follow the irrigation canal towards the falls.
The roar of the waterfalls will let you know that you're in the right trail. Usually, the trek takes more or less an hour. More than its beauty, the falls feeds nearby rice terraces. Certainly, proper promotion will push this as one of the main tourist spots in Ifugao.
Location/Jump-Off: Brgy Julongan, Kiangan, Ifugao
Trekking Time: 30 minutes to 1 hour
Guide Fee: Donation
Entrance Fee: None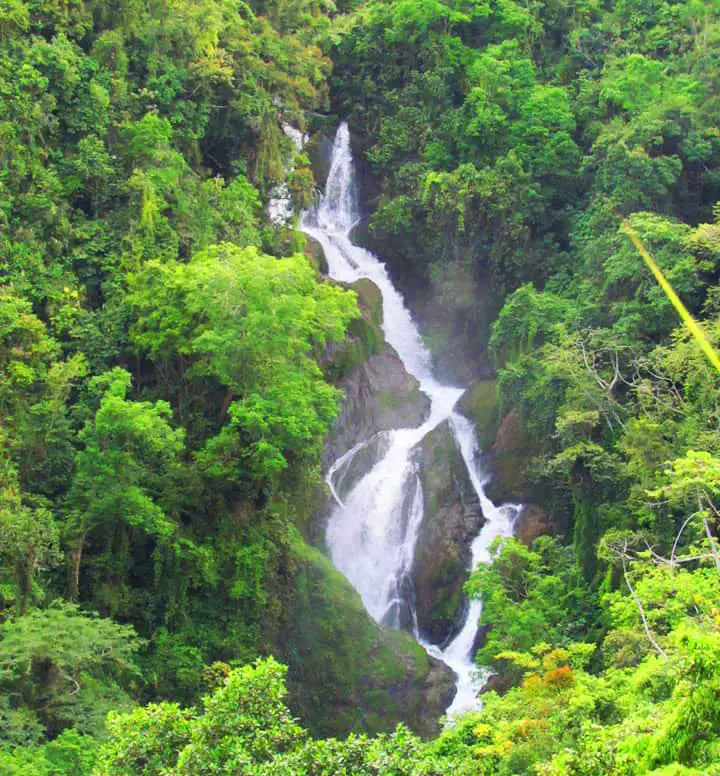 For your information needs:
If you need further information that may help in setting up your itinerary to the tourist spots in Ifugao, simply ask them in the comment section below. You can also message us on our facebook page namely, Daniel's Eco-Travels. I will be more than glad and willing to answer them whenever I can:)
You may also message the Provincial Tourism Office on their Facebook account here.
Related Articles:
Please follow and like us: