Learn about the best Capiz tourist spot in this comprehensive article. Home to many untouched wonders, Capiz tourist attractions are semblances of the province's rich culture, nature, and history. Journey to this eco-destination and know about a famous Roxas City tourist spot.
Capiz is the second island within the Philippine archipelago, where Ferdinand Magellan arrived centuries ago. It is now rising as one of the best eco-tourism spots in the Philippines.
Its ridge-to-reef landscapes teem with unspoiled ecological wonders such as pristine waterfalls, mystical caves, off-beaten beaches, uncharted forests, and scenic mountain peaks.
Meanwhile, its towns and capital city host an amazing variety of cultural and historical destinations, some dating back to Spanish times. It's more fun here, indeed.
In this article, we covered not only the famous tourist spots in Roxas City or other parts of Capiz but also its off-beaten attractions.
We hope to showcase these to promote community-based development, vis-à-vis environmental protection, and cultural integrity promotion.
Let's go.
Quick Facts
Location: Western Visayas Region
Capital: Roxas City
Municipalities/Cities: Panay, Tapaz, Sigma, Mambusao, Pilar, Roxas City, President Roxas, Dumalag, Ivisan, Jamindan, Sapian, Maayon, Dao
Population: 761,384 (2015 Census)
Major Languages: Capiznon, Hiligaynon, Aklanon, Kinaray-a, Igbok, English
1. Suhot Cave and Spring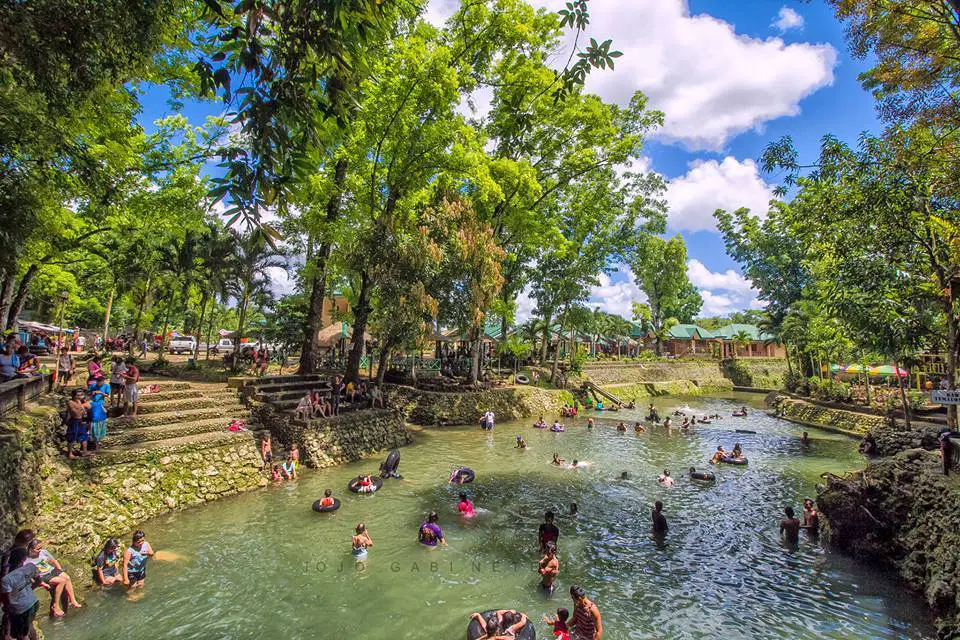 Although it does not contain many stalactite or stalagmite rock formations, Suhot Cave is worth exploring as you'll get to hear a lot of interesting stories about it.
Plus, there is a nearby spring gushing out from the rocks where you can have a rejuvenating swim. Locals love coming here to enjoy the natural scenery and unwind.
It is one of the best places to see in Capiz. Today, it is a top-rated Capiz tourist spot.
Location/Jump-off: Brgy Dolores, Dumalag
2. Pangilatan Falls
Pangilatan Falls compose of multiple layers. The main cascade has a height of 81 feet with crystal-clear waters that will surely give you a refreshing bath.
Enjoy chasing as many waterfalls as you can and relishing the unique beauty of each. The lush vegetation adds to make this destination worth it for a lifelong adventure.
Location/Jump-off: Brgy Artuz, Tapaz
3. Baybay Beach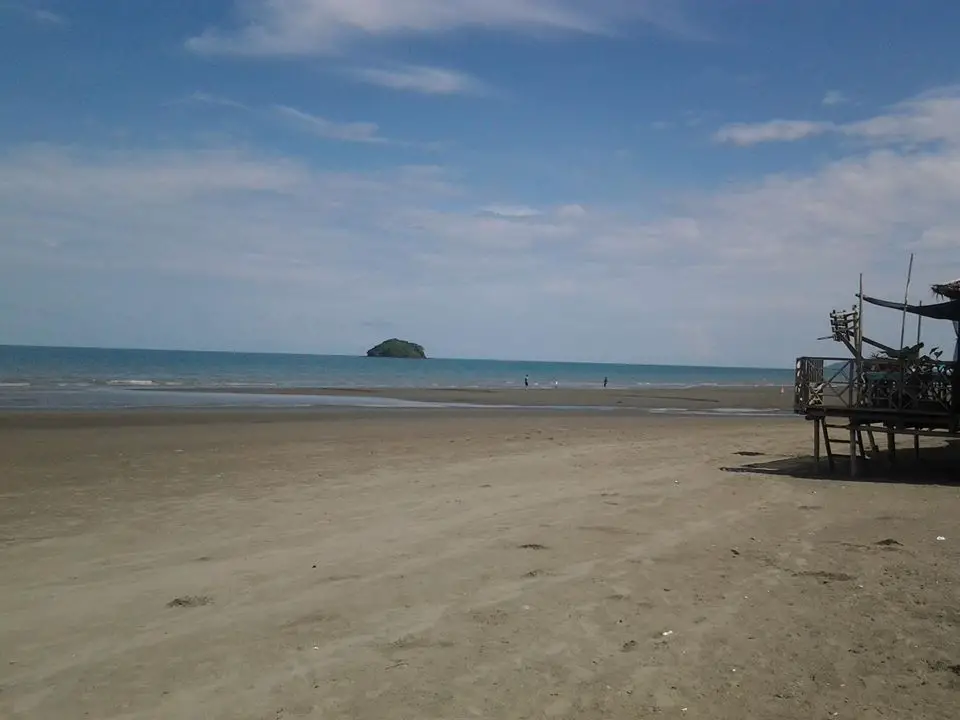 Baybay Beach is one of the most accessible Capiz tourist attractions. It boasts a 7-kilometer stretch of powdery black sands and calm seawater.
Among the favorite activities, you can do aside from swimming here are kayaking and snorkeling. Marine life is diverse and thriving. Baybay Beach is also one of the best spots to taste authentic seafood, and numerous stalls stretch on the side.
From here, you'll even chance a jaw-dropping view of the sunset.
Location/Jump-off: Roxas City
4. Kipot Cave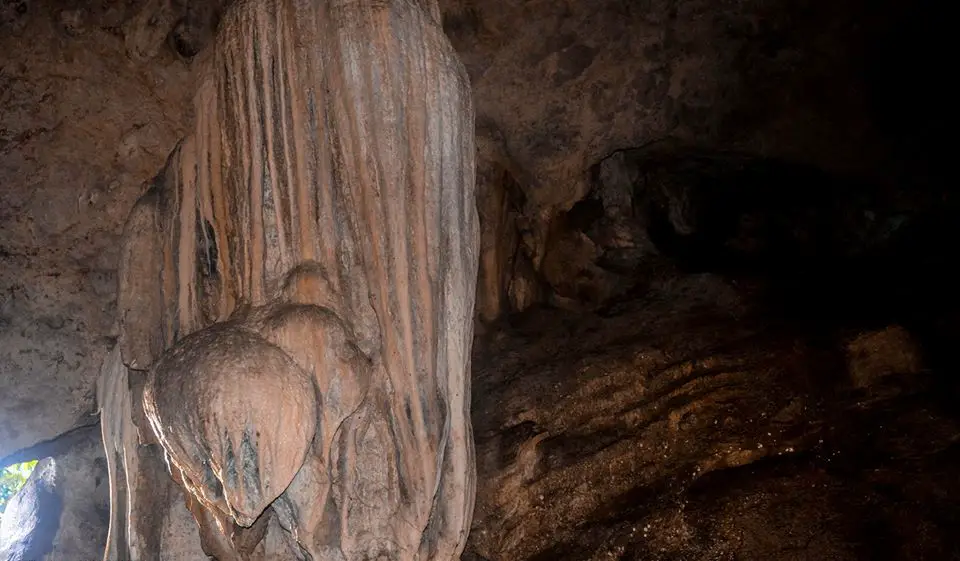 Kipot Cave consists of various chambers, each with different features to offer. At some point, you need to crawl on your belly to get across and go deeper into the cave.
The most popular chamber is called Kipot Hilton, which is as big as a hotel ballroom. The forests surrounding the cave are one of the most pristine in the province.
These are home to various wildlife species such as deer, birds, and wild ducks. There is also a crystal-clear stream where you can splash and swim after spelunking. Kipot Cave remains an underrated tourist attraction in Capiz.
Location/Jump-off: Brgy Burias, Mambusao
5. Malinamon Falls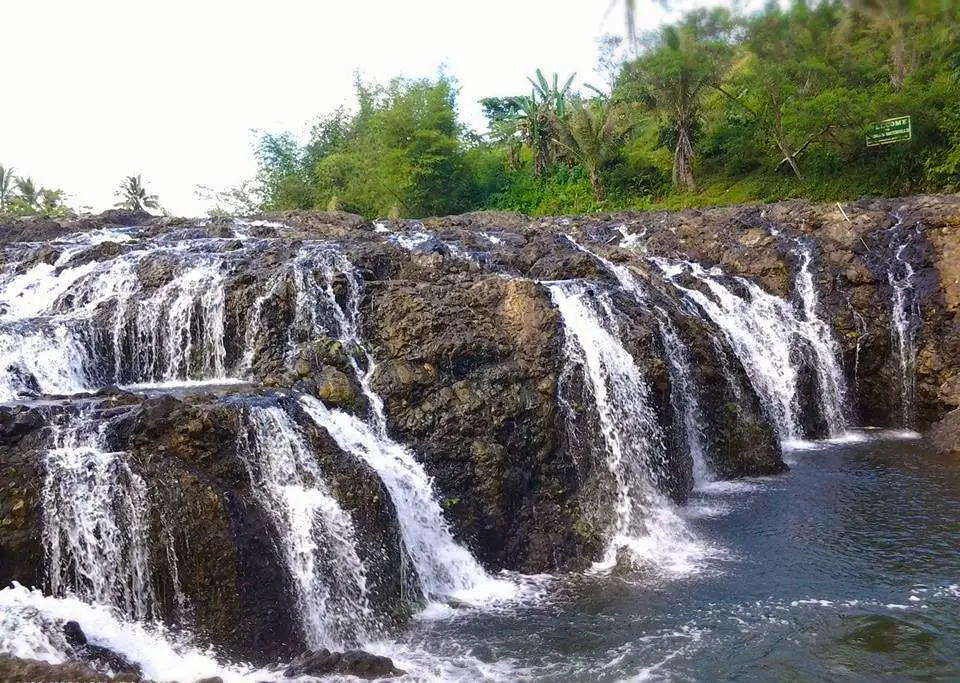 Malinamon Falls is a newly-discovered Capiz tourist spot. It plunges into a beautiful catch basin with crystal-clear and churning waters.
Because of the strong current, only physically fit people are advised to swim in the pool. Other daring souls climb to the top of Malinamon Falls as they let the cascading waters massage them.
The waterfall makes up for a perfect getaway to escape the simmering midday heat.
Location/Jump-off: Jaminda
6. Lahab Cave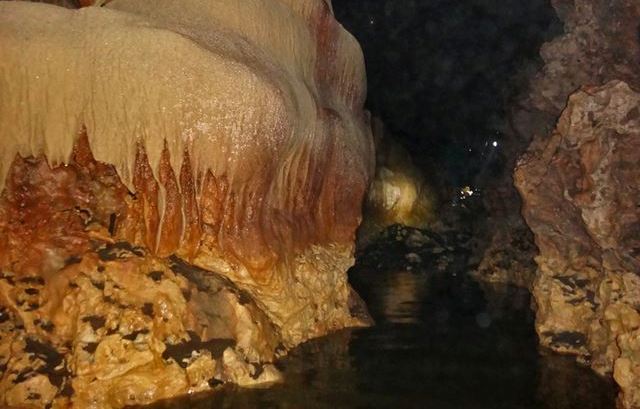 If you're after the best stalactite and stalagmite rock formations in the province, check out Lahab Cave. As you go deeper, crystalline walls and glistening pools will constantly amaze you at every turn.
The cave's floor abounds with terraced-looking pools. It's one of the rising tourist spots in Dumalag, Capiz. 
Location/Jump-off: Brgy San Miguel, Dumalag
Trekking Time: 30-45 minutes
7. Palina Greenbelt Ecopark
Palina Greenbelt Ecopark offers river cruising. The placid Palina River stretches at the heart of the park. Here, you'll get the chance to ride a floating restaurant with a nipa hut perched on a bamboo raft.
As you indulge in sumptuous seafood meals, the raft will take you across mangroves, fish ponds, and some communities along the river bank. You can also try a foot spa or body massage on board. It is a locally-popular Roxas Capiz tourist spot.
Location/Jump-off: Brgy Cagay, Roxas City
8. Cadimahan River Tour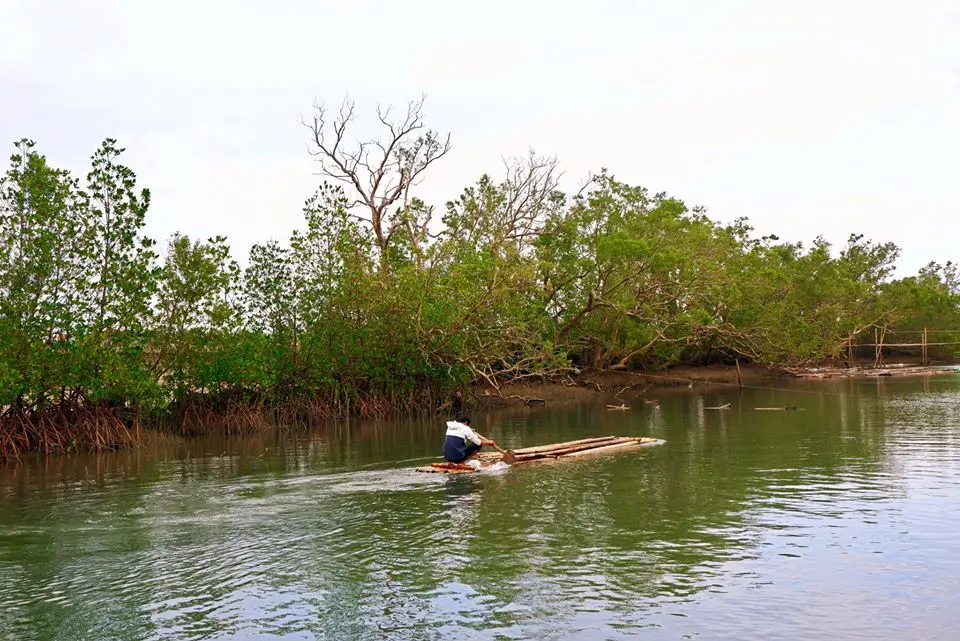 You have two options here. You can either stay in a stationary floating restaurant or cruise down the Cadimahan River. Just like the services at Palina Ecopark, you'll get served mouthwatering seafood meals as you relish the sights around.
The river cruise will take you to beautiful mangrove sites that host stunning bird species such as the egret, mangrove blue catcher, and the black-winged stilt.
Dance with the rhythm as local singers renders Hiligaynon folksong. Cadimahan River is now one of the emerging tourist spots in Roxas City Capiz.
Location/Jump-off: Sitio Lawis, Brgy Baybay, Roxas City
Tour Operator: Lawis Baybay Small Fisherfolk Association
Rate: Php 750 to Php 1800 depending on the raft's size
Duration: 2 hours
Foot Spa: Php 150
Traditional Filipino Massage: Php 300 (whole-body)
Contact Number: 09072865835, 09102033229
9. Marugo Lake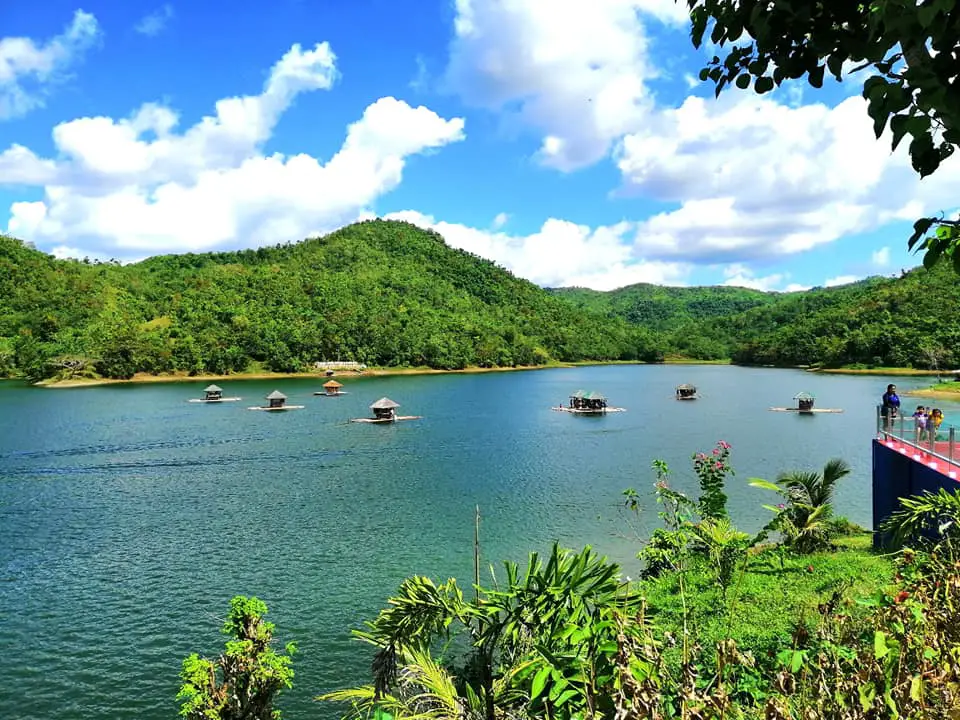 Marugo Lake is an ideal spot for relaxation and unwinding from the daily bustles. You can ride one of the bamboo rafts or swim around to enjoy the cool waters.
There are a few resorts around the lake, but these do not stamper the serenity of Marugo Lake.
Thanks to the active involvement of the local authorities, the lake remains clean. The locals have also been campaigning to preserve the surrounding vegetation which adds to the beauty of the site.
10. Olotayan Island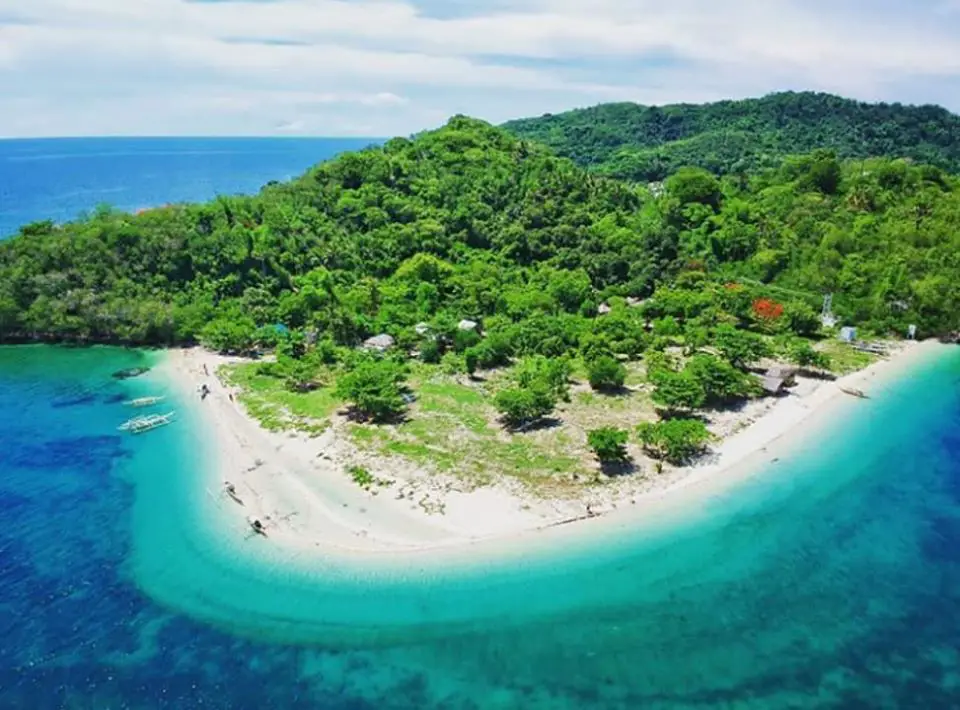 The island is named as such because it resembles the shape of a head and a stomach. In the local language, "olo" means head while "tayan" means stomach.
Try asking one of the locals the story behind it. Olotayan Island covers 53 hectares, and it is surrounded by clear and turquoise waters and white sand beaches.
The seas also thrive an abundant marine life, thus, don't miss out on snorkeling here. Although the island is inhabited, it remains pristine because the locals are sustainably managing it. That makes it one of the model ecotourism spots in the Philippines.
Location/Jump-off: Roxas City
11. Mantalinga Island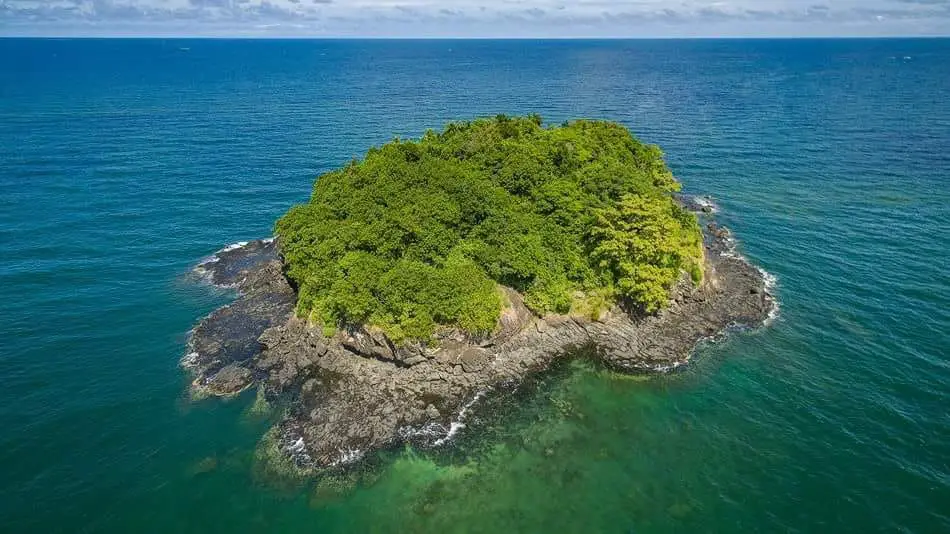 Touted as the "Good Luck Island" by the tourism office, Mantalinga Island is said to be inhabited by unseen deities and spirits. Locals believe that they bring good fortune to the fishermen.
Surely, you'll hear a lot of interesting stories about these, but I'll leave that up for the locals to share.
The island offers a good spot for scuba diving as well as kayaking racing competitions. Mantalinga Island is one of the emerging Capiz tourist spots.
Location/Jump-off: Roxas City
12. Panay Church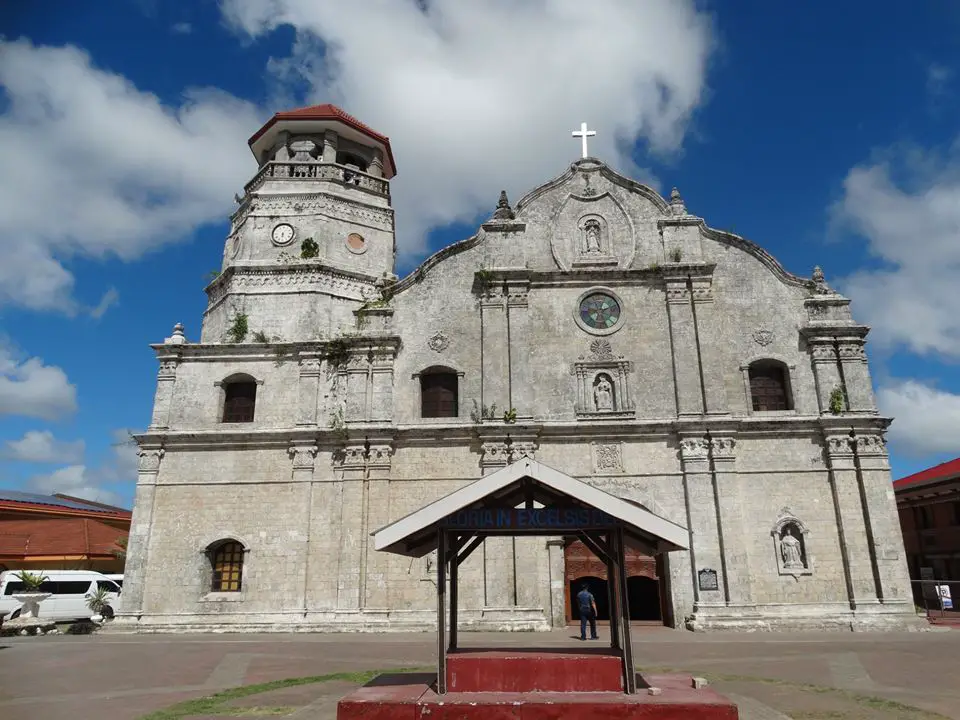 Otherwise called Santa Monica Parish Church, Panay Church is a prominent historical Capiz tourist spot. It boasts of a neo-classical form of baroque architecture made of coral blocks.
The church has an impressive façade with creative wooden designs. Another must-see spot here is a 5-story belfry that houses the largest bell in the Philippines. It is made from at least 70 sacks of gold and silver coins donated by the locals during the construction phase.
Climb to the top of the belfry, and you'll get rewarding views of the town and the distant mountains.
13. Napti Island
Covering four hectares, Napti Island has a white-colored beach mixed with accumulated coral remains. When you get to the shallow waters, you'll see countless live corals, making it an ideal spot for snorkeling.
Other marine species, such as different kinds of fish and lobsters, thrive here. There is also a cave with a length of 100 meters.
Location/Jump-off: Brgy Agojo, Panay 
14. Ang Panublion Museum
AngPanublion Museum is a recognized Capiz tourist spot. This is where you'll learn about the rich history of Capiz and the diverse cultural heritage of its people.
Among the displays here are old photos, paintings, artifacts, farming tools, traditional weaving, and an old model car used by late President Manuel Roxas. 
Location/Jump-off: Roxas City
15. Roxas Cathedral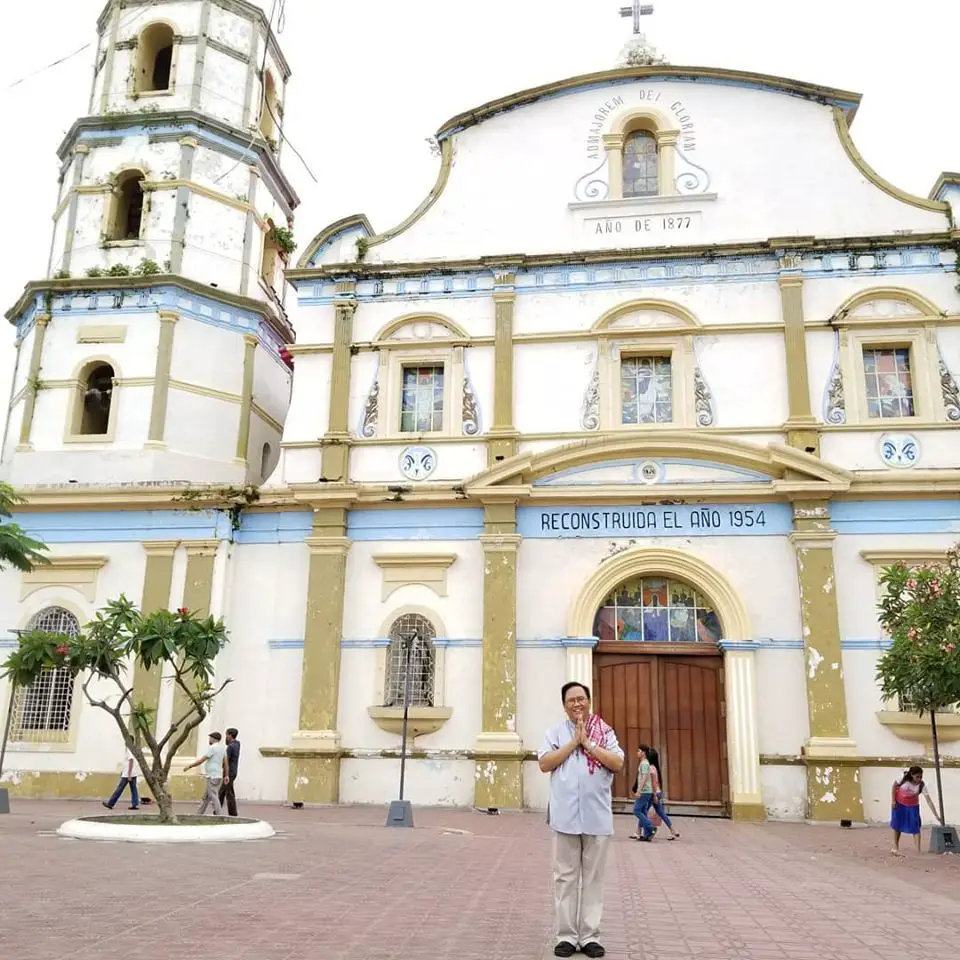 Also known as the Immaculate Conception Metropolitan Cathedral Parish, the Roxas Cathedral is an iconic Roxas City tourist spot.
The original church was built in 1876 but was damaged by a typhoon in 1698. The church was reconstructed in 1954 and is now a favorite pilgrimage site with thousands of visitors every year.
Location/Jump-off: Roxas City
16. Hinulugan Falls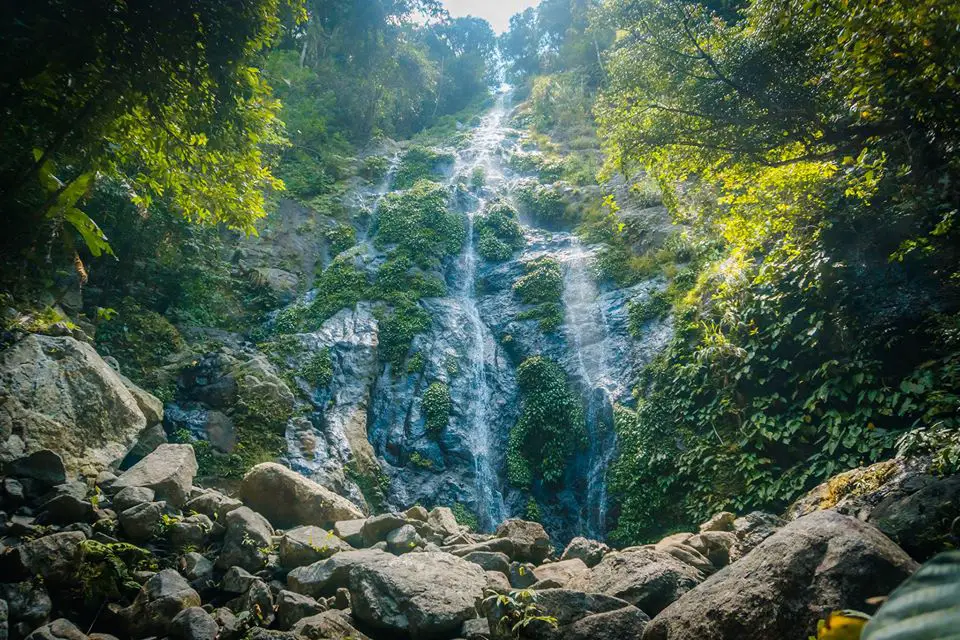 Hinulugan Falls is one of the highest in the province with multiple layers that surely blow you into amazement. Pristine woodlands upstream feed the brook leading into the falls.
Even along the road, one can already hear the rustling sound of Hinulugan Falls. It is one of the emerging Capiz tourist attractions. 
To get here, expect a challenging hike, passing on steep and slippery trails. But all that is compensated when one gets a breathtaking view of the waterfall.
Location/Jump-off: Brgy Tabun-acan, Pilar
17. Cabugao Verdant Farm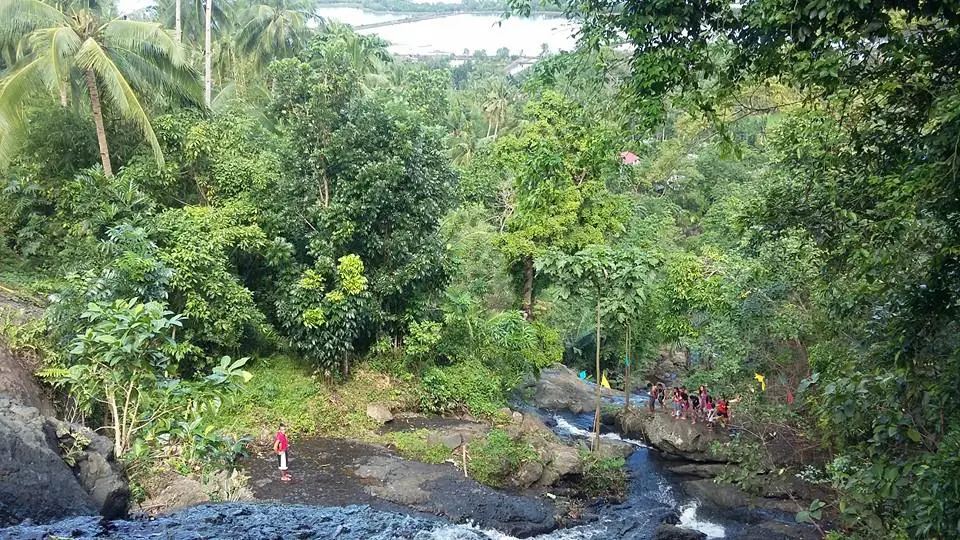 Local tourism has recently been pushing for the promotion of agro-tourism in the province. One of the recommended sites is Cabugao Verdant Farm.
Here, you'll get the chance to learn the best farming practices and experience the simplicity of life. The foods served here are sourced directly from the farm.
The farm is a potential Ivisan Capiz tourist spot due to its idyllic location with lush trees and crystal-clear streams.
Location/Jump-off: Ivisan
18. Shrine of the Sacred Heart of Jesus
The shrine features a giant statue of Jesus with a towering height of 130 feet. It was completed only in 2015 and is now a fast-growing pilgrimage site among Catholics, the dominant religious group in the province.
At the base of the statue is a chapel where you can pray, contemplate, and attend masses. From the shrine, you'll catch a panoramic view of the surrounding landscapes. It is one of the most beautiful places in Roxas City Capiz.
Location/Jump-off: Roxas City
19. Balisong Cave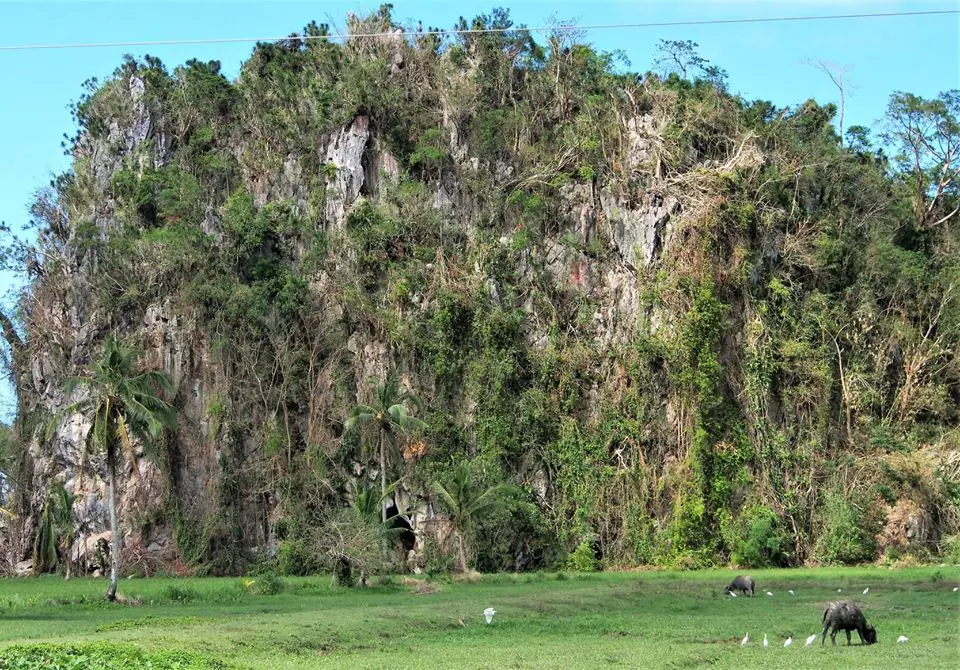 Balisong Cave is not just natural beauty but a historical Capiz tourist spot as well. It is here where one of the Filipino-Spanish battles took place. Recently, the locals discovered earthen paths with intricate carvings.
That is why it is believed that the cave must have been a burial site by the native inhabitants before the Spanish conquest. Near the cave is a spectacular black rock formation rising to more than 200 feet. 
20. Manuel Roxas Shrine
To know more about one of the Philippines' earliest presidents, check out Manuel Roxas Shrine. Roxas was the first President of the Republic of the Philippines and the last President of the Commonwealth. Today, it's a designated National Historical Shrine.
Location/Jump-off: Zamora Street, Roxas City
21. Igang Cave
Igang Cave is one of the laid-back tourist destinations in Capiz. It has several entrances that lead to a central chamber reminiscent of a cathedral dome. It also boasts fascinating stalactite and stalagmite rock formations. Numerous bats live in some of the deeper chambers.
Location/Jump-off: Brgy Tapulang, Maayon
22. Culajao Mangrove Eco-Park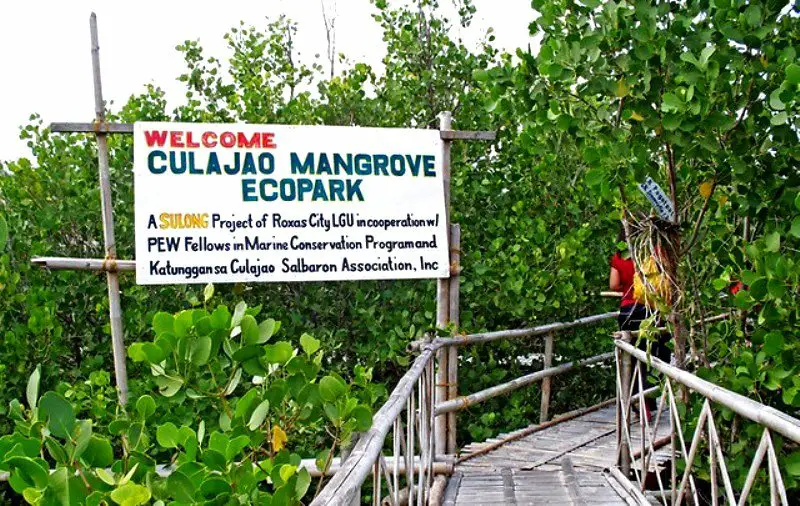 Culajao Mangrove Eco-Park came into realization as part of the local government's drive to pursue environmental protection and restoration. It covers about 5 hectares and serves as an important carbon sink for the city.
Aside from the numerous bird species living here, the park's surrounding waters teem with marine life.
Location/Jump-off: Roxas City
23. Our Lady of Lourdes Grotto Meditation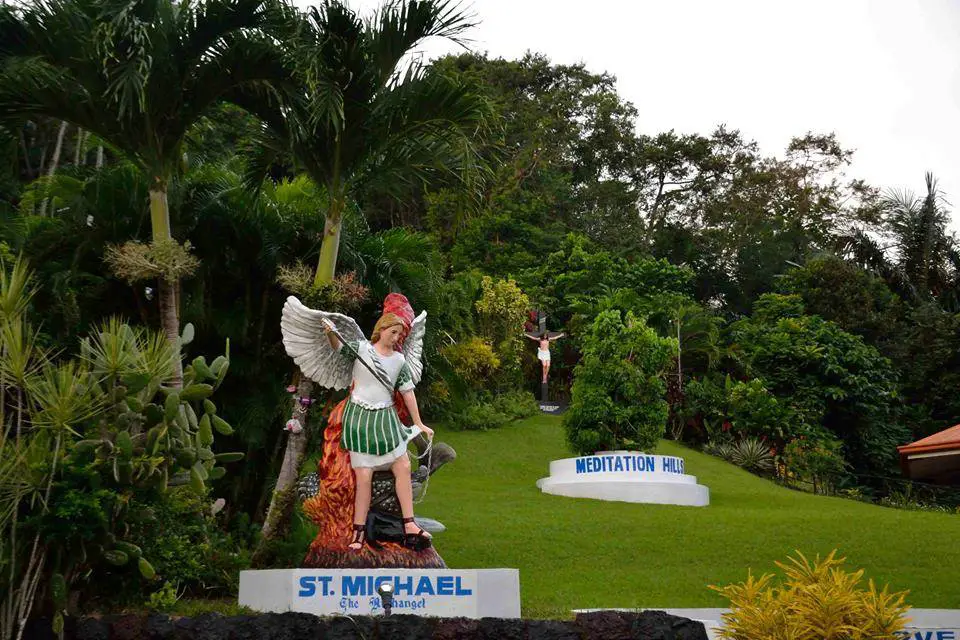 Another famed pilgrimage spot in Capiz is the Our Lady of Lourdes Grotto Meditation. The locals call it "Meditation Hills." Here, you'll find a cross that was initially built to commemorate those who died during the super typhoon Yolanda. The spot offers a jaw-dropping view of the municipality.
Location/Jump-off: Sapian
24. Pangabitkabiton Falls
Location/Jump-off: Brgy San Jose, Jamindan
25. Mussel Farm
Location/Jump-off: Sapian
26. Lolets Eco-Park
27. Suhotan Caves
Location/Jump-off: Jamindan
28. Coves of Ivisan
Location/Jump-off: Ivisan
Tag: IvisanCapiz tourist spot
29. Tucad Reef
30. Weny's Butterfly Garden
For More Information
If you need more information to help set up your itinerary for the best Capiz tourist spot, contact the Capiz Provincial Tourism Office via the following:
Tel. Number: (036) 621-0042 loc. 133, 221
Email Address: capiz.tourism@yahoo.com
Office Address: 3/F, Provincial Capitol, 5800 Roxas City