Just like a haven of fairytale creatures, Kilangin Falls (also known as Bukal Falls) in Liliw, Laguna is truly a sight to behold. Its bewildering view can certainly ease one's weary soul and create unforgettable moments. Well, that was our experience when we set off to this grandeur masterpiece tucked in the rainforests.
My best friend Ricky's stay in Manila was coming to an end as he had to go back to the province. So to make the most of his remaining time, we began researching for nearby destinations which are open. Then, we stumbled on Kilangin Falls. Although it's quite far and has some level of difficulty to reach, we went for it!
Aside from the waterfall itself, another thing that excited me was the chance to see lowland rainforests. Lowland rainforests host the most flora and fauna species, thus, I was also hoping to spot unique wildlife such as birds, lizards, and insects.
Anyways, let's move on to how we got to Kilangin Falls.
How to Go to Kilangin Falls (Our DIY Journey)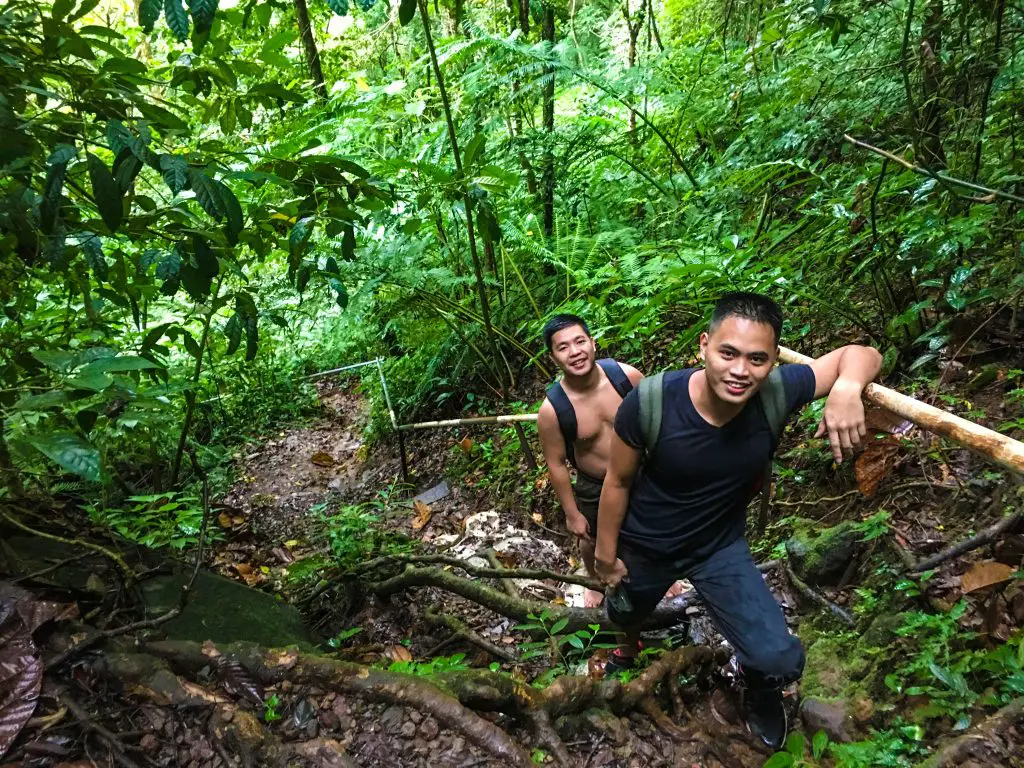 Kilangin Falls Location/Jump-off: Barangay Novaliches, Liliw, Laguna
Entrance Fee: Php 20 per person
Guide Fee: Php 350 for 1-5 persons
Trekking Time: 20 minutes – 1 hour
Okay. This is gonna be quite a boring story but read on how we got to Kilangin Falls via Liliw in Laguna.
Since we wanted to visit the falls at the earliest possible time, I and Ricky hopped on a 2 PM bus from Buendia Station in Pasay City to San Pablo, Laguna. That was a Friday. From Pasay, it took us almost three hours to reach SM in San Pablo where we dropped off for a coffee break. By 6 PM, we rode on a tricycle outside the mall towards the Pearl Platinum Hotel where we earlier booked for the night. We chose the hotel because it offers deluxe rooms for only Php 800. So it's an ideal option for budget travelers like me.
The following morning, we rode on a tricycle just outside the hotel bound to the Liliw Jeepney Station near Jollibee and the San Pablo Cathedral. Each jeep departs once filled to capacity. From here, it took us an hour to reach Liliw town center near the St John the Baptist Parish Church. That was around 8 AM then. We paid 60 pesos each for the fare. Our drop-off point was just right across the tricycle station operating to the different barangays of Liliw and nearby Majayjay town.
Note that there are two known jump-off points to Kilangin Falls. The more popular and easier trail begins from Barangay Bukal in Majayjay while the second trail begins from Barangay Novaliches in Liliw. With that in mind, we rode a tricycle to Bukal and paid 50 pesos each for the fare. The ride took us 20 minutes but to our disappointment, the said trail was closed due to the pandemic. Haiyz, I should have known.
Our tricycle driver then took us towards the Liliw trail and thankfully, it was open. All in all, we paid Php 350 to the driver. Following that, we registered at the barangay hall and paid the corresponding fees. A guide was also assigned.
With excitement and eagerness to chase Kilangin Falls, we began trekking following a concrete road. It was continuously drizzling so we had to take extra caution since the paved road was slippery. It also ran on steep and winding terrain. But that was something I've wanted to experience a thrilling adventure. We also passed by vegetable farms.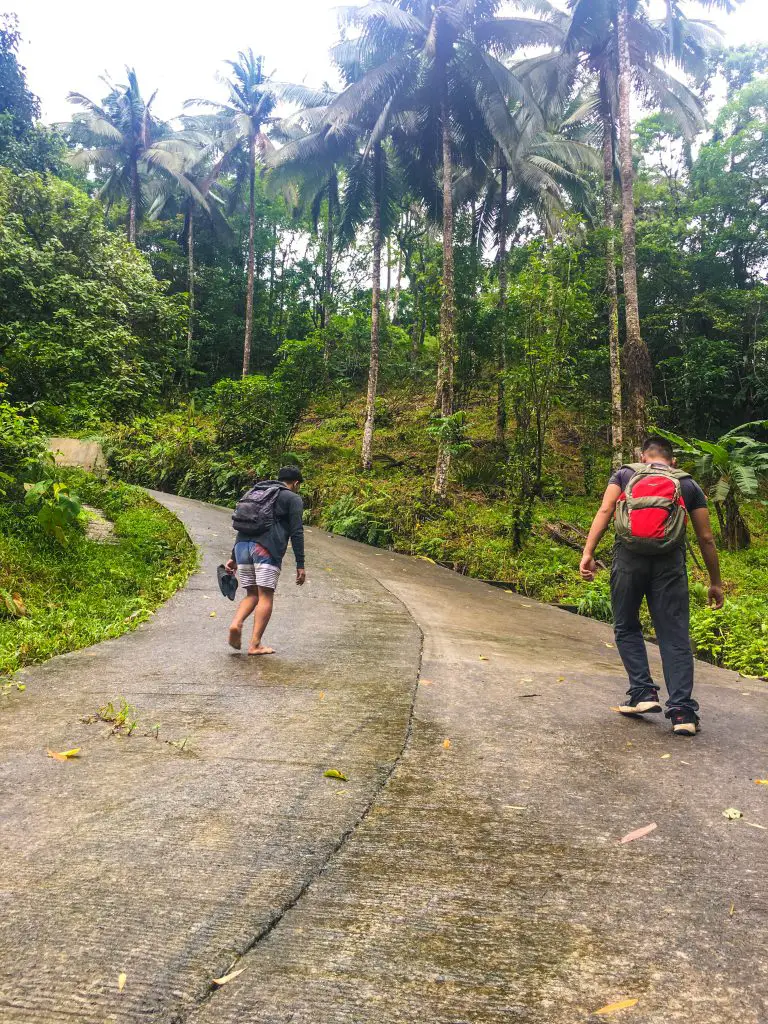 After 15 minutes of walking on the concrete road, we reached a trail passing through dense forests. Ah, I felt immediate relief while gazing at lush vegetation including dangling vines, towering trees, and beautiful shrubs. Although slippery and steep, this part of the trail was fun for me, especially that I love strenuous hiking. But for beginners, it's best to walk carefully and hold onto the railings installed by the locals.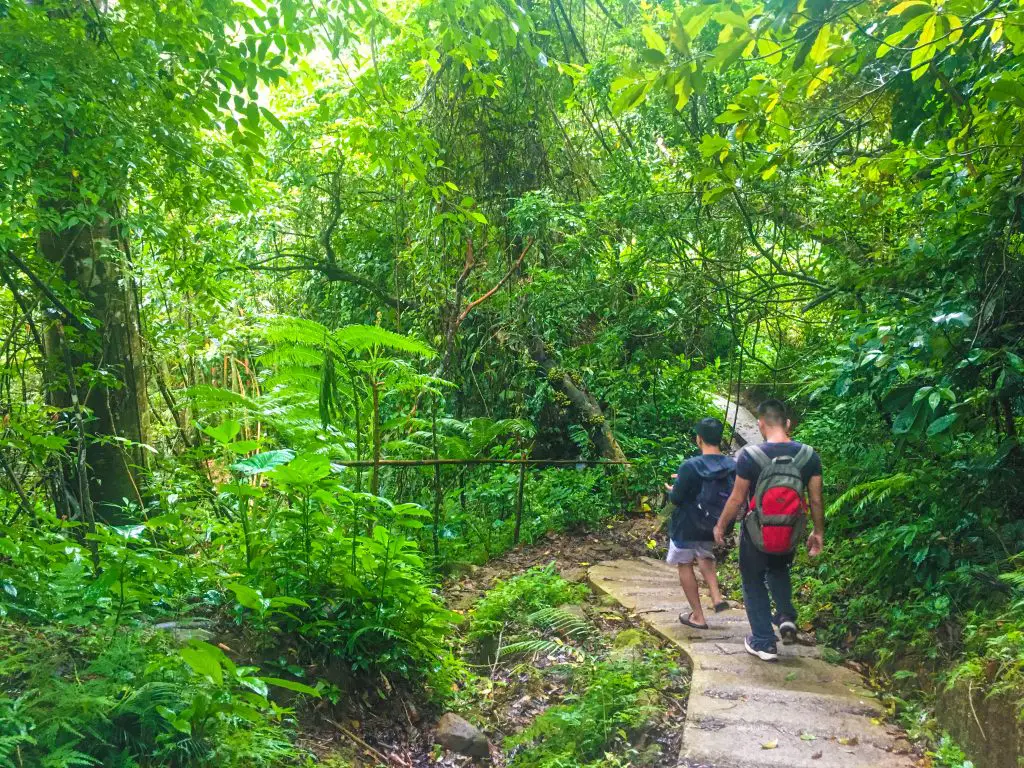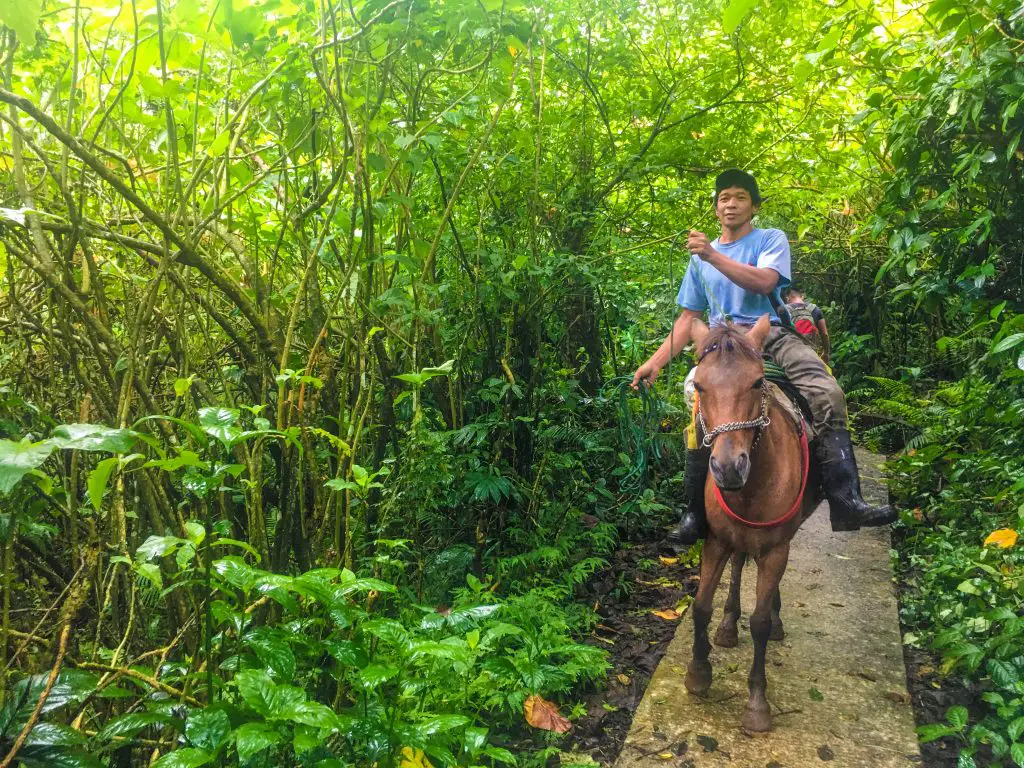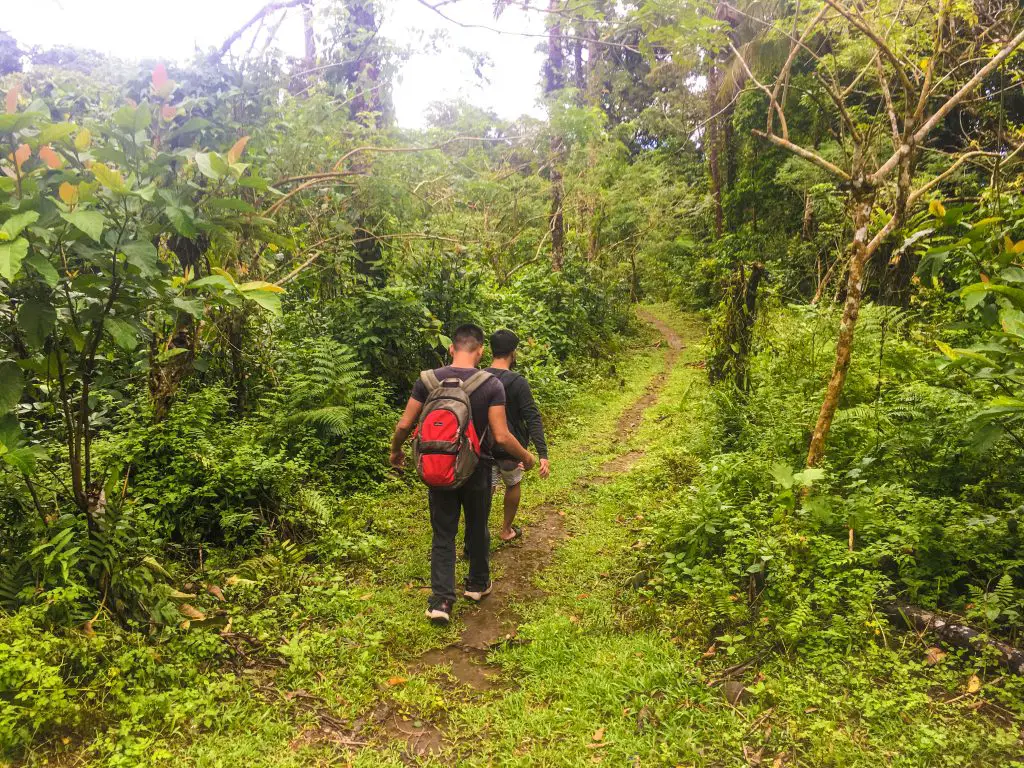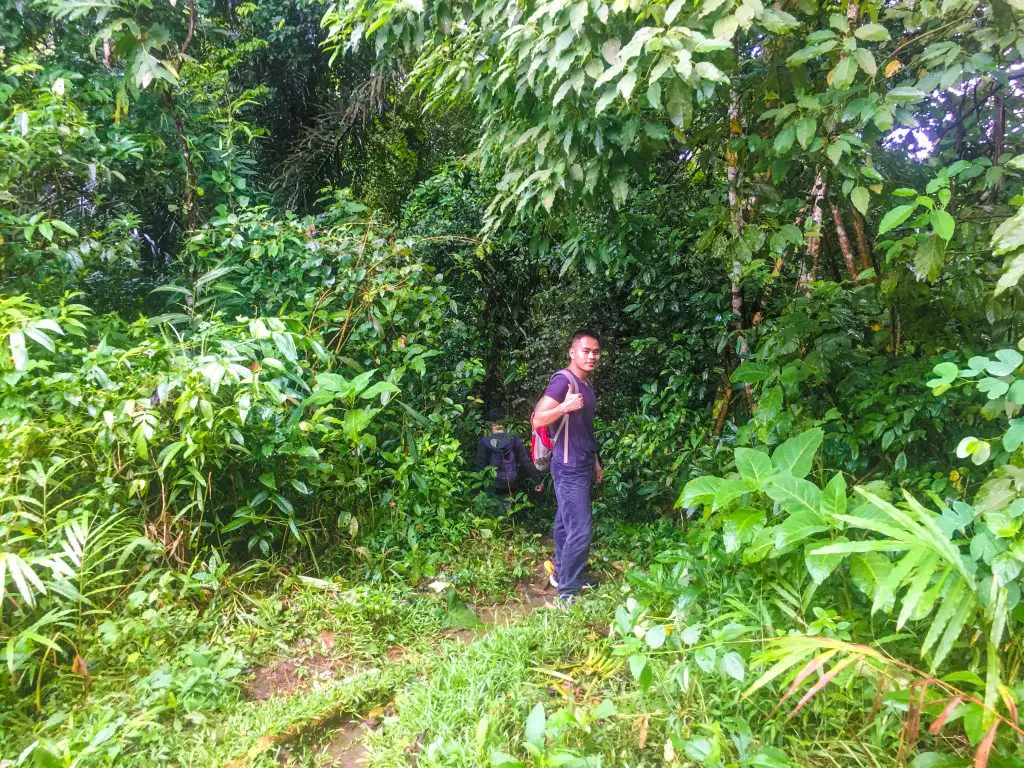 The most challenging part of the trail was a steep descend leading straight to Kilangin Falls. From this spot, we could hear its churning waters blending beautifully with the echoes of the forests. Like Tarzan of the jungle, I ran my way as I couldn't wait to take a plunge on Kilangin Falls.
Here Comes Kilangin Falls
After minutes of continuous ascent on a slippery and steep trail, we finally reached Kilangin Falls! Whew! As with my sightings of natural spectacles for the first time, I was blown away in sheer amazement. If I was alone, I would have shouted in superb joy.
Who wouldn't? I mean, just look at the following picture.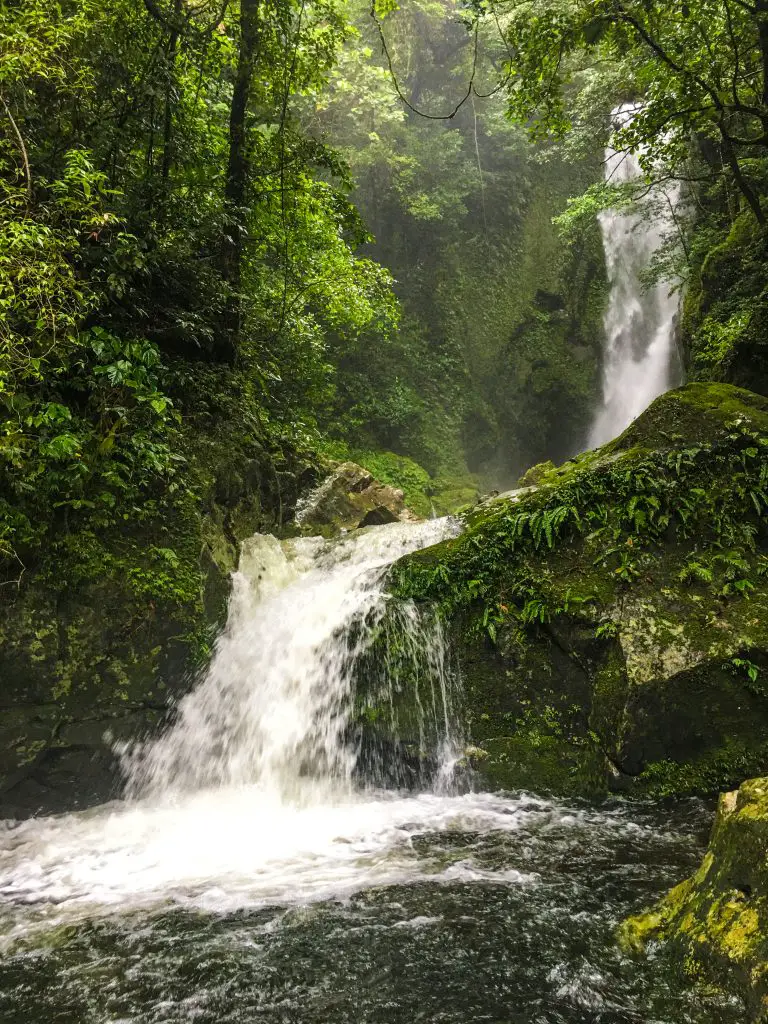 With a towering cascade of more than 80 feet, Kilangin Falls is truly a wonder worth a thousand pictures. Aside from the main cascade, there are two mini-waterfalls downstream with naturally-built pools. Because it just rained during the previous day, the waters were strong and churning. Thus, our guide advised us not to swim at the pool of the main waterfall. The cascading waters also generated mists that wafted everywhere, causing us to get partially wet.
But guess what? We loved it! The mists literally caressed us and offered instant relief from the exhaustion we got along the way. Merely gazing at it was more than enough to make the trip worth it!
Because I and Ricky were aching for a swim, we proceeded to the mini-waterfall that is a few meters away from the main cascade. It has a deep pool which is wide enough for swimming. Immediately, we took off our clothes and jumped right into it. Ah, there's nothing like it enjoying the cold waters while seeing the surrounding forests with their flowers and vines.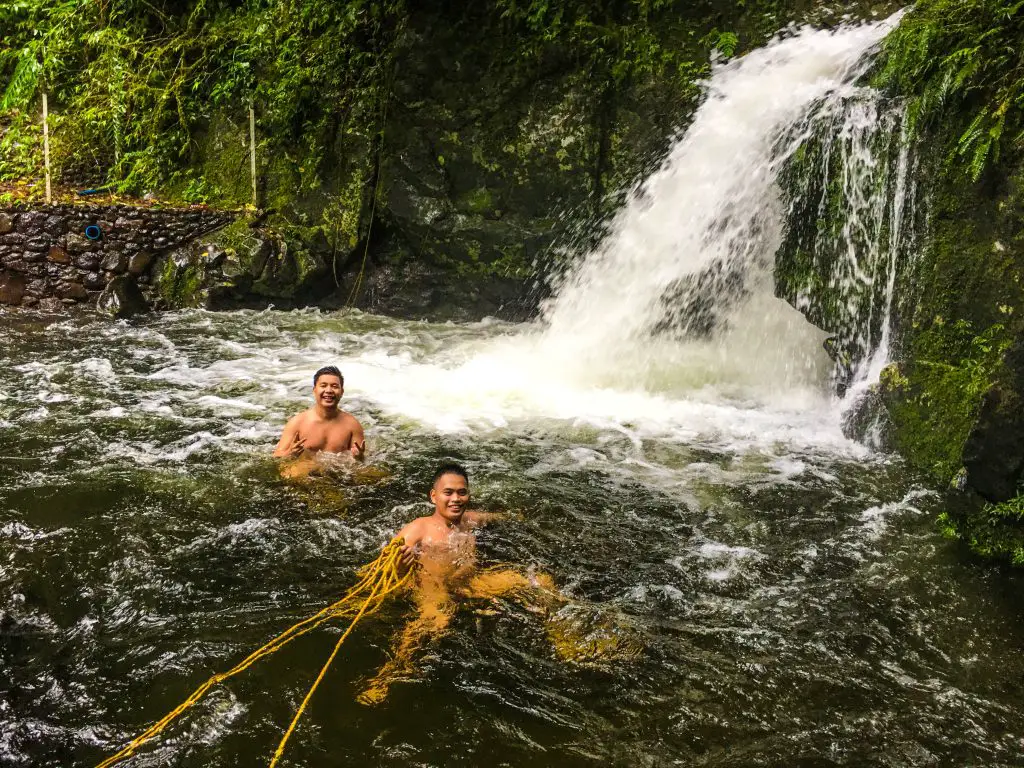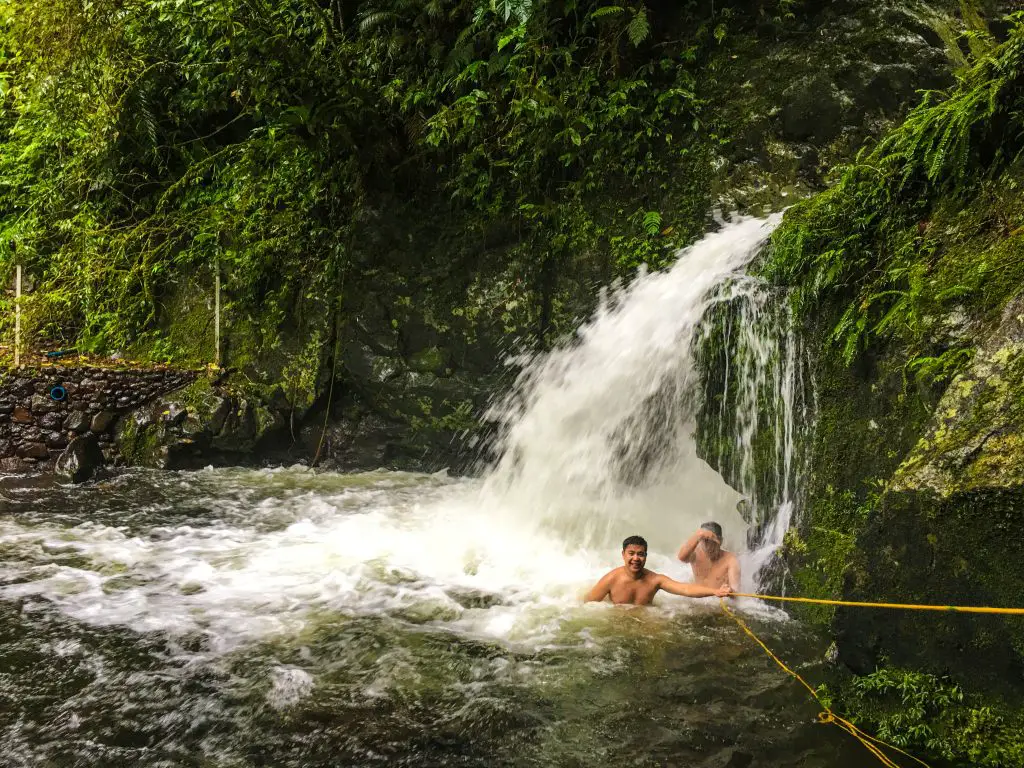 While at the edge of the pool of the mini-waterfall, we could see a full view of the main cascade. It looked like a huge bridal veil.
Although the waters were pounded powerfully, they were not murky and in fact, almost crystal-clear. In other waterfalls, even a few drops of rain can turn their waters brown. But in Kilangin Falls, it's a different story. That is because the brook feeding the waterfall comes from pristine forests which gradually absorb the rainwater instead of eroding the soil.
Oh, did I forget to tell you? It was still drizzling while we were swimming in the waterfall. But we knew we were safe as long as we swim on the correct spot and don't underestimate the water. Because we were the first to come, we enjoyed the falls like it was all ours.
There's also a small cave behind the waterfall. We swam inside and enjoyed a therapeutic massage from the cascading waters. I can tell you. It was such a bizarre and healing experience.
What Else to See?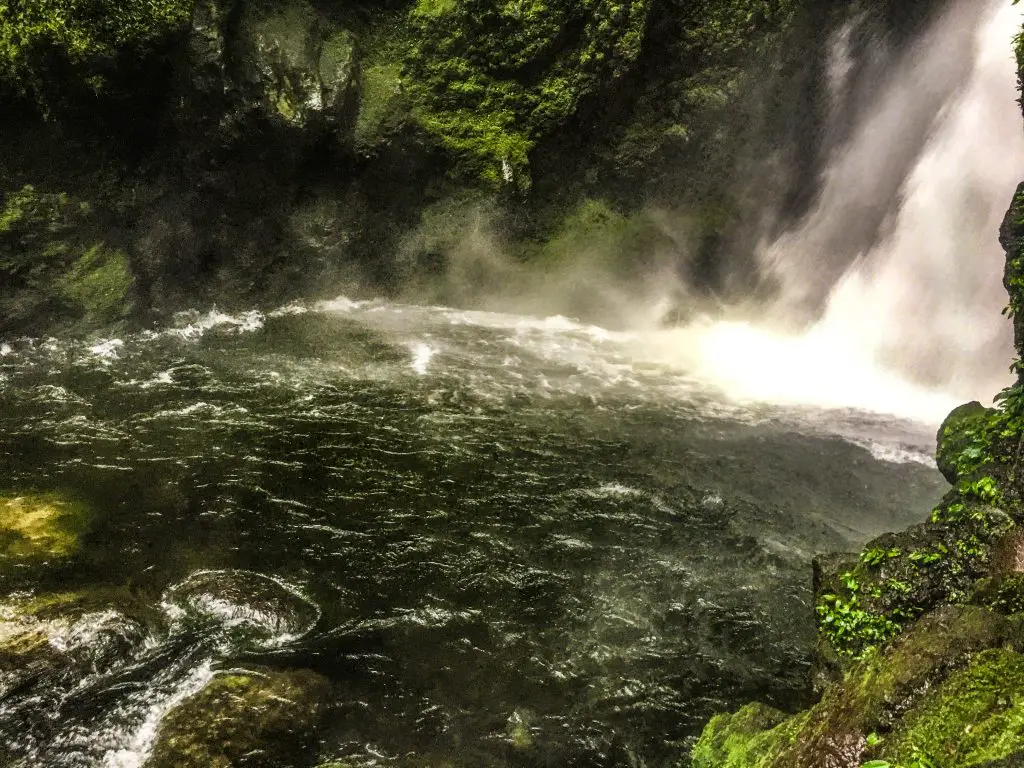 According to our guide, there are other waterfalls upstream. But only three are allowed for tourism due to privacy and safety concerns.
So if you happen to have arrived early and finished swimming before lunch, here are other nearby tourist spots to see within Liliw:
1. Old Colonial Houses. Take a stroll around the town center of Liliw and you'll find houses dating back to the Spanish colonial period. Doing so will give you a deeper understanding and appreciation of the town's rich history.
2. St. John the Baptist Parish Church. If you're a Catholic, consider checking this ancient church. It has beautiful architecture and an imposing interior. It's a good place for those searching for spiritual contemplation. It's also near the jeepney and tricycle stations.
For More Information
For more information, I would recommend contacting our young and energetic tour guide, Mr. Jester P. Monfero: 09365442412.