Here is your complete DIY travel guide to La Trinidad Strawberry Farm, one of Benguet's premium eco-tourism destinations. And yes, it's not in Baguio as most tourists would assume.
I've been visiting Strawberry Farm during my college years at Benguet State University which is just a few meters away. I love farms, especially that I grew up in one.
There's always that delight whenever I pick fresh harvest and consume it right there on the spot. Seeing farmers growing food is also a pleasure. There's this sense of admiration to them for devoting their lives to feed the country's population.
We should be grateful to them for, without their efforts, we would not have food on the table.
Personally, La Trinidad Strawberry Farm is one of my favorite destinations. Regardless of the circumstances, there's always that urge in me to visit whenever I set foot in this valley of colors.
A weekend afforded me and my photographer friend to have another peek. We were in an insatiable mood to capture and experience dramatic moments.
Quick Facts:
Location/Jump-off: Brgy Betag, La Trinidad, Benguet
Distance from Baguio: 15-20 minutes of Jeepney ride
Entrance Fee: None
Other Fees: To be discussed in the article
Best Time to Visit: November to February
Operating Time: 6:00 AM to 6:00 PM Daily
How to Get to La Trinidad Strawberry Farm
Here is how you get to La Trinidad Strawberry Farm from Baguio City.
Option I
Ride any of the jeeps bound to Camp Dangwa, Upper/Lower Tomay, Buyagan, and Acop Shilan. These are stationed at Magsaysay, Dangwa Station (back of Center Mall), and in front of Baguio City Hall. Fare is Php 12 and travel time takes 15-20 minutes.
However, during heavy traffic, it might take you more or less an hour. That is why it's best to go there during the early morning or after morning and afternoon rush hours.
Don't forget to tell the driver to drop you off the road leading to Strawberry Farm. Somewhere at the so-called Last Gate of Benguet State University, you'll see signage pointing to the direction of the farm.
From the drop-off, follow the road for a few meters until you reach the gate of Strawberry Farm.
Option II
From any point in Baguio City, ride a taxi or book a grab straight to Strawberry Farm. For the taxi, just tell the driver that you're headed to La Trinidad Strawberry Farm and for sure, he knows how to. Fare usually ranges from Php 150-Php 200. A taxi can accommodate up to five people only.
TIP: If you're going back to Baguio, proceed to the main road and wait for any jeeps bound to Bokawkan, Magsaysay, or Center Mall, all within Baguio City.
If you're planning to go to Burnham Park, choose Bokawkan since the drop-off is just some meters away. If you want to proceed to Public Market Baguio, you can choose between Center Mall or Magsaysay.
Preliminaries and Arrangements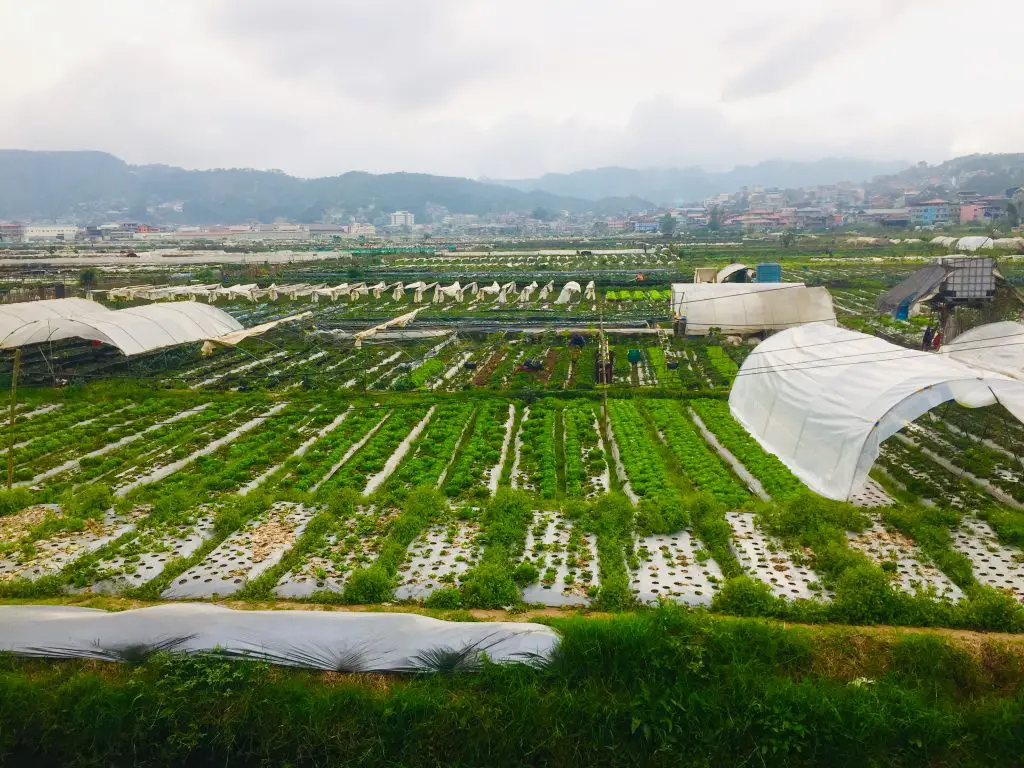 Upon entering the gate of La Trinidad Strawberry Farm, you'll notice that there is a wide space surrounded by souvenir stalls. On the opposite side, you'll see a giant sculpture of a strawberry. You can take pictures from here.
If you want, you can first stroll around the souvenir stalls especially if there's a long line to the farms. That's how you get to know more about the place and the culture. Among the locally-made products you can buy here are strawberry wines, jams, baked goodies, soft brooms, and a lot more.
There are also local peddlers selling strawberry taho and ice cream. Don't miss trying these out.
What to See/Do at La Trinidad Strawberry Farm
As the name suggests, the main attractions in La Trinidad Strawberry Farm are the strawberries.
What I find interesting during our last visit was seeing how strawberries were grown in different ways. I've been used to seeing strawberries cultivated on plastic-covered plots. But this time, I saw some strawberries growing on elevated platforms. I guess the local farmers here are innovating their farming methods to produce the best strawberries ever.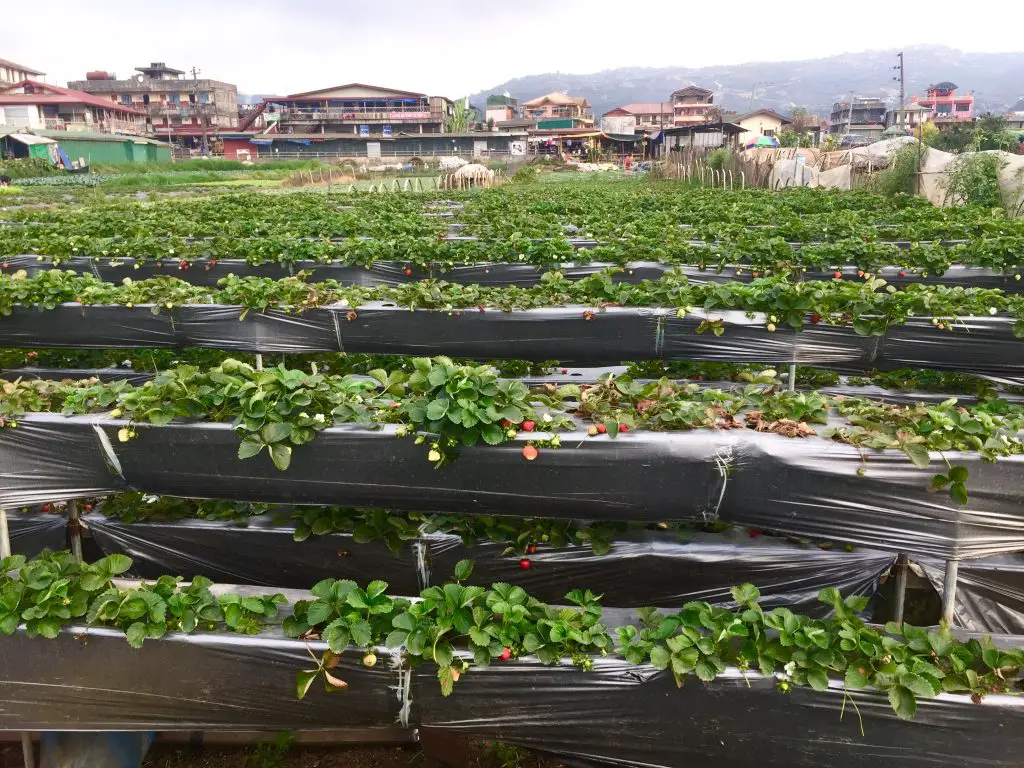 Because we were on a budget, I and my friend decided not to go for strawberry picking. Besides, I've tasted these tempting, red berries many times already. So all we had to do was take Instagram-worthy photos.
If it's your first time coming here, however, it won't be complete without harvesting strawberries, right? Unfortunately, harvesting your own can fetch Php 350 per kilo! That's almost double the price of strawberries sold in the market with a price ranging from Php 15-Php 180.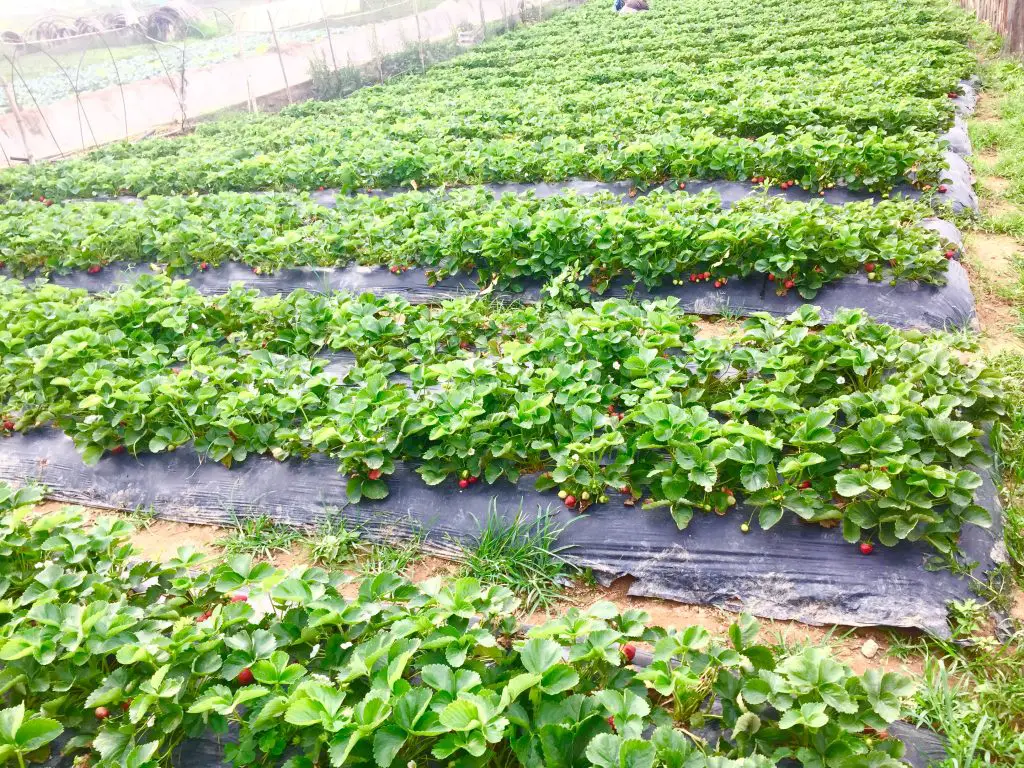 I asked a local farmer about the rather expensive price. He mentioned that strawberries are delicate fruits, meaning, they are easily damaged when harvesting is done incorrectly.
Of course, that's a waste and to compensate, the farmers had to double the price for harvesting your own.
But what's a 350 compared to the wonderful experience of picking your strawberries and eating them after. Somehow, strawberries taste more delicious when you harvested them yourself.
Besides, if you have kids, they'll surely love the experience and learn to appreciate farming.
If you're good at it, try negotiating the price with the farmer. Who knows? You might win a favorable term on your end.
There's More to Strawberries
Aside from the strawberries, you'll also see different vegetable species grown here. Among them are cabbage, lettuce, spring onions, tomatoes, pechay, broccoli, and many more. I guess these are back-up crops of the farmers since strawberries are seasonal.
Tips and Reminders
Before eating any strawberry, have them washed. Unfortunately, the waters used to irrigate them are not that clean.
It's best to come here during weekdays to avoid crowds and traffic.
Do buy from the souvenir. That's how you help boost the local economy.
Wear comfortable clothes and shoes. Remember, you're going to a farm, not a beach.
There are nearby eateries where you can dine on budget meals. You may also want to check out Dap-ayan Eatery, known for its mouthwatering native cuisines. It's just a walking distance from the farm.
Please dispose of your garbage properly. Let us help in keeping La Trinidad Strawberry Farm clean and green.
Pets and food are not allowed inside the farms.
For your Information:
If you need further information that may help in setting up your itinerary to the La Trinidad Strawberry Farm, do contact Mr. Valred Olsim, Tourism Officer, through:
Contact Number: 09294619617, +63 74 309 1001
Email: mayorslt@yahoo.com; valredsmail@yahoo.com