What is the best La Trinidad tourist spot? La Trinidad, a municipality in Benguet province, Northern Luzon, is known as the "Strawberry Capital of the Philippines." Aside from its famous strawberries, La Trinidad also boasts natural wonders and cultural heritage that make it a must-visit destination for travelers.
Yes, La Trinidad is more than just the iconic, sweet, and juicy strawberries but also spectacular natural getaways. Whether you're up for hiking destinations or chasing waterfalls, this northern municipality has them. Explore it and learn why it's dubbed the Valley of Colors.
In this article, we will explore La Trinidad's top tourist spots that are worth visiting including the famous and underrated attractions. Let's go.
1. Strawberry Farm – A Sweet Adventure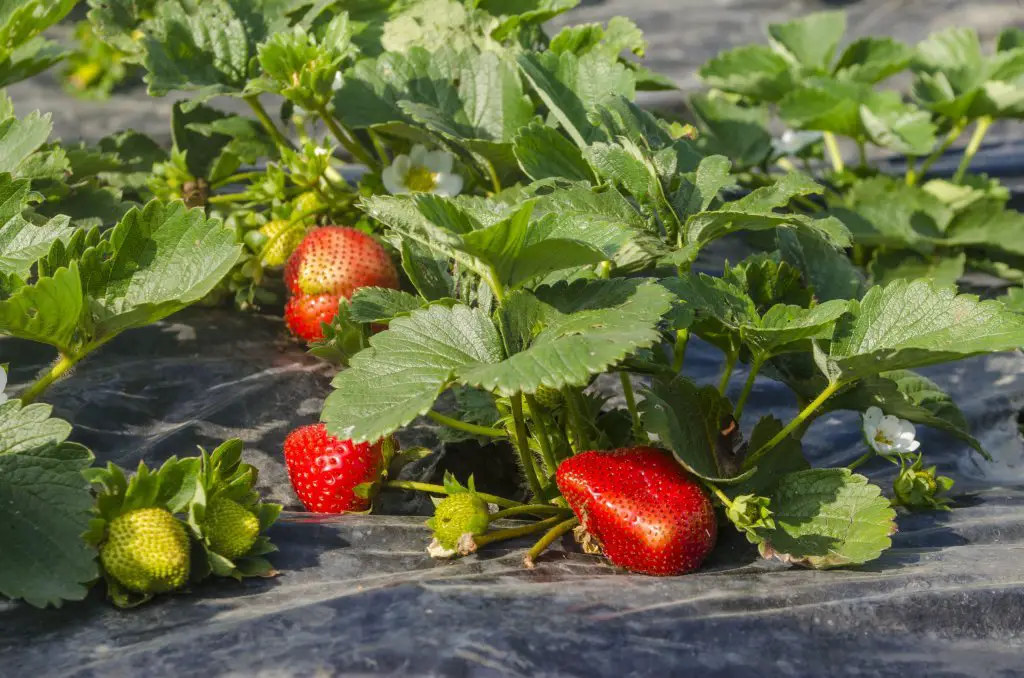 The Strawberry Farm is La Trinidad's most famous tourist spot, where visitors can pick fresh strawberries and enjoy the sweet and juicy fruit. The farm is located in Barangay Betag and is open to visitors from October to May, which is the strawberry season. Visitors can also buy various strawberry products such as jams, preserves, and pies at the farm.
2. Mount Kalugong Cultural Village – A Cultural Experience
The Mount Kalugong Cultural Village is a community-based tourism destination located in Barangay Tawang. It offers a glimpse into the traditional way of life of the indigenous inhabitants of the Cordillera region such as the Kankana-eys, and the Ibalois.
The village also offers a stunning view of the surrounding mountains and valleys. Limestone rock formations abound while pine forests thrive.
There is also a nearby cafe that offers a breathtaking view of La Trinidad Valley.
3. Mount Costa – A Botanical Garden Adventure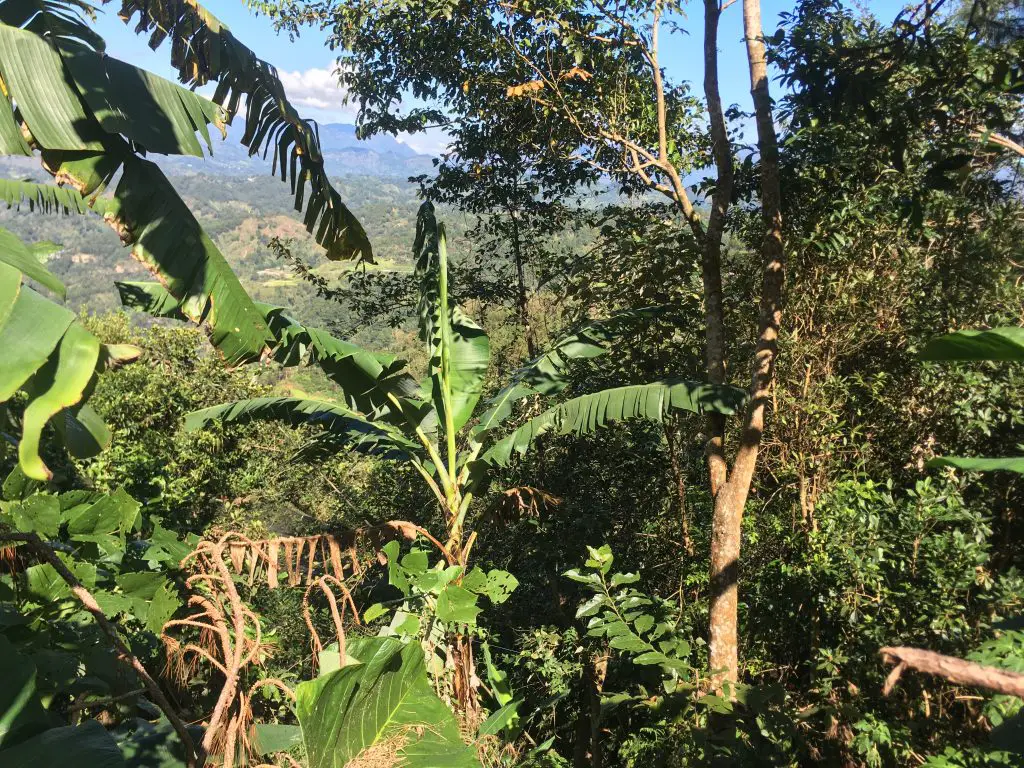 Considered a top La Trinidad tourist spot, Mount Costa is a botanical garden located in Barangay Puguis that showcases a wide variety of plants and flowers. The garden is divided into different zones such as the Japanese Garden, the Mediterranean Garden, and the Philippine Garden.
Visitors can enjoy a leisurely walk through the garden and take in the colorful and fragrant blooms. Mount Costa also has a restaurant that serves delicious food with a stunning view of the garden.
Because of its pristine environment, Mt Costa is a must-see La Trinidad tourist spot for nature lovers or those who simply want to commune with the forest.
4. La Trinidad Strawberry Festival – A Festive Celebration
The La Trinidad Strawberry Festival is an annual celebration held every March to showcase the town's strawberry industry. The festival features various events such as a parade, a trade fair, and a street dancing competition.
Visitors can also participate in the strawberry-picking and eating contests. The festival is a colorful and lively celebration of La Trinidad's rich cultural heritage and local produce.
Aside from strawberries, different agricultural products are showcased at a fair including mouthwatering coffee.
5. Bell Church – A Spiritual Experience
The Bell Church is a Taoist temple located in Barangay Balili that features vibrant colors and intricate designs. The temple is a popular destination for those who want to experience Taoist culture and beliefs.
Visitors can explore the temple's different sections such as the pagoda, the bell tower, and the main hall. The temple also has a beautiful garden that offers a serene and peaceful environment.
6. Mt Yangbew – Little Pulag of La Trinidad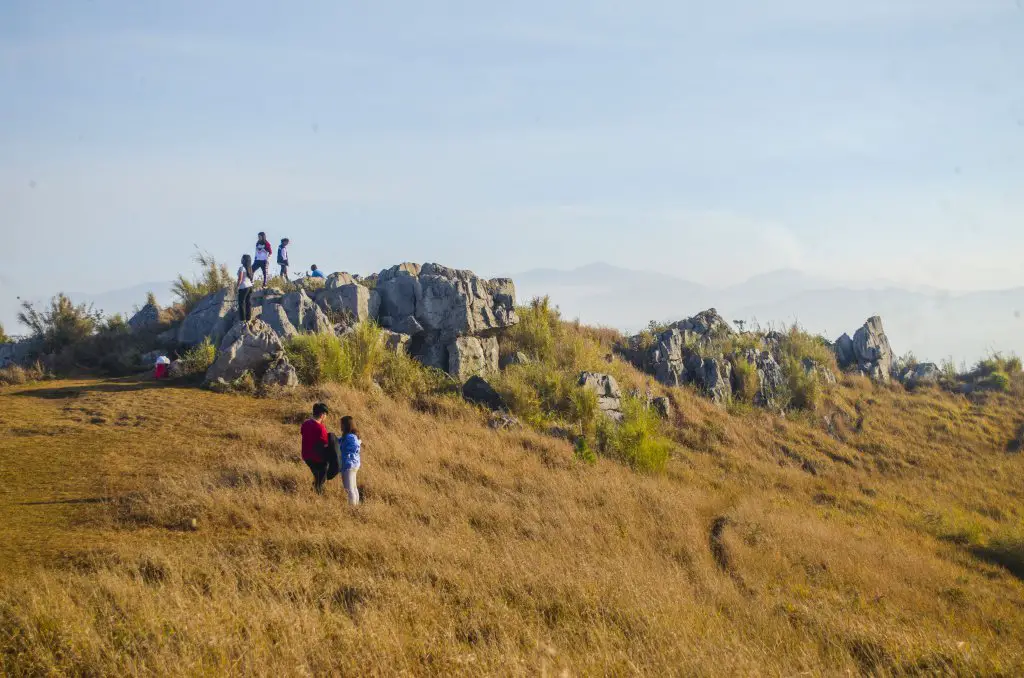 Mt. Yangbew is a popular hiking destination located in La Trinidad, Benguet. It offers a scenic and relatively easy trek, making it ideal for beginners and families. At the summit, hikers can enjoy a panoramic view of the Cordillera mountains and the nearby city of Baguio.
The mountain has a rolling and grassy summit similar to Mt. Pulag, thus, it is called the Little Pulag of La Trinidad. It is also referred to as Mt Jumbo as it used to be a camping site for boy scouts and girl scouts.
It's best to hike the mountain during the early morning or late afternoon to witness grand views of the sunrise and sunset.
Another thing to do here is horseback riding. Doing so will make you feel like an American cowboy exploring the vast wilderness of the Great Plains.
7. Binanga Falls – Hidden Wonder
Binanga Falls is a hidden gem situated in barangay Shilan, La Trinidad. It features a stunning 30-foot waterfall that cascades into a serene pool, perfect for swimming and relaxation. The falls are surrounded by lush greenery, giving visitors a refreshing break from the hustle and bustle of city life.
The pool is also very deep so make sure you know how to swim before taking the plunge.
Families love to have their picnics here because of the rejuvenating feel. The trail, however, passes through slippery cliffs and steep slopes so make you have the physical endurance.
8. Valley of Colors – Colors of Stobosa
Valley of Colors, also known as the La Trinidad mural village, is a vibrant community adorned with colorful murals and street art. It is a popular spot for taking Instagram-worthy photos since it is just along the national highway.
9. Lily of the Valley Farm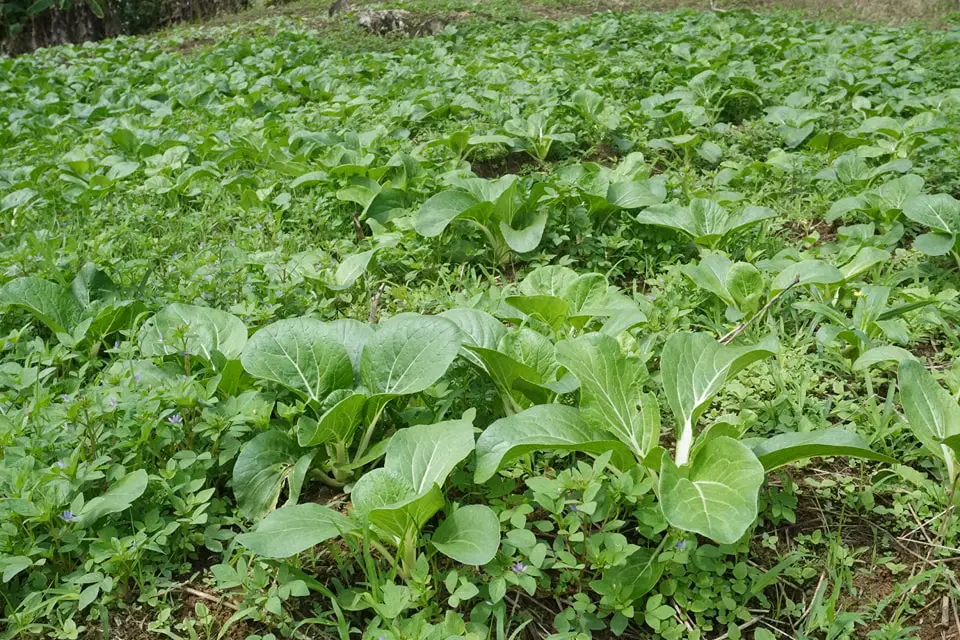 Lily of the Valley Farm is a flower farm located in Barangay Puguis. It boasts a picturesque landscape filled with blooming flowers, making it a perfect spot for nature lovers and photography enthusiasts.
It's an ideal destination for those who want to learn about organic farming from an owner who has decades of experience. Visitors can harvest fresh fruits and vegetables from the farm to prepare their meals. Accommodations are available but you can also set up tents for overnight camping.
Truly, La Trinidad offers a unique and diverse travel experience that showcases the town's natural beauty and cultural heritage. From strawberry picking to traditional dances, La Trinidad has something to offer for everyone. So, if you're planning to visit Northern Luzon, be sure to include La Trinidad in your itinerary and explore its top tourist spots.