Here is your complete DIY travel guide to Lions Head Baguio, one of the city's top tourist spots.
I grew up hearing about Lions Head Baguio and seeing it only on books or photographs. I finally got the chance to see it when I and my best friend Meckafourth rode our way to see Hydro Falls in Tuba, Benguet. It's just along the famous Kennon Road, known for its winding and scenic view all the way to Pangasinan.
Now, the Lions Head Baguio is much more than a magnificent sculpture on a dramatic landscape. It's not merely your ideal spot for picture taking. It's more of representation and I think it's this quality that makes it a special tourism spot. It has this quality because it tells a story. Let's dig on that later.
How to Get to Lion's Head
Lions Head Baguio is located along Kennon Road, just between the boundary of Baguio City and Tuba, Benguet.
To get here, you have the following options.
Option I
Ride the jeep bound to Camp 6 in Tuba, Benguet. It traverses Kennon Road where Lion's Head sits. The station is in front of Shopper's Lane near Center Mall. Fare is Php 20 and travel time takes 20-30 minutes depending on road conditions.
Don't forget to tell the driver to drop you off at Lions Head as you might dose off along the way. But if you can keep your spirit up, you'll easily notice it when you're sitting on the left side of the jeep.
Option II
If you can afford a more expensive but more convenient option, ride a taxi all the way to Lions Head. That takes 15-20 minutes and the fare should be around Php 250-Php 300 or even less. That's almost the same thing when you book a Grab.
Option III
If you have your own car, use Waze or Google Map to help you navigate around Baguio City and reach Kennon Road. Follow that until you reach Lions Head Baguio. That can only take you 15-20 minutes.
How do you get back to Baguio?
There are a lot of public vans and jeepney passing along Kennon Road en route to Baguio City proper. Usually, the waiting interval is less than an hour.
Just standby along the road when you're done sightseeing or marveling at the sight of Lions Head Baguio. Usually, public vehicles will beep you to signal that they have a space for passengers.
Behold the Lion's Head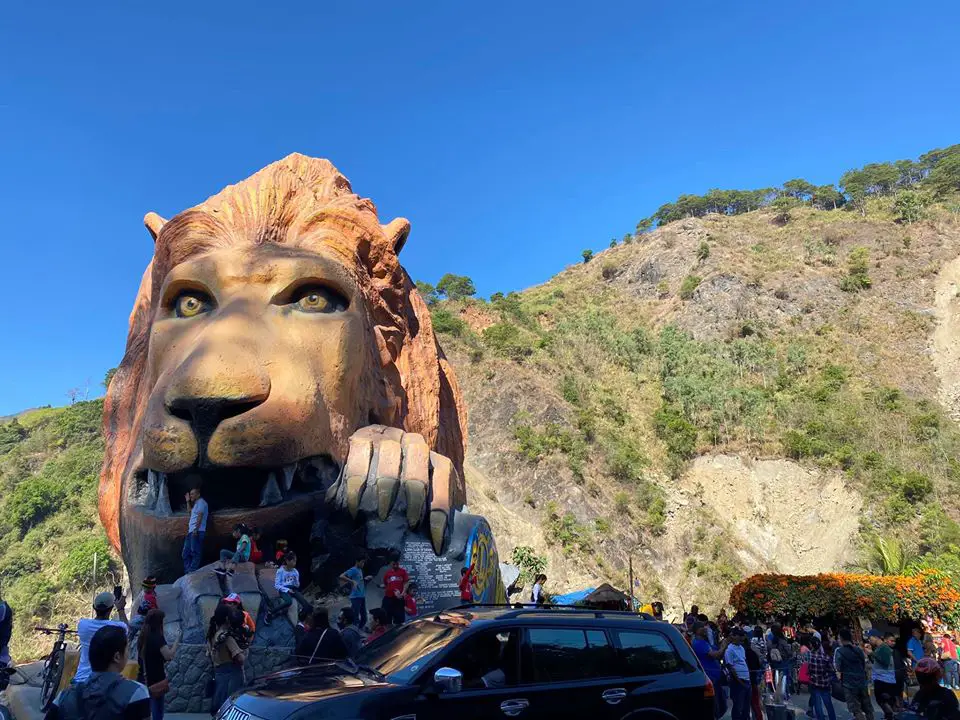 Lions Head Baguio sits along Kennon Road, amidst the backdrop of panoramic mountain views.
Travelers who pass along it for the first time will surely find time to drop by and just gaze its majestic wonder. In fact, some would say that visiting Baguio City would not be complete without taking a picture with the Lion's Head.
The entire sculpture measures 40-feet high. That's as high as a four-story building!
Did you know, however, that Lion's Head we know is not actually the original one? Yes, there is another nearby limestone rock formation, now hidden by vegetation.
But if you look closer, it does resemble the shape of a lion's head even without makeup or renovation.
It was in 1972 when the local authorities commissioned the new Lions Head, carved from a bigger rock formation. But I do hope that they maintain the original Lions Head. At least, there are two of them to see in one setting, right?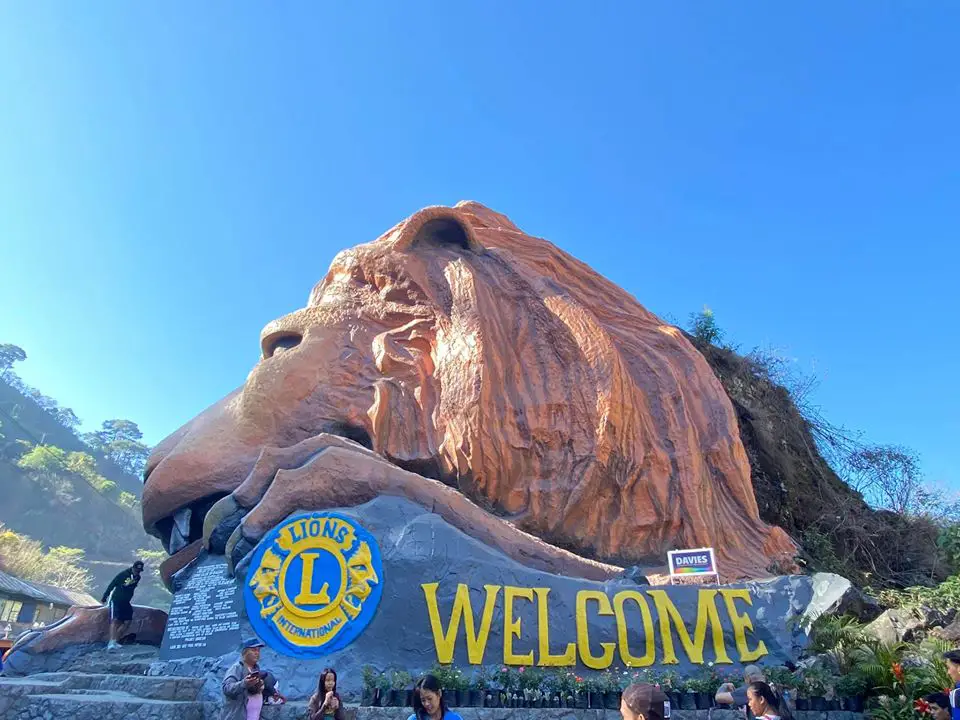 Aside from Lions Head, the place offers a good viewing point for the historic Kennon Road. It was one of the most expensive road projects done by the Americans to hasten transportation to Baguio City.
As I was viewing it, I could not help but feel this amazement and wonder at how they were able to accomplish such feat. I mean, how they did build a fully-functioning road on very rocky and steep mountain slopes.
Sadly, a lot of workers died during the construction phase, probably, out of exhaustion.
From the Lions Head Baguio, you can also see Bued River which emanates from Baguio's remaining watersheds. Unfortunately, the river is already polluted. Lately, however, there have been efforts to revive it.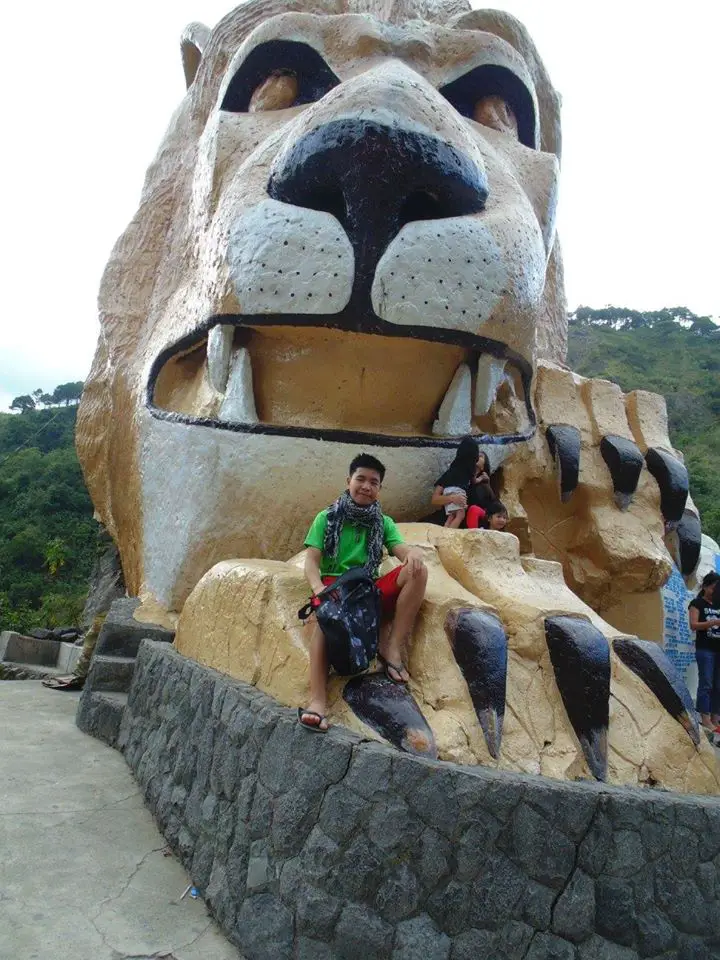 A Brief History
Even before all the improvements and renovations are done, the Lion's Head was sculpted from a rock formation that resembled a lion's head. No one really knows why it was shaped that way. It could be forces of nature that molded it.
It was during the term of Governor Luis Lardizabal's term in 1969-1970 when the plan of transforming the rock into a Lions Head landmark came to be. Members of the Lions Club that time proposed the project to design a landmark that would best represent Baguio City especially that it was starting to grow in popularity.
A lot of prominent people and organizations that time donated funds for the project to push through.
Since its completion in 1972, it has become a favorite pictorial site for both locals and tourists traveling to and from Baguio City.
In recent years, there have been a lot of changes made. But regardless, what I find special about Lions Head Baguio is its resiliency despite calamities. It somehow captures the capacity of the people of Baguio to stand against the test of times such as the deadly 1990 earthquake.
Extra Sight to See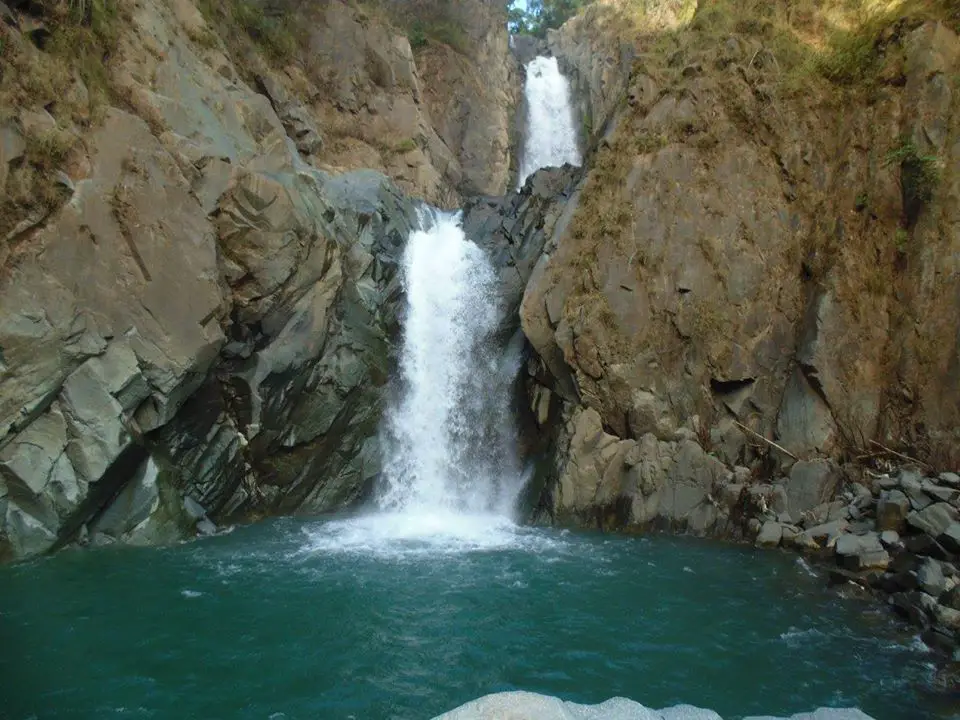 If you're an adventurer like me, you might want to check out Hydro Falls which is part of Camp 6, Tuba, Benguet. From the Lions Head Baguio, you can trek to reach the first community. That is the jump-off point and trekking time is around 20 minutes. From the community, cross the bridge and follow a narrow trail until you reach the waterfall. That will take you 20-30 minutes.
Hydro Falls is a two-tier waterfall that will surely gratify you for a swim especially when you chance on its clearest state. Each layer has a naturally-built pool and you can climb the first fall to reach the second waterfall which by far, is higher.
Just make sure you know how to swim and take extra caution when you come here. Here is a word of warning though. There were recorded drowning incidents here in the past.
After enjoying or swimming, you can then proceed back to the community. There, wait for a jeep or van bound to Baguio City.