Here is your complete DIY travel guide to Stobosa Baguio, the mountain of colorful houses!
While a lot of people associate Stobosa with Baguio City, it's actually under the jurisdiction of neighboring La Trinidad municipality. In fact, it is one of the attractions which captures La Trinidad's tourism tagline, "Valley of Colors." I've been seeing it since college whenever I travel to Baguio and back. It's just along the national highway and those varied colors certainly make it easily noticeable and alluring.
As a local, let me share how you can get there and what to expect. Although I'm promoting it for tourism, I'll also give honest reviews for your awareness. I'll share tips and tricks in this article to help make up the most of you visit here.
Let's go.
Quick Facts
Location/Jump-off: BrgyBalili, La Trinidad, Benguet
Distance from Baguio: 10-15 minutes via Jeep or Taxi
Entrance Fee: None
Why is it a Top Baguio Tourist Spot: Stobosa Baguio is the first and largest community artwork in the Philippines
How to Get to Stobosa Baguio
Here are two options to take.
Option I – Via Jeepney Ride
I highly recommend this option, especially for budget-conscious travelers. You can ride any of the jeeps bound to Tomay, Camp Dangwa, and Buyagan. You'll find them at Magsaysay, Bokawkan, and Dangwa Station at the back of Center Mall. You can easily catch one and the jeeps easily fill to capacity so you don't have to wait for long.
The fare from the city center to Stobosa Baguio is Php 9. Travel time takes 10-15 minutes, depending on road conditions. Don't forget to tell the driver to drop you off Stobosa's viewpoint.
Option II – Via Taxi or Grab
From any point in Baguio, ride a taxi or book a Grab. For the taxi, just tell the driver that you're headed to Stobosa and for sure, he knows. The fare should be around Php 80 to Php 100 if you're coming from Baguio central district.
Stobosa is just along the highway and you can easily spot it given its vibrant colors. There is a viewpoint and a waiting shade near the drop-off point.
If you're going back to Baguio City proper, cross the road to the other side and wait for any jeep or taxi.
TIP: To avoid rush hour traffic, it's best to visit Stobosa Baguio during the early morning. There are fewer people at this time. Plus, you won't have to deal with simmering midday heat.
What to See/Expect at Stobosa Baguio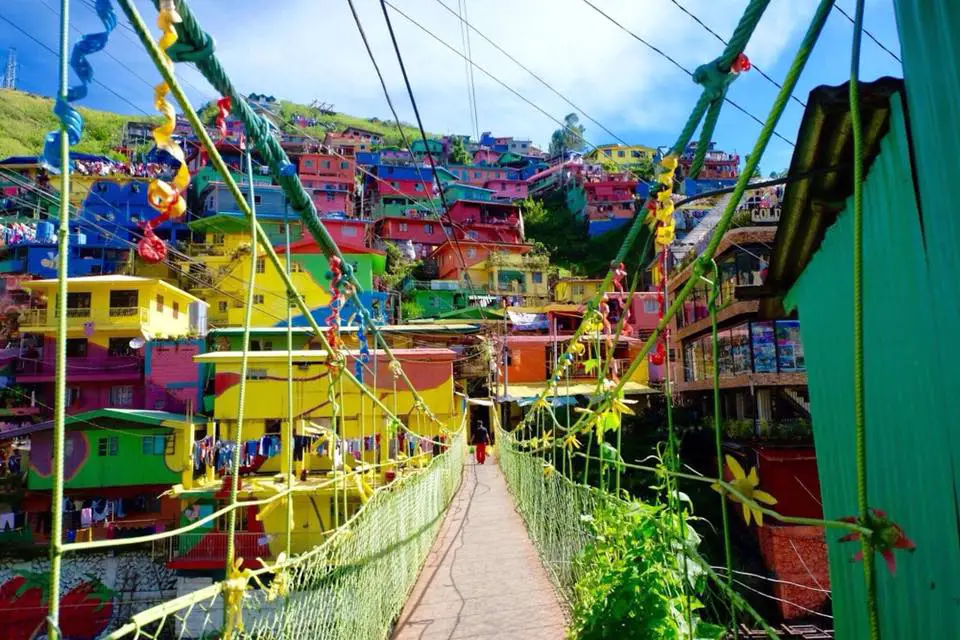 Officially called the Stobosa Hillside Homes Artwork, Stobosa Baguio features clustered houses painted with different colors. The houses sit on the slope of a dramatic mountain and below, there is a river.
The river stinks, however, since garbage and other pollutants are being dumped right into it from its source. I hope the local authorities revitalize their efforts to bring back the beauty of the river. Surely, it'll significantly add to the scenic view of Stobosa.
Aside from the viewpoint, another exhilarating experience here is to cross the bridge which leads to Stobosa. It's a narrow hanging bridge that will surely give you a thrill. Plus, it's an ideal spot to take pictures with Stobosa as your background.
The best view of Stobosa, however, is from the opposite mountain. From here, you'll glimpse the actual design of the painting. The dominating figure formed by the painting is a sunflower which is common in La Trinidad and Baguio. There are also figures of rainbows and strawberries, being the one town, one product (OTOP) of La Trinidad.
The term "Stobosa" comes from Stonehill, Botiw-tiw, and Sadjap which are all sitios in Barangay Balili.
Overview of Stobosa Baguio History
Stobosa Baguio came to realization under the Rev-Bloom Urban Redevelopment Tourism Campaign of the Department of Tourism. The Tam-awan Artist Village of the Chanum Foundation conceptualized the design of the artwork.
Painting officially began in February 2016 and on June 23, 2016, the inauguration took place. More than 2,800 gallons of paint were applied, provided by the local paint firm, Davies Paints. In support, more than 520 locals served as volunteers.
From being a plain mountain of overcrowded houses, Stobosa now bursts into colors, signifying the rich landscapes of La Trinidad and Baguio City. It also proudly showcases the artistic skills and talents of the Cordillera people. It's a fascinating sight indeed.
Tips and Reminders
Best to come here during the early morning to avoid crowds and traffic.
Stobosa Baguio is a good side trip before or after going to Strawberry farm since the road passes through both.
Don't litter, please.
Refrain from picking flowers.
Stobosa is just a walking distance from the Bell Church, a popular Baguio tourist spot. Just follow the road for about 10 minutes until you reach the gate.
You can climb to the opposite mountain to get a better view of Stobosa.
Stobosa is often interchanged with various names such as Stobosa Hill, Baguio Colorful Houses, and Colorful Village Baguio.