Here is your complete DIY travel guide to Mt Amuyao, one of the highest peaks in the Philippines!
Mt Amuyao soars to more than 2,702 MASL, making it the fourth-highest in Luzon. Some sources, however, suggest that Mt Amuyao stands at 2,862 MASL. If verified, this will make it to the top ten highest mountains in the Philippines.
In my gnawing search for adventure and relief from daily bustles, I and my travel buddy Neo decided to assault Mt Amuyao during a long holiday. I've been to the mountain before.
But this time, I wanted to totally commune myself with its rustic offerings and hopefully, get clearer views. Boy, it did not fail us and it rewarded us with magnificent views, enough for me to say that it was one of our best adventures.
IMPORTANT UPDATE: Due to the pandemic, tourists are required to book in advance before hiking Mount Amuyao. Do contact the Tourism Officer whose number is stated at the end of this article.
Quick Infos
Major Jump-Off Point: Brgy. Macalana, Barlig, Mt. Province
Hours to the Summit: 5-6 hours
Sights to See: Mossy Forests, Wildlife Species, Sea of Clouds
Elevation: 2,702-2,862 meters above sea level
Mt Amuyao Traverse: Not Available
How to Get to Barlig?
Bontoc, the capital town of Mt. Province is the jump-off point to Barlig. Here is how you reach Bontoc.
Manila to Bontoc. Take Coda Lines bus from H.M. Bus Station, Cubao, Manila. For updated trip schedules and fare, visit their website here: http://www.codalines.ph/
Travel time to Bontoc takes 12 hours. Don't forget to remind the driver to drop you at Bontoc town since the buses are bound for Sagada.
Bontoc to Barlig. Jeeps bound for Barlig depart by 1 PM and 2 PM. The jeepney station is located in front of All Saints Cathedral. Be at the station at least 30 minutes before the departure since the jeeps are filled to capacity before the departure time. The fare is Php 100 per person.
From Bontoc, it takes two hours to reach Poblacion, Barlig. If the weather is fine, you can opt for the top load to catch a full view of the sceneries along the highway.
Preliminaries & Fees
Upon reaching Barlig, tourists should first register at the Municipal Tourism Office (MTO) of Barlig and pay 25 pesos each. A guide is also required for every five tourists. The fee per guide is 2,000 pesos for a day hike. For an overnight trek, the fee is 2,500 pesos.
For every excess in the pack, 300 pesos is required. Mt Amuyao is part of barangay Macalana. Thus, it also collects an environmental fee of 50 pesos per person.
Summary of Mt Amuyao Fees:
Environmental Fee: Php 25 per person
Guide Fee:

Php 2000 for a maximum of five persons
P 2500 for an overnight tour
Php 300 for every excess to the group

Barangay Fee: Php 50
Assaulting Mt Amuyao Trail
Our plan was to view the famous Mt Amuyao sunrise the following morning. So we started hiking at around 2 PM. It was drizzling and a bit foggy but we pressed on.
After passing through the stone-walled terraces of Brgy Macalana, we reached the main trail to Mt Amuyao. Initially, we trekked in pine forests and open grasslands. The trail was not that steep so I did not feel much exhausted at this point.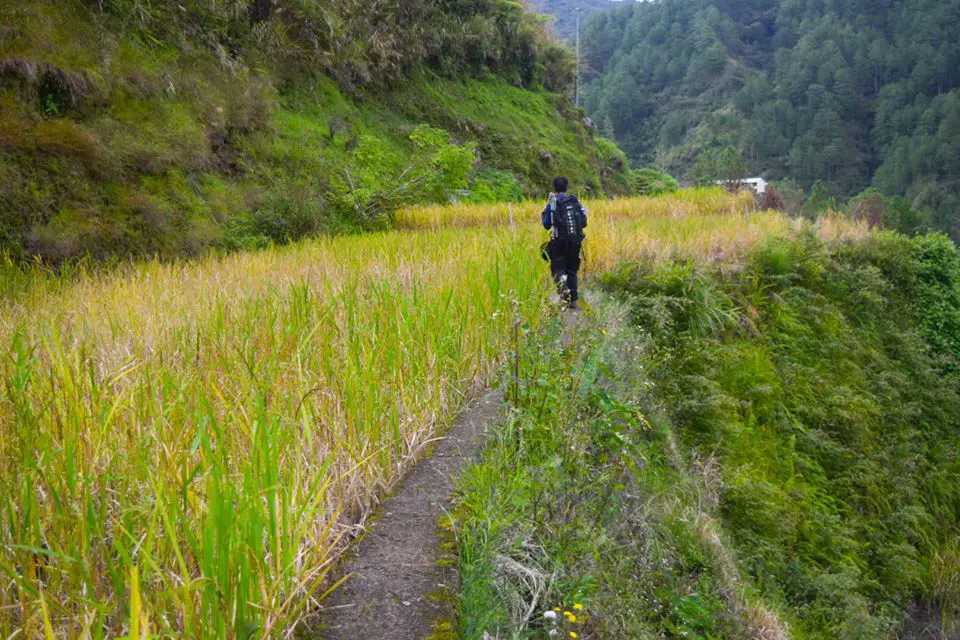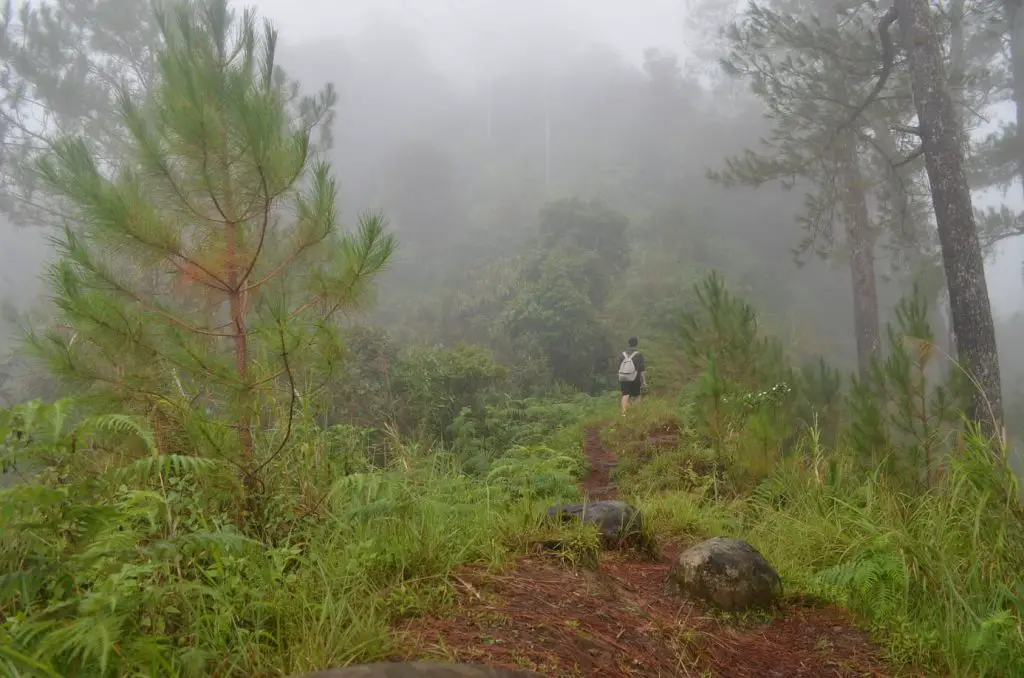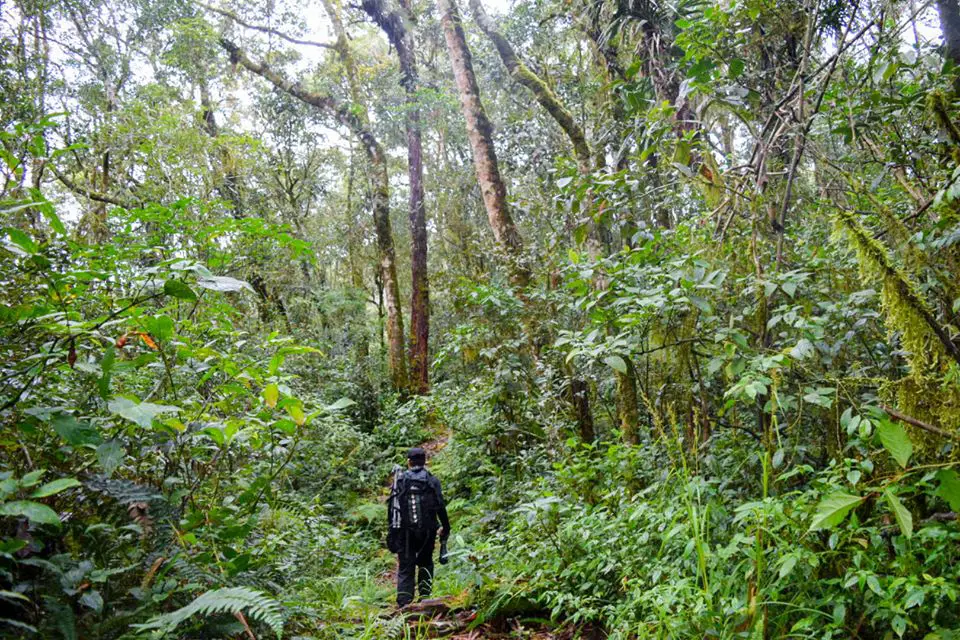 An hour later, we reached a waiting shed. This was actually the signal that we were about to assault the steepest part of the trail. So we had to rest a bit to regain our strength.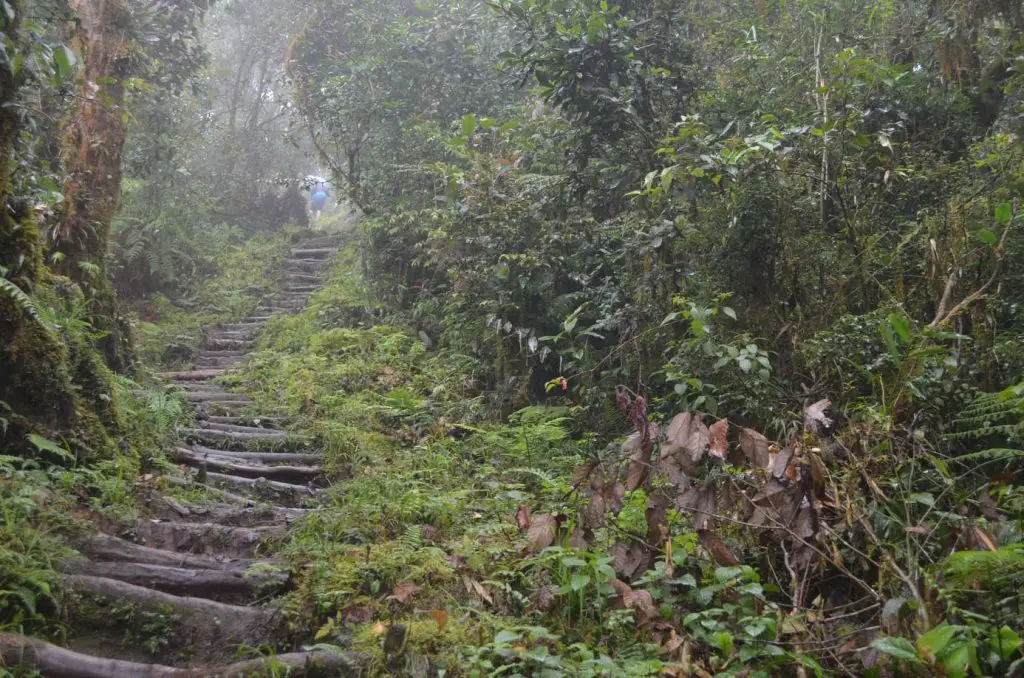 "Let the real climb begin," I told myself as we continued. We reached the start of the so-called killer stairway to Mt Amuyao. Literally, we were facing head-on the very steep slope we were climbing.
I could already feel my heart pumping very rapidly and even my friend, so we had to trek slowly. Because it was drizzling, the path turned wet and muddy, making it even more difficult to climb.
Thankfully, the surrounding sights of beautiful mossy forests and blooming wildflowers provided us with constant relief. There was also a spring where sipped pure water. It took us more than an hour to finish the steepest portion of the trail.
Whew! What a total relief but the journey does not end here.
After the Killer Stairway
We still had quite a long way to go, following a winding mountain ridge. There's another stairway before the summit itself. But this time, it was less steep.
We were already more than 2,500 meters above sea level at this point. It's no wonder, the vegetation trees here are stunted. And it's freezing!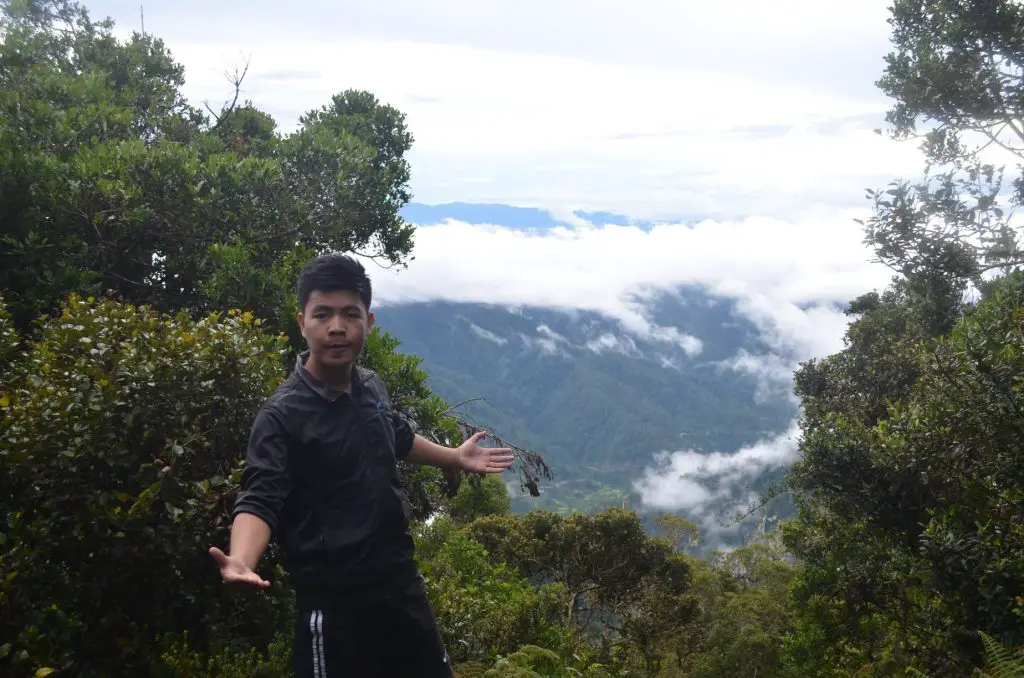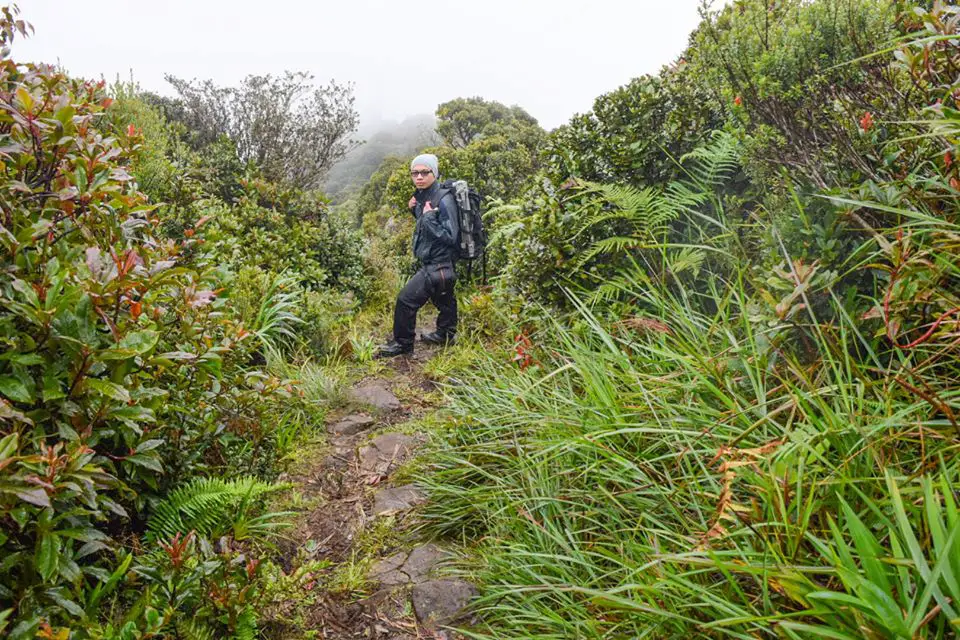 From the killer stairway, it took us another hour to finally reach the summit of Mt Amuyao. All in all, it took us three hours and a half. You could say we're fast climbers because I mentioned that the average hiking time is 5-6 hours.
But wait till you hear this. A local guide told me that foreign hikers could easily assault Mt Amuyao for two hours or less!
It was already getting dark when we reached the summit. I was wearing shorts and you could just imagine how freezing it was.
Thankfully, there is a bunker where we spent the night. Plus, I was able to get coffee to warm myself as I gazed at the surrounding views.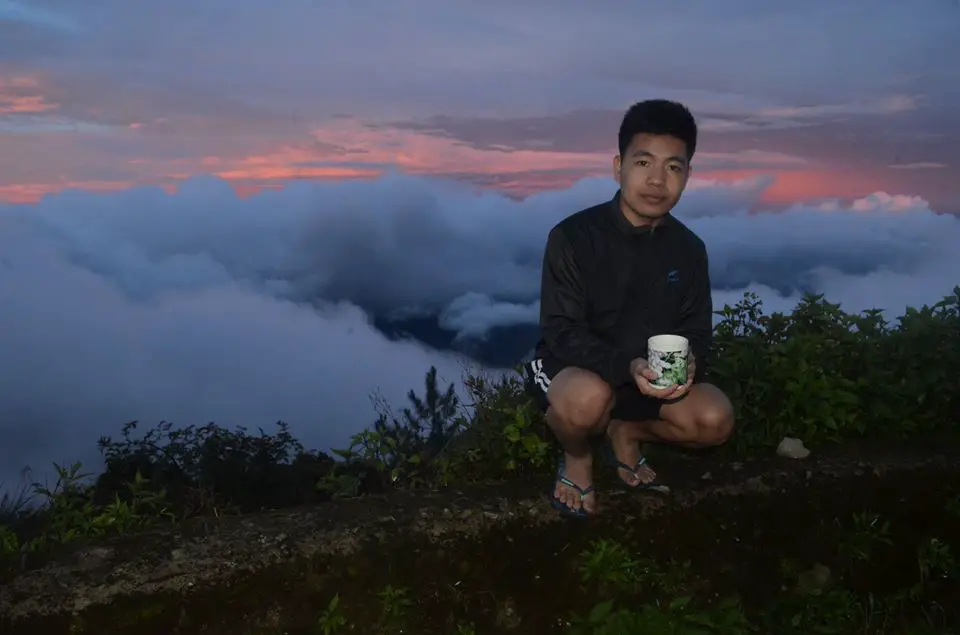 Here Comes Mt Amuyao Sunrise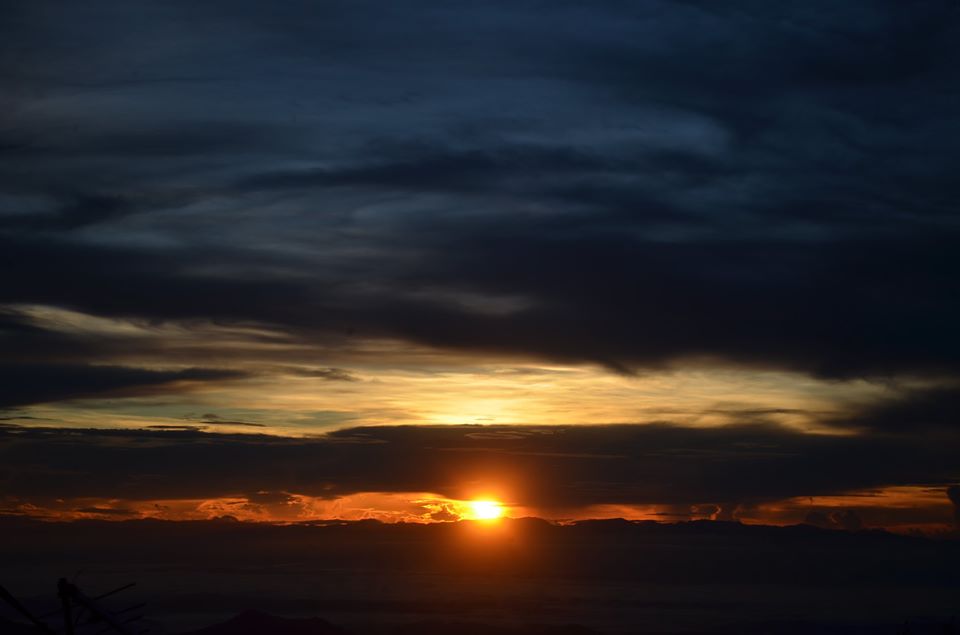 It was still dark the following morning when my friend went out, waiting for the sunrise. He's been up for it so I also stepped out in anticipation.
Tik…tok…tik…tok.
It wasn't long when from a distance, we saw the sun's rays slowly peering from the mountaintops. My friend's camera was all set up to capture the moment.
Then as the sun finally revealed itself, it also unraveled a breathtaking view of the mountains and the distant plains. Unfortunately, there was no sea of clouds but the beautiful view of the sunrise made up for that.
Plus, the lush forests all around impressed us. You bet! The sights to see atop Mt Amuyao are every mountaineer's dream.
During the summer months of March to April, the bonsai forest of Mt Amuyao comes in full bloom. Flowers of different colors spring in full display. Even white orchids can be spotted waving from the pine trees. Just like in Mt. Pulag, Mt Amuyao has groves of mini-bamboos.
The nearby Mt Kalawitan and Mt Napulauan can also be seen from here including Mt Pulag. Because of the strategic location and height of Mt Amuyao, both ABS-CBN and GMA established relay towers.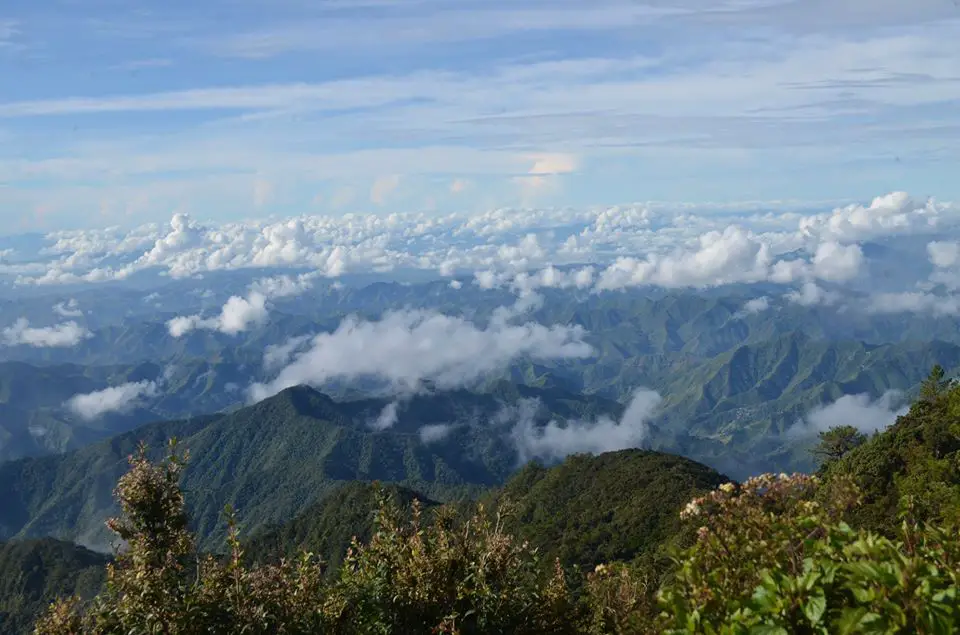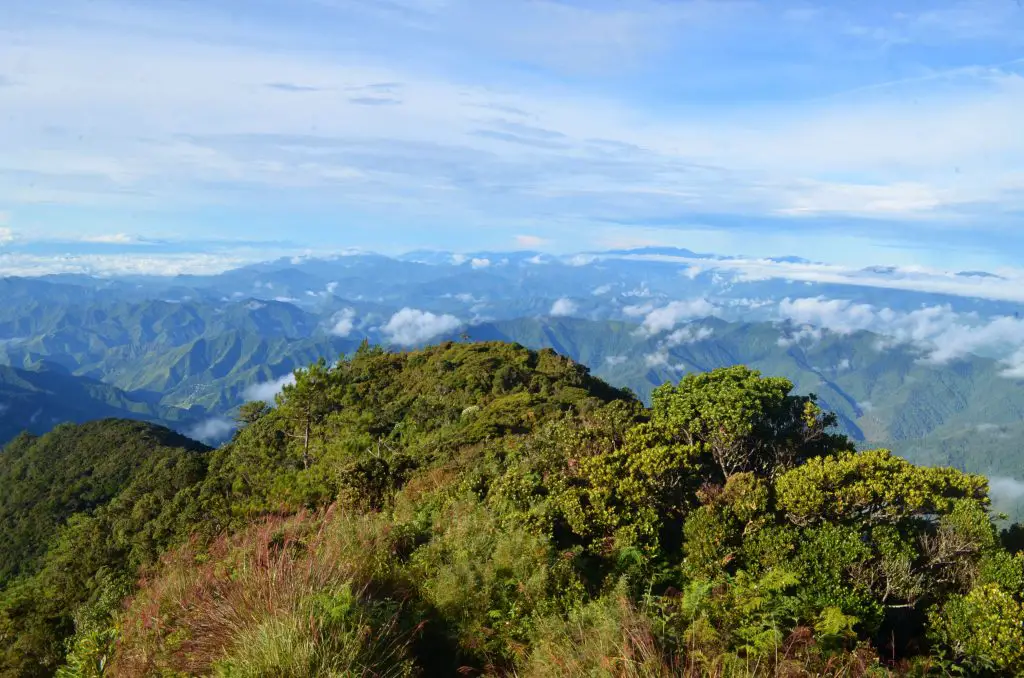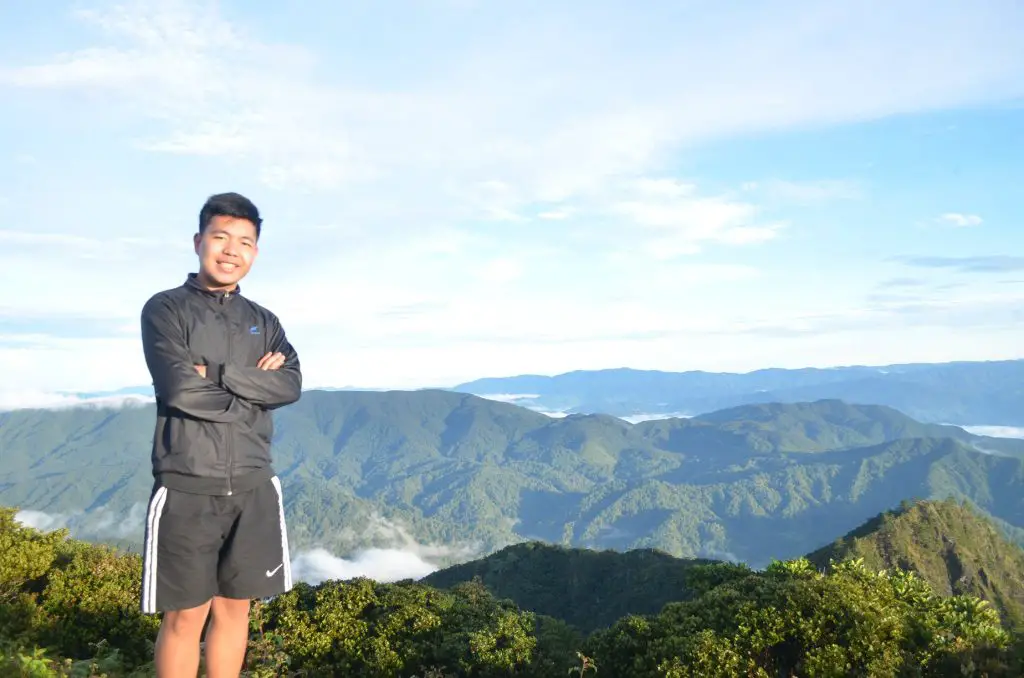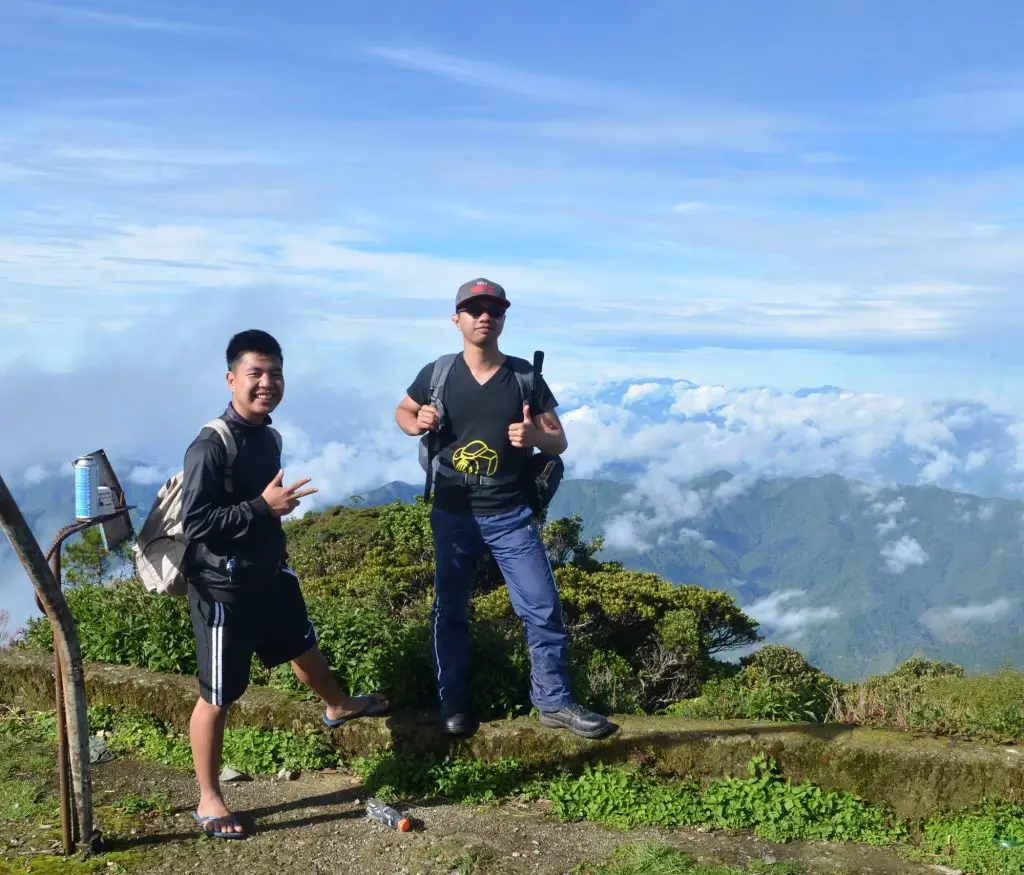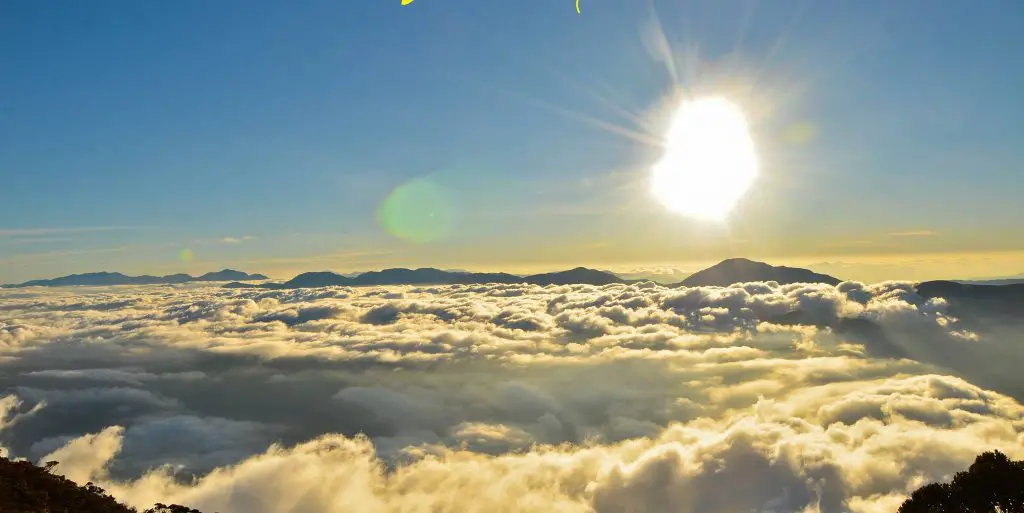 Where to Stay/Eat in Barlig:
Travelers or visitors may stay or dine at the following:
Halfway Inn and Restaurant (Rate: 250 per head/ night)
Seaworld Inn (Rate: 200 per head/night)
Cozy Nook and Cafe (Rate: 300 per head/night, with hot shower)
There are several stores that sell basic commodities. Other dinings in Barlig central are Hanjo Cafe and Loloped's Eatery.
Globe is the only existing network in Barlig central.
Barlig Tourism Office Guidelines:
Register at the Tourism Office and PNP Station.
Pay the registration fee of 25 pesos individually at the Treasury Office on weekdays and at the Tourism Office on weekends.
The tourism office will assign a tour guide for the tourist.
The tour guide will accompany the tourist to the designated barangay (Macalana) to pay the environmental fee of 50 pesos individually.
Respect local culture.
Refrain from picking flowers.
Don't litter, please! Bring back your garbage to where you got them.
Let us all help in maintaining the pristine beauty of Mt Amuyao.
What to Bring to Mt Amuyao
When I go hiking, I don't carry much except for the essentials. I simply want to walk with ease so I can make the most out of the experience.
Normally, I only bring a bottle of water and a few chocolate bars. But since climbing Mt Amuyao is a challenging one, do bring the following:
Water Bottles. At least 2-3 liters of water per person.
Backpack (better if it's rainproof or is wrapped in plastic). You never know if its gonna rain.
Snacks (e.g. Chocolates, Bread, and Skyflakes)
Jackets (Preferably rainproof. Needed to protect you from insects, leeches and leaf blades. Plus, it freezing cold atop Mt Amuyao during the morning and evening)
Rain Gear (You can use this in case you don't have an umbrella when it rains)
Medicine Kit (Just in case untoward incidents happen)
Extra shoes, socks, slippers (If you find necessary)
Sleeping bags and sleeping mat (That is, if you will camp atop Mt Amuyao. Coordinate at the tourism office about this.)
Gloves, Bonnet, Cap (For extra protection/comfort)
Plastic Bag (This is where to put your trash into. Please never ever litter. Bring back your trash away from the mountain)
Eating Utensils
Camera (To capture moments and sceneries)
NOTE: You can hire a guide to serve as your porter.
Sample Itinerary to Mt Amuyao
Here is a sample itinerary to Mt Amuyao if you are coming from Manila. Depending on the situation, the schedules and fares can change. Further, you can always adjust to suit your plans and purpose.
Day 0
7:00 PM. Assembly at Coda Lines Bus Station, Cubao, Quezon City
8:00 PM. Departure of First Trip
Day 1
8:00 AM. ETA arrival in Bontoc, Mt Province
NOTE: You can stroll around Bontoc town while waiting for the jeep to arrive from Barlig.
1:00 PM. Departure of first jeep to Barlig.
3:00 PM. ETA Arrival in Poblacion, Barlig. Have a meal break.
5:00 PM. Start hiking to Mt Amuyao.
11:00 PM. ETA arrival in Mt Amuyao. Dinner. Sleep and prepare to watch the sunrise the following morning.
Day 2
5:30 AM. Wait for the Sunrise.
6:00 AM. Breakfast.
7:00 AM. Start hiking back to Barlig town.
12: 00 PM. ETA Arrival. Lunch.
2: 00 PM. Back in Bontoc.
3:00 AM. ETA arrival in Manila.
Mt Amuyao Weather
According to the locals, the best time to visit Mt Amuyao is during the months of January to March. You'll have more chances of seeing the sea of clouds. It's also during these months when wildflowers bloom at the summit.
Mt Amuyao Traverse
The local authorities closed the Mt Amuyao traverse to Batad in 2017 to allow the regeneration of the said mountain. That means tourists are only allowed to hike to the summit and back to Barlig. The rule applies to the Mt Amuyao reverse traverse.
For More Info on Mt Amuyao
If you need further information that may help in setting up your itinerary to Mt Amuyao do contact:
Ms. Jansen Focad, Tourism Officer, 09264004717
So those are some of the essential information to know when planning a trek to Mt Amuyao. Should you have questions or clarifications, feel free to share them in the comment section below.