Entry Points: Brgy Maducayan, Natonin, Mt Province; Brgy Dacalan, Tanudan, Kalinga
Time duration: 6-7 hours
Elevation: 1, 800 MASL
Special Features: Dipterocarp and Mossy Forests, Giant Almaciga Trees, Rich Wildlife
Mt Binaratan or Mt Vinaratan stands mightily and majestically, guarding the peaceful village of Maducayan in Natonin, Mountain Province. It may not be the highest of the mountains.
But certainly, it has its own unique features and surprises to offer. Assaulting its summit would definitely leave one feeling blissful and accomplished.
Soaring to more than 1,800 meters MASL, Mt Binaratan presents a new hiking opportunity for nature lovers. It is one of the last ecological frontiers left in Mountain Province. Its lower slopes are covered with thriving dipterocarp forests. These are home to endangered species such as deer, wild pigs, monkeys, and numerous species of birds.
Mt. Binaratan is also shared with barangay Dacalan of Tanudan, Kalinga and Lias Silangan of Barlig municipality. The latter refer to the mountain as Mt. Finaratan.
I have been climbing Mt Binaratan twice already. Still, I have this gnawing feeling of wanting to keep climbing it over and over again. It just gives me profound joy and fulfillment whenever I successfully make it to its summit.
Keep reading my friend and you'll realize why.
Assaulting the Summit of Mt Binaratan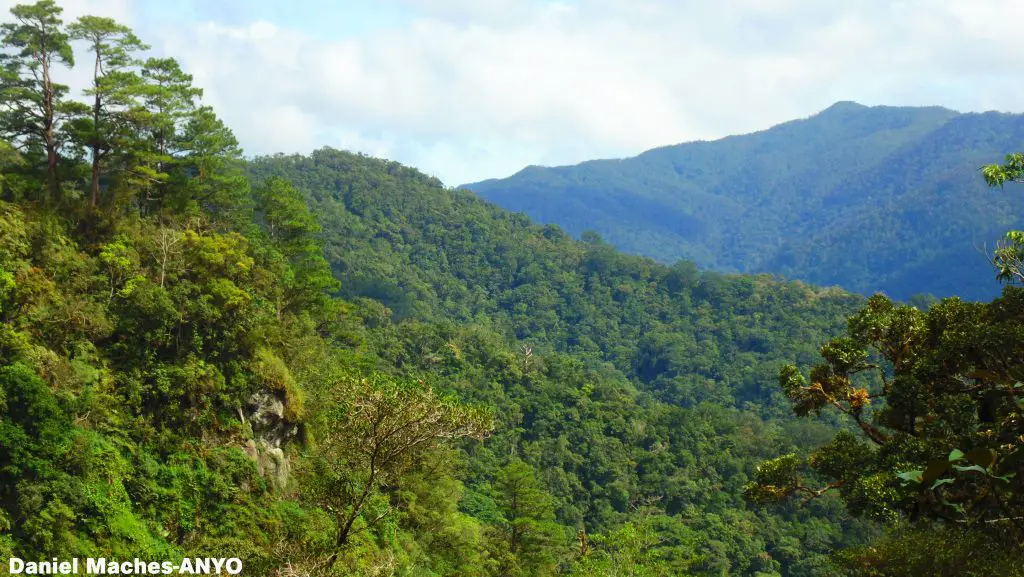 Assaulting the summit of Mt Binaratan is one of the most challenging hikes I've experienced. Not because of its height. But because it was incessantly raining during both times we visited.
The initial trail commences on grassy slopes. Later on, it cuts through dipterocarp forests. Giant tree species thrive here. Fortunately, these were spared from logging because the locals protected them for centuries. Oh, we were lucky to have witnessed a group of monkeys, and a flock of endemic birds. What an exhilarating encounter!
There are steep parts along the trail, making the trek even more challenging. Literally, you would need to hold unto roots or branches to avoid slipping. Because of the rains, the trail turned muddy and slippery. At some point, we had to crawl our way upwards. Leeches were also everywhere.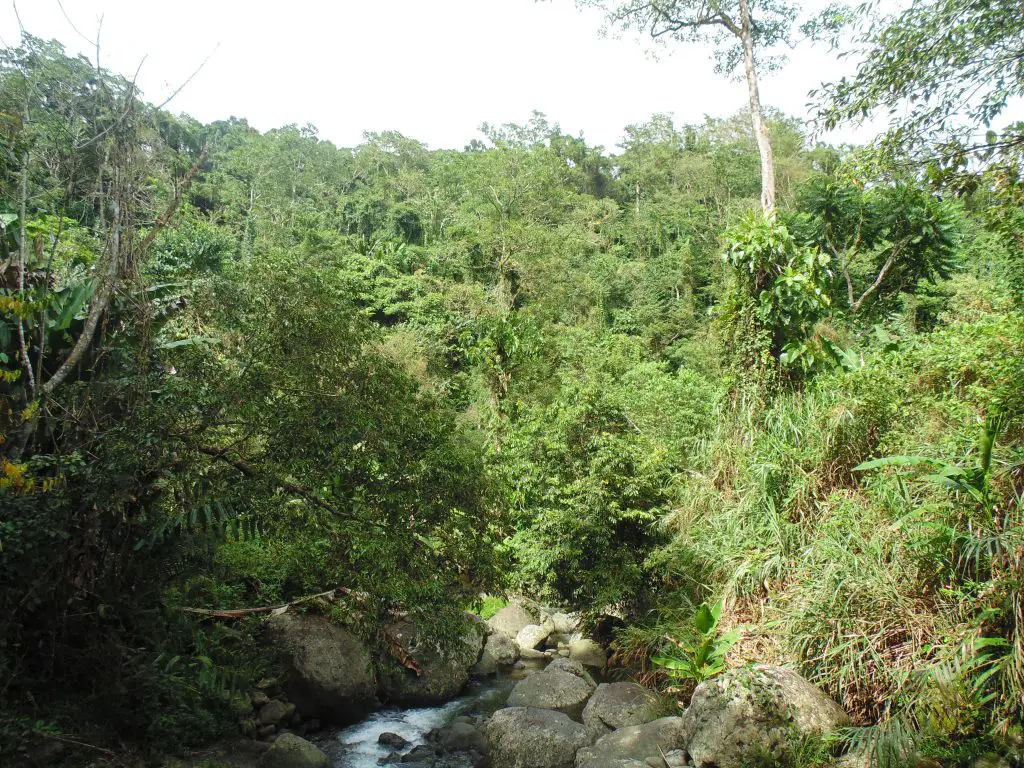 Fortunately, there were some creeks along the way. There, we rested and sipped pure water to relieve our weary soul. We also came across a small cave where hunters spend their night.
After more than six hours of grueling hike, we finally reached the summit of Mt Binaratan. Uhmm. Yeah, it was still raining and foggy. Thus, we were not able to catch a view of the surrounding landscapes.
According to our guides, summer is the best time to visit. During this time, one can see the forested mountains of Barlig and Kalinga including the famous "Sleeping Beauty" of Tinglayan. And they say, the sunrises and sunsets are spectacular.           
The Mystery behind Mt Binaratan
Mt Binaratan is locally known as the "Silent Mountain." That is because when you are on top, you cannot hear birds sing or chirp even though you can see them hovering across. Indeed, we never heard any chirpings while we were atop. All we heard were insects' cricketing.
According to local folklore, when Kabunian (Igorot name for God) descended on the mountain to hunt, He was disturbed by the continuous chirping of birds. That is why He cannot locate His dog. For that, Kabunian ordered the birds to keep silent.
When He ascended into heaven, He forgot to tell the birds to continue chirping. And that is how it is until today. It is indeed a mystery worth wondering about.
However, the locals told me that a Japanese came to investigate the silent ambiance of Mt Binaratan and said that there is a scientific reason behind. I'll get to know more about this when I come back to Maducayan.
Apart from the rustic scenery, the cultural stories about Mt Binaratan make it indeed a premium mountaineering destination. Historically, it is also the entry point of Gen. Emilio Aguinaldo to Kalinga as he retreated from the invading American forces.
Oh, I can't wait to assault its summit once again. After all, I discover and learn something new every time I do so. 
How to Get to Maducayan, Natonin?
Bontoc, the capital town of Mountain Province, is the primary jump-off point to Natonin.
Manila to Bontoc. Take Coda Lines bus from H.M. Bus Station, Cubao, Manila. Schedule of trips are 8:00 pm, 9:00 pm, 10:00 pm, and 10:30 pm. It takes 10 to 11 hours to reach Bontoc.
If you are not familiar, tell the driver to drop you at Bontoc town since the buses are bound to Sagada. Fare is 725 pesos for semi-deluxe and 935 pesos for deluxe.
By the way, I highly suggest that you take the 8:00 pm and 9:00 pm trips so you will not miss the trip to Natonin. The bus/jeep bound to Natonin departs by 10:00 am from Bontoc and there is only one trip a day.
The scheduled bus/jeep is stationed along All Saints Cathedral. You can actually tell the Coda Bus driver to drop you there.
From Bontoc, it takes 6 hours to reach Poblacion, Natonin. Definitely, you would have to spend the night here.
Poblacion, Natonin to Saliok. There are vans operating from Poblacion, Natonin to Paracelis. They are stationed in front of the municipal gym. These vans ply the national highway which passes along Saliok, another barangay of Natonin.
From Poblacion, the ride takes less than an hour to reach Saliok. Time of departure usually starts at 5:00 a.m until late in the afternoon. There are no fixed intervals because the number of departure depends on the availability of passengers.
Saliok to Maducayan. Saliok is the jump-off point to Maducayan. From Saliok, one needs to hike to Maducayan. The road leading to the barangay is still undergoing construction. Reaching the first sitio takes more or less two hours.
Paracelis to Saliok. If you are to come from Poblacion, Paracelis, there are vans bound to Poblacion, Natonin. These vans also ply the national highway, traversing Saliok. Van departures usually start as early as 5:00 until afternoon, depending on the availability of passengers.
Extra Sights to see in Maducayan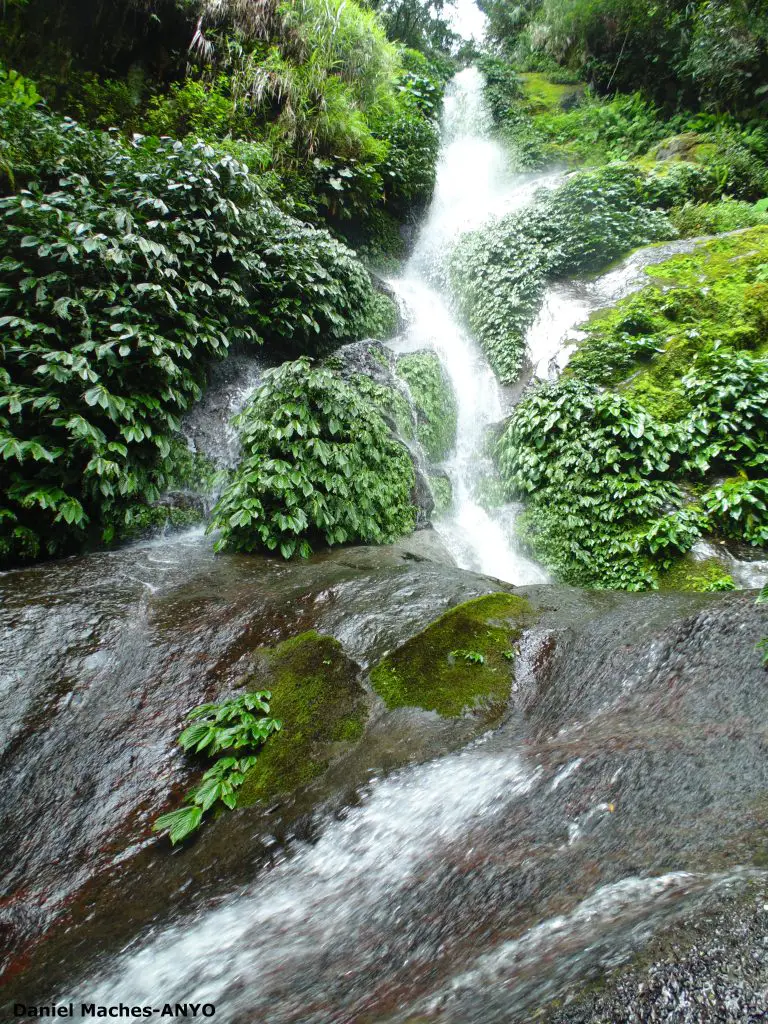 The numerous brooks of Maducayan naturally created several waterfalls. Among these falls are Agomoyamoy, and Turgak. There are also small caves found in sitios Magsaysay, Pinpin, Anuling, and Buni. These are mostly used as hunter's quarters during their expeditions.
However, most of these are in far-flung locations. It would take hours of hike along hunter's trails to see these.
Apart from Mt Binaratan, Maducayan also has other mountains to be explored. The locals have names to these such as Mt. Luwaan, Mt. Gitigit, and Mt. Balikongkong.
The people are also very hospitable. Almost every household offer food or drinks. It seems culturally-ingrained for them to offer visitors their warmest hospitality.
Unlike in many remote areas in the Cordillera, coffee is the main drink being served by the locals. These grow abundantly and organically on the slopes of Mt Binaratan and its adjacent mountains. Their coffee is of Robusta variety, owing to the warm climate.
Some Important Reminders:
It is best to climb to Mt Binaratan during the summer months of March to April. However, there are also sunny days or weeks during the months of June to October.
There are no lodging amenities in Maducayan. However, the locals readily offer their homes to visitors.
Always consult the barangay officials when visiting Maducayan. They will recommend where to stay and who will serve as guides.
There is not an established tour guiding system yet in Maducayan. Fees can be negotiated with the local officials.
There is a very weak signal reception in Maducayan. In other sitios, there is zero reception. Some of the locals actually climb to higher elevations just to get coverage.
There are stores in Maducayan, selling basic commodities. As much as possible, buy your supplies from them. In that way, you help boost the local economy.
Don't be hesitant when the locals offer food or drinks. That is their way of showing their hospitality.
As much as possible, immerse yourself in the life of the people. Eat their food. Share stories with them. Pound rice. Etc.
Respect local culture and protocols. In other words, refrain from verbal remarks or doing acts which are offensive to the community. Among these include wearing of mini-short and public display of affection (PDA).
For your Information:
If you need further information that may help in setting up your itinerary to Mt Binaratan, simply ask them in the comment section below.
You can also message us on our facebook page namely, Daniel's Eco-Travels. I will be more than glad and willing to answer them whenever I can:)