Here is a comprehensive list of Davao De Oro tourist spots that you should not miss.
Formerly known as Compostela Valley, Davao De Oro is now of the fast-rising eco-tourism destinations in the Philippines. Despite years of intensive mining and massive logging, much of the natural landscapes of Davao de Oro remain pristine.
These natural landscapes host promising attractions that can help boost the local economy and promote environmental conservation.
Towering mountain peaks, enchanting mossy forests, mighty rivers, scenic lakes, and majestic waterfalls are just among the many wonders Davao de Oro can offer. It's more fun here indeed!
Behold Davao de Oro Tourist Spots
1. Mt. Pandadagsaan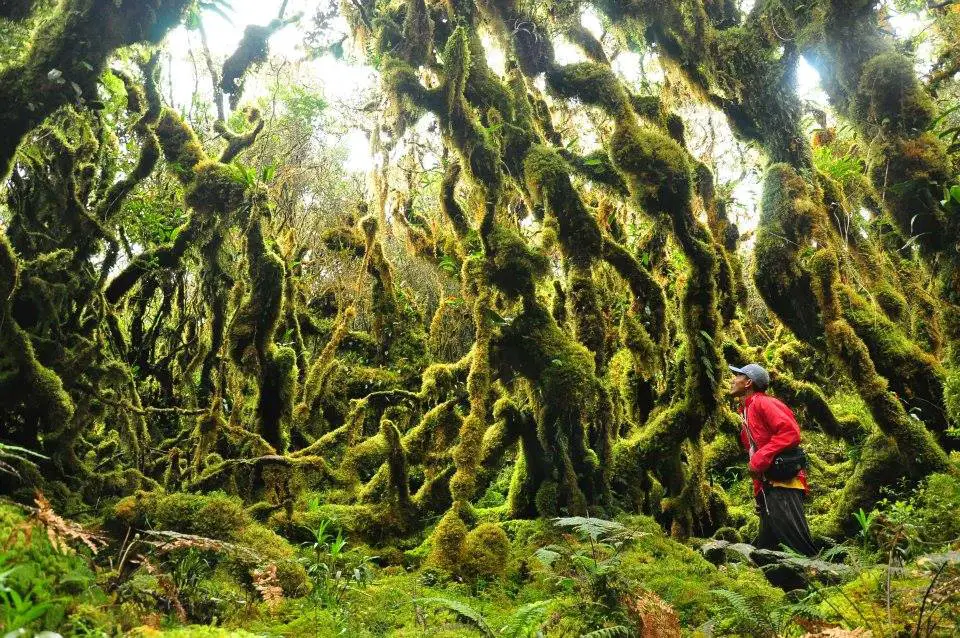 Also known as the White Peak, Mt. Pandadagsaan is one of the best hiking Davao de Oro tourist spots. It is an ecological paradise, home to diverse flora and fauna species including eagles and hawks.
Mt Pandadagsaan is the 3rd highest peak in Davao region and the 13th highest in the Philippines. It is known for its enchanting mossy forests with different formations that will surely leave you jaw-dropped at every turn.
Location/Jump-off: Brgy Andap, New Bataan
Elevation: 8,760 feet above sea level
Contact: 09485530822/09167584656 (Tourism Office)
Package Fee: Php 3000/pax for a group of 5
Note: Coordinate with the tourism office to arrange your tour to Mt. Pandadagsaan.
2. Marangig Falls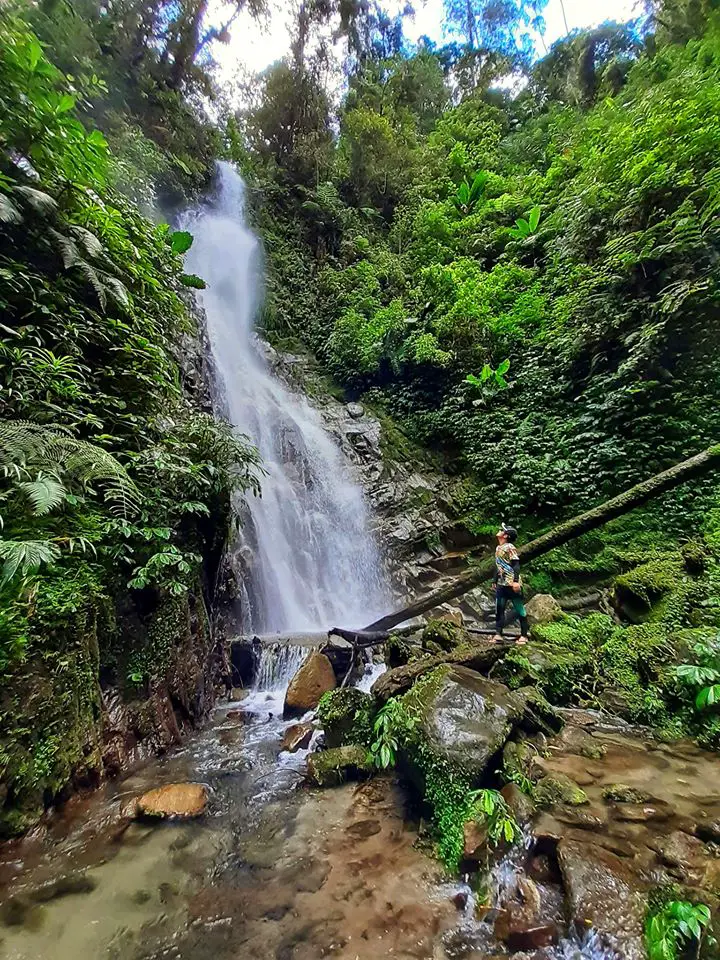 Marangig Falls compose of at least 13 mini-waterfalls, each with different and unique features to offer. It is also the jump-off point when hiking to Mount Candalaga.
Most of the cascades have a naturally-built pool where you can have an invigorating swim. The waters are crystal-clear and icy-cold.
Location/Jump-off: Brgy New Albay, Maragusan
Entrance Fee: None
Trekking Time: 20 minutes
3. Amacan Crater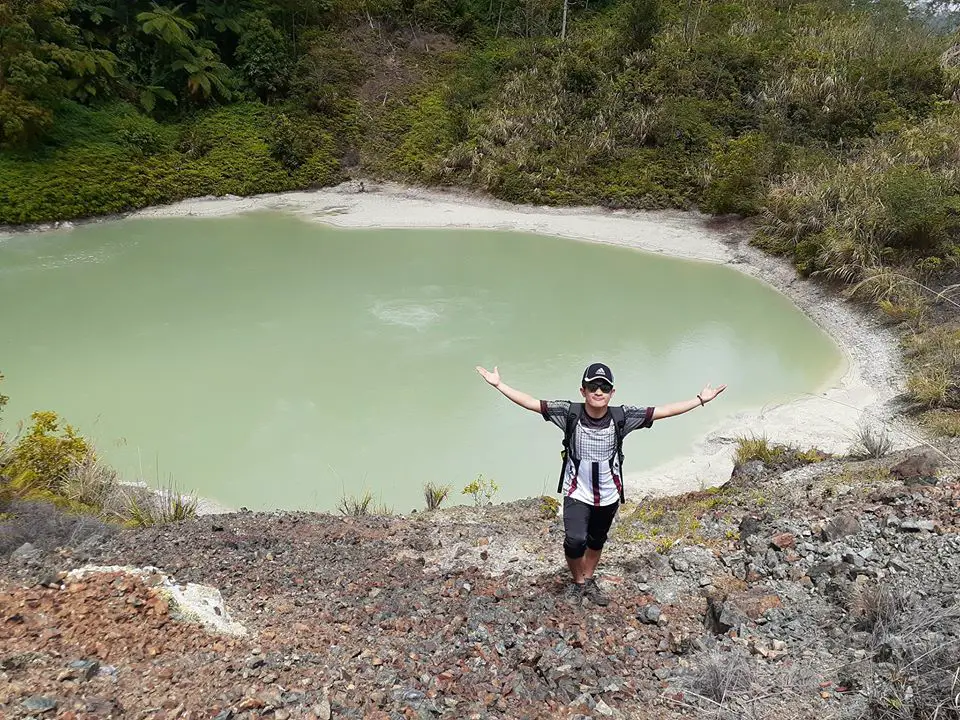 Amacan Crater is one of the best Davao De Oro tourist spots. It is an eight-hectare crater with a breathtaking cauldron similar to that of Mt. Pinatubo. It takes hours of hiking before you can finally catch sight of its beauty.
Location/Jump-off: Brgy New Leyte, Maco
Entrance Fee: Php 100 per person
Guide Fee: Php 100
4. Malumagpak Falls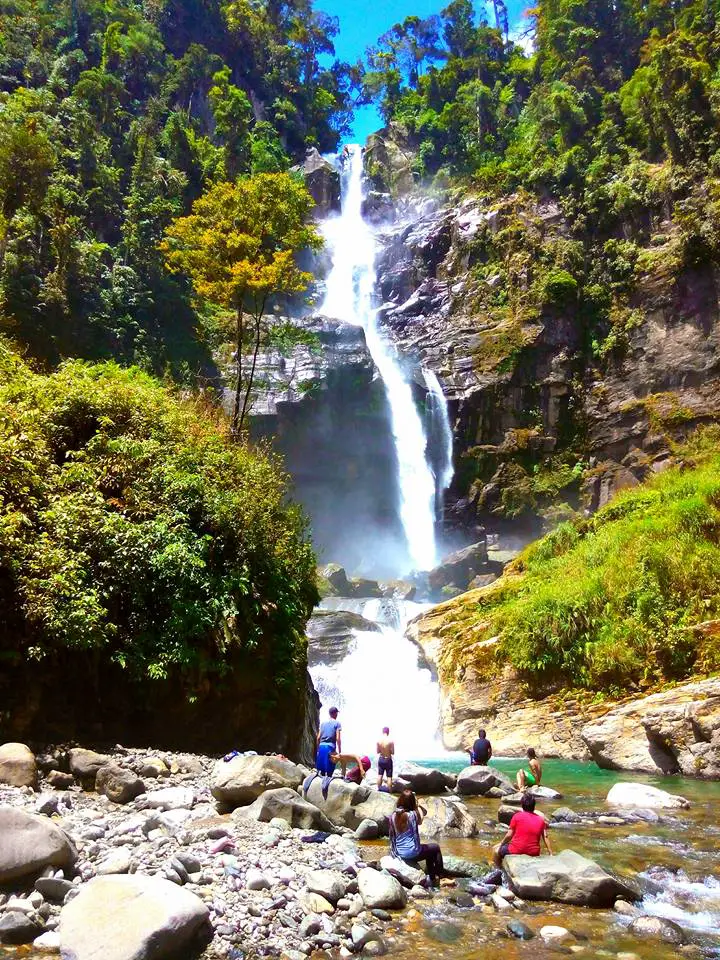 Malumagpak Falls lies on the forested slopes of Mount Manurigao. It has an astounding height of 230 feet, making it one of the highest waterfalls in Davao de Oro. It has four layers cascading powerfully, creating mists that will surely blow you away.
Location/Jump-off: New Bataan
5. Lake Leonard
Lake Leonard is one of the popular Davao De Oro tourist spots. It covers more than 200 hectares and was used before as a dumping site of a mining company.
Thankfully, it's now promoted for eco-tourism. The lake is the crater of Mount Leonard Kniasseff, one of the Philippines' active volcanoes.
Location/Jump-off: Brgy New Leyte, Maco
Entrance Fee: Php 25 per person
6. Fabian's Peak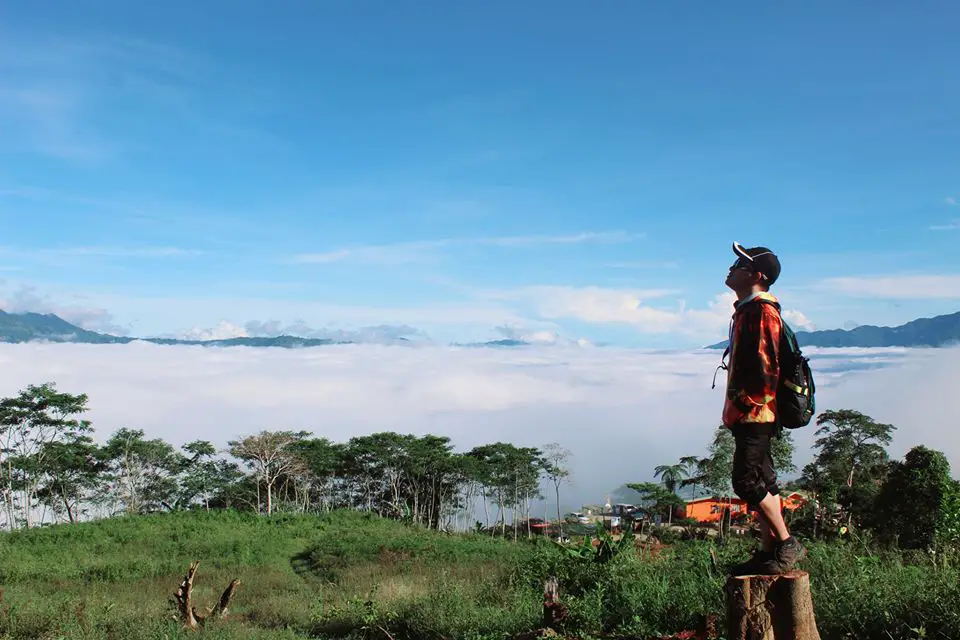 It's not only in Mt. Pulag where you can gaze on a sea of clouds. At Fabian's Peak, you can glimpse of spectacular views of it that will make you feel like you're floating on the air.
The view is even better if you're here during the sunrise as it projects vibrant and alluring colors. Take note, however, the emergence of a sea of clouds depends on the weather.
It's a hit and miss. But it's worth the climb as you'll see panoramic mountain views.
Location/Jump-off: Marugasan
7. Hugo Falls
Hugo Falls is a three-tier cascade with a collective height of 40 meters. It cascades like heavenly drizzles amidst green foliage.
If you wish, you can stand on the base of the waterfall and let its icy-cold waters give you a rejuvenating massage. It is one of the emerging Davao de Oro tourist spots.
Location/Jump-off: Sitio Bagong Silang, Brgy Mapawa, Maragusan
8. Tadya Falls
Tadya Falls is another wonder cascade with four layers for you to enjoy in one visit. It is named as such because of its jar-like geographical feature.
Tadya means tadyaw or banga (jar) in the local Mandaya term. Giant boulders surround the pool of the main waterfalls.
Location/Jump-off: Brgy Bantacan, New Bataan
9. Mainit Sulfuric Hot Spring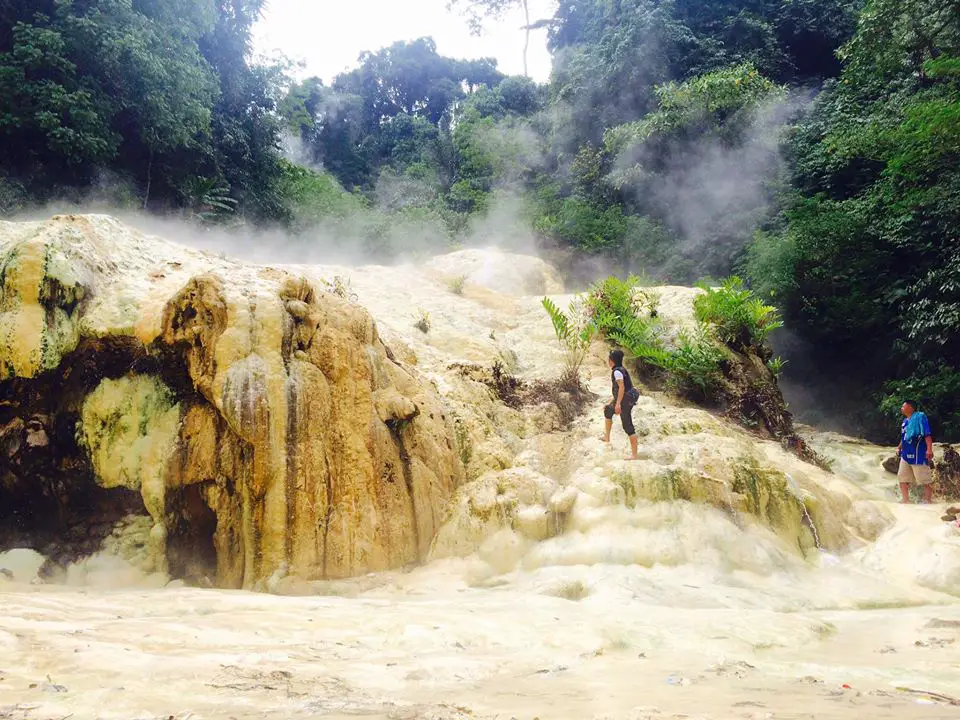 Unlike most hot springs in the country, Mainit Sulfuric Hot Spring is bizarre as it is a cascading beauty of steams. Locals love to come here to experience its therapeutic effects.
You'll also find naturally-built pools. But don't dive or swim on these as they will cook you alive. Just relax on one of the man-made pools mixed with cold waters to regulate the temperature.
Location/Jump-off: Brgy Mainit, Maco
Entrance Fee: Php 5 per person
Rent of Rooms for Overnight: Php 300
10. Awao Falls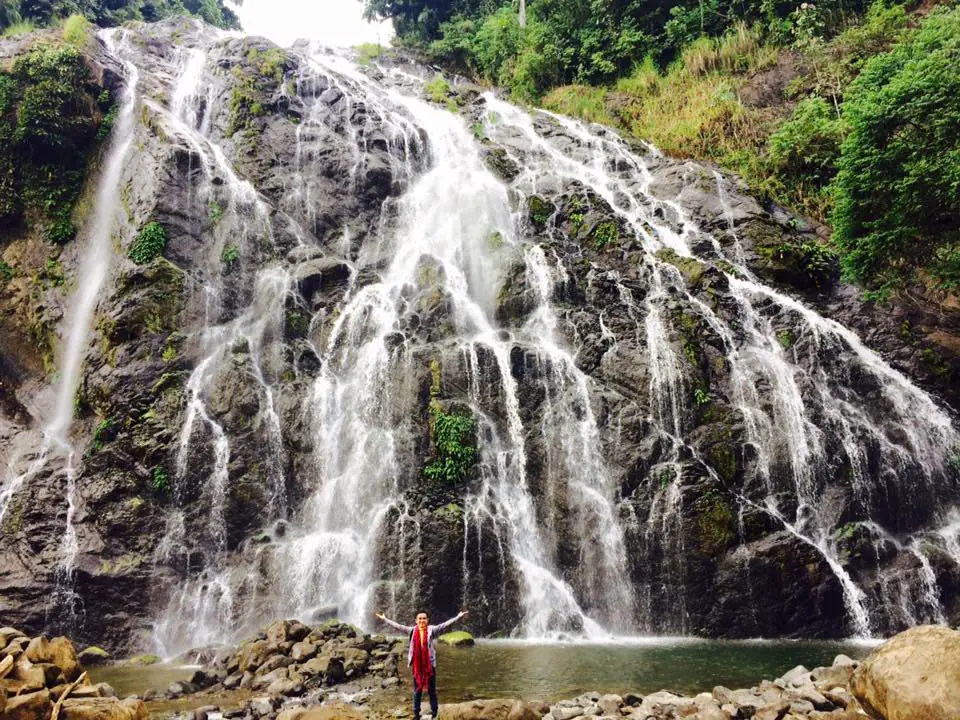 Awao Falls is one of the most frequented Davao de Oro tourist spots. It has four layers and the so-called Falls 1 is the highest, measuring more than 80 feet high!
The waterfall resembles a towering curtain with waters cascading on a rough and accented wall. It has a small and shallow pool where you can swim and have the cascading waters massage you.
Despite its popularity, it remains raw and pristine and hopefully, the local authorities will continue to preserve it.
Location/Jump-off: Brgy Awao, Monkayo
11. Mt Candalaga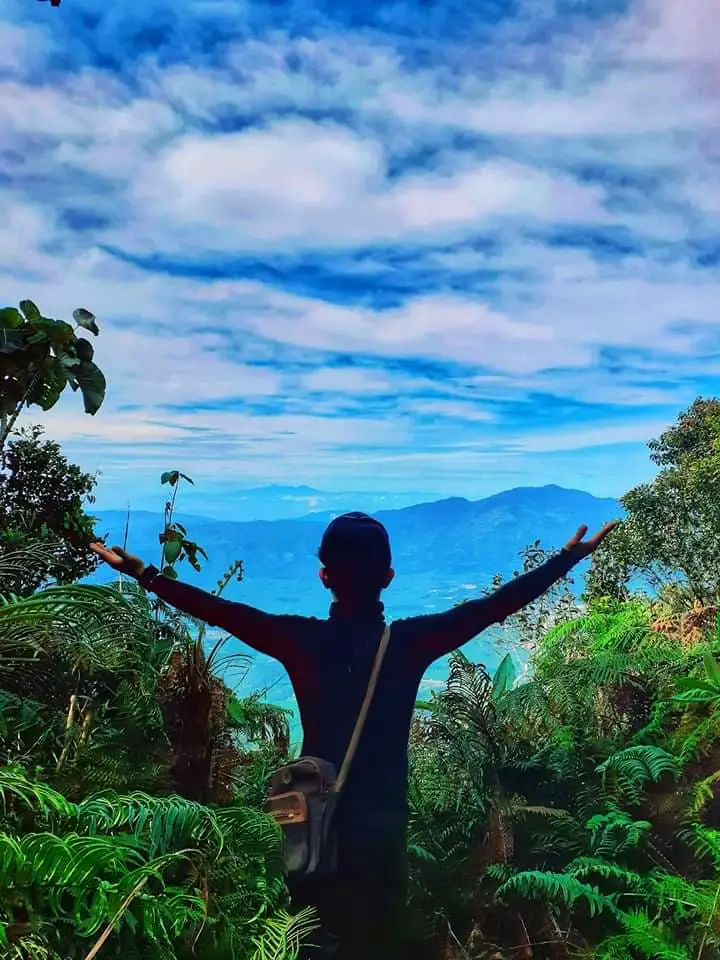 Mt Candalaga is one of the most formidable mountains of Mindanao. For centuries, the Mandayan and Mansaka tribes have been preserving and protecting the mountain.
Thanks to their efforts, the mountain has been spared from logging and mining. Today, it is a bastion of ecological wonders, home to endemic flora and fauna species.
On its slopes, one can also discover countless waterfalls and mossy forests. Rafflesia, the biggest flower in the world, also thrives in the lower elevation.
Location/Jump-off: Marangig Falls, Brgy New Albay, Maragusan
Trekking Time: 12-14 hours to the summit
12. Silongan Falls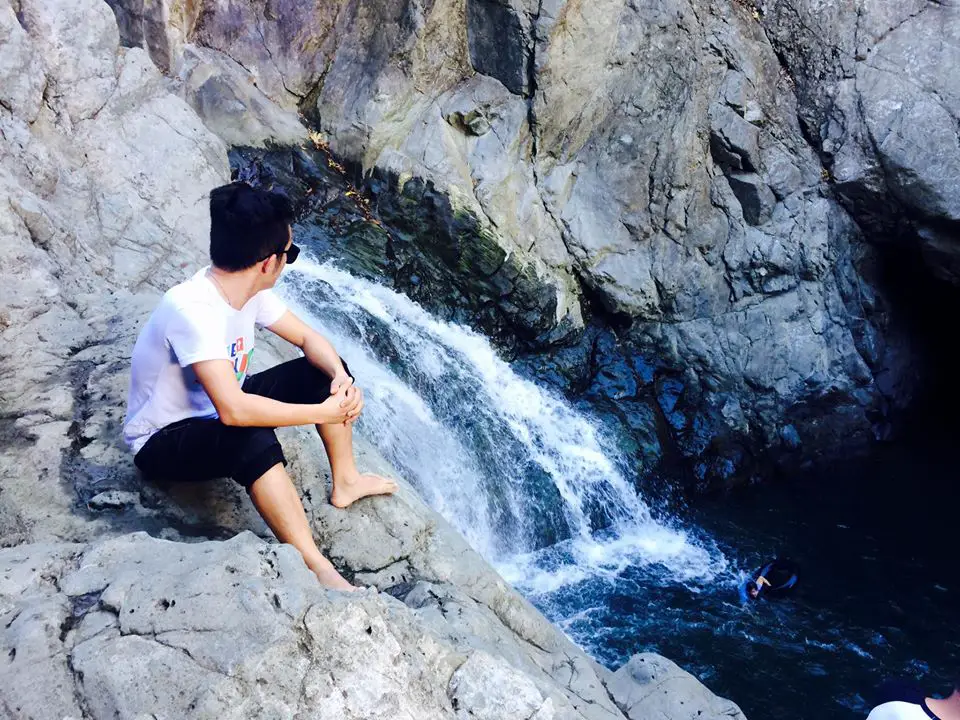 Also known as Lagura Falls, Silongan Falls is one of the most accessible Davao de Oro tourist spots. It is a mini-cascade with multiple layers. But it has a wide and deep pool with crystal-clear waters. Locals love to swim here and hold family picnics.
Location/Jump-off: Brgy LS Sarmiento, Kidawa, Laak
Entrance Fee: Php 5 per person
13. Miyaya Falls
Miyaya Falls is one of the newly-discovered Davao De Oro tourist spots. It lazily drops towards a small and shallow for more than 20 meters. It takes a challenging trek to reach the waterfalls.
But once you're there, the Miyaya Falls' majestic beauty will offer instant relief.
Location/Jump-off: Brgy Mapawa, Maragusan
Trekking Time: 1 hour
Other Davao De Oro Tourist Spots
14. Pyanitan Falls
15. Tubuan Fall
16. Patag View
17. Silongan Falls
18. Shadol Sea of Clouds View
19. Kapatagan Falls
20. Pagbansagan Peak
Related Articles
P.S. This post is inspired by Baby Cubero (nickname) of It's More Fun in Davao de Oro FB Page. Photos courtesy to him as well. To know more about his daring adventures, follow him on his FB Page. He can also help you plan your adventures to Davao de Oro.