Here is our DIY guide to Sayang Mossy Forest, one of the Philippines' last ecological frontiers.
You could think of it as the "Land of the Avatars" with its bizarre mossy formations, untouched ecosystems, towering waterfalls, and thriving wildlife.
It was a summer when I and two childhood buddies set off to explore Sayang Mossy Forest. Although my dad took me there once, I wanted to go back so I can properly document it and show the people of my community how wonderful it is.
That time, there were proposed road projects that would cut right into it. By documenting its untold beauty, I hoped to boost initiatives for conservation.
After all, it is one of the most pristine forests ecosystems not just in the province but in the entire country. Not a single scientist or researcher has ever set foot to study its flora and fauna.
So I personally took the challenge though I could only rely on empirical documentation. Still, I am confident that by creating visual stories, my fellow tribesmen would be compelled to advocate for its conservation.
Quick Facts
Location/Jump-off: Brgy. Lias Kanluran, Barlig, Mountain Province
Trekking Time: 1-2 days to reach the viewpoint (3-4 days to complete)
Status: Not yet established for ecotourism purpose
Best Features: Moss-clad forests, waterfalls, wildlife encounter, Rafflesia sighting
Our DIY Trek to Sayang Mossy Forest Philippines
Although I've been to Sayang Mossy Forest once, we had to ask for a local hunter to guide us. Our uncle Magno who has been a hunter since his teenage years agreed to accompany us.
From Lias village, we started hiking early in the morning. Our plan was to reach one of the hunter's camp before nightfall before we continue hiking to Sayang Mossy Forest the following day.
I was in swelling eagerness and excitement to explore and experience the wilderness. I knew I was in for an adventure of a lifetime especially that I had this desire to organize sustainability projects in our community.
For about an hour, we hiked on a well-established trail that led us to Kangao, a small farming sitio surrounded with dipterocarp forests. It is a good spot for viewing eagles and other wildlife.
We had to rest for a bit to regain our strength since the trail to follow traverses untamed terrains.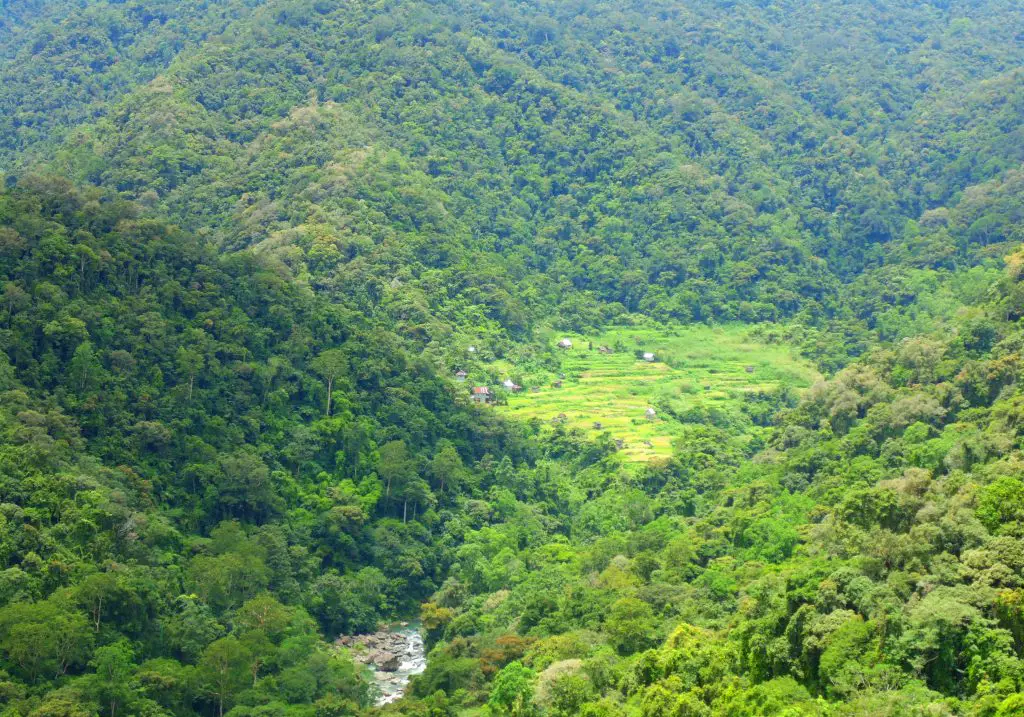 We then continued trekking on dense forests until we reached a bank of the Tanudan River. There, we crossed to reach the opposite mountain ridge. This ridge leads straight to the hunter's camp where we intended to spend the night.
Hiking to the ridge presented a bit of challenge for me, especially that I hadn't been hiking for quite some time. The trail from here is highly overgrown and there were parts with thorny bushes and bladed grasses.
At some point, we had to cling unto vines and branches as we inched our way higher. How I felt like Tarzan daring the wilderness.
Finally on the Ridge
After an hour-long of assault, we finally reached the ridge! It was a big relief for all of us since the trail from here runs on gentler terrains although it's still a long way to the campsite.
As we climbed higher the ridge, the views just kept getting better and better. A favorite viewpoint of the local hunters is a clearing along the ridge where there stands a dead pine tree which is a good post for marveling at the surrounding sights.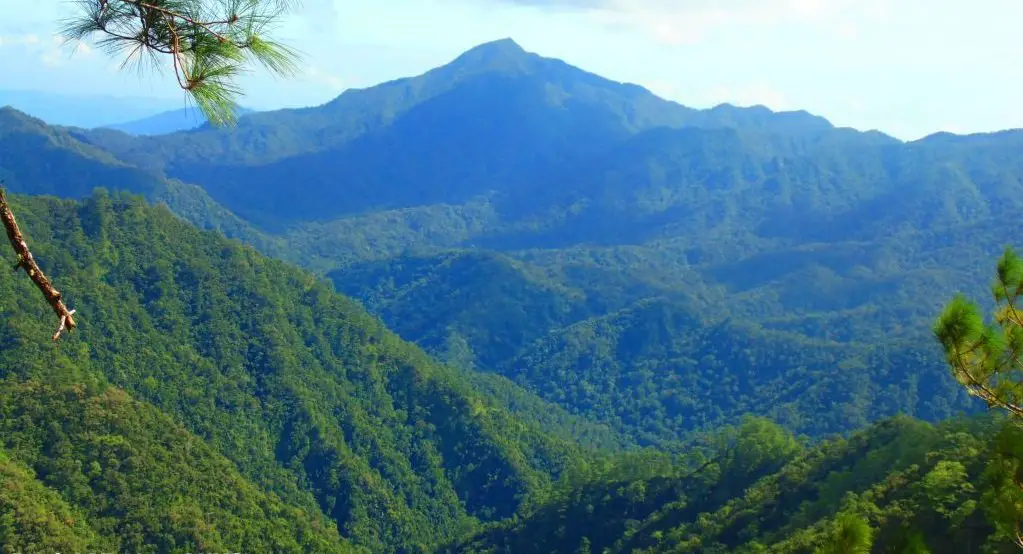 I immediately climbed it together with my buddies and from there, I could not help but shout my amazement. It was indeed a surreal experience viewing at the forest-clad mountains from a bird's eye view. I thought to myself, "This must be Shangrila untold."
I would have stayed longer there enjoying the sights but we had to prod on.
After hours of trekking, we finally reached the hunters' campsite. By then, darkness caught up. We called it a night and slept early knowing that we still had a long way to trek.
Prodding On
The following morning, it started drizzling for a while but we pressed on anyway. This time, we were trailing on cloud forests and we began to soak wet. I could feel that we were in pristine wilderness and we were constantly entertained by the songs of the birds and the rustling trees.
Two hours later, we finally reached Sayang Mossy Forest! From a vantage point, it looked like a huge bowl of pristine rainforests. At the heart of it is a brook winding itself among the undergrowth.
Although I somehow felt exhausted with the long trek, I gained instant relief the moment we stepped on this uncharted paradise. I felt like a pioneer conquering this remote haven and exploring its wonders.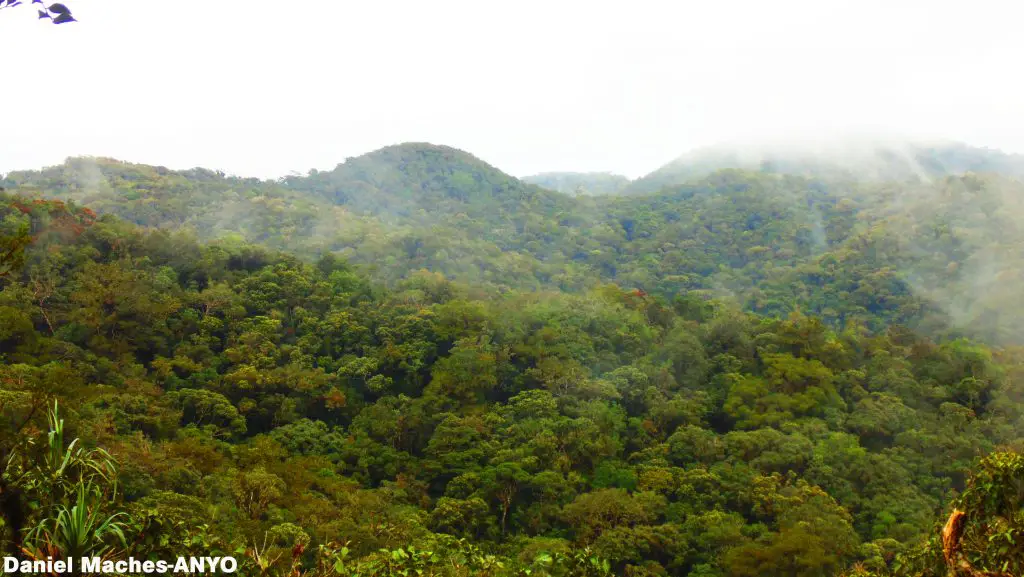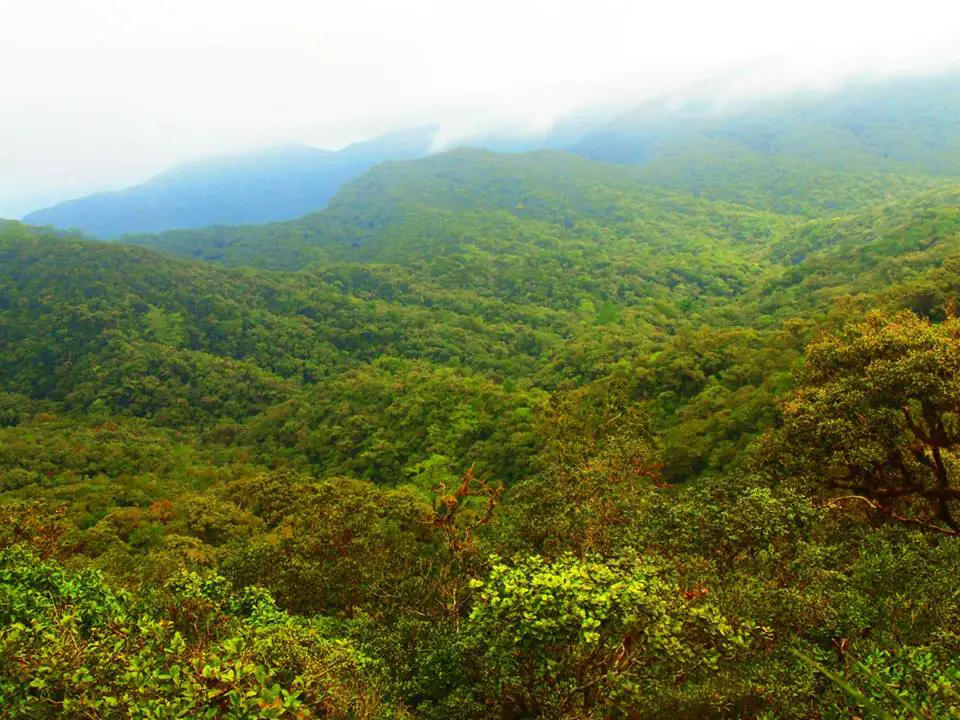 What to See in Sayang Mossy Forest Philippines
Sayang Mossy Forest is vast and it could take weeks exploring it. Thankfully, we chanced on thick mosses as we followed the usual hunter's trails. These were magical sights and I could not help but wonder at how nature crafted such formations.
Everywhere we looked, there were mosses carpeting the ground and tree branches. On some parts, the mosses were as thick as one meter. There were some branches which I thought were big but when I removed the mosses, turned out they're thin.
According to our hunter guide, some thick mosses are a hide out of deer and wild pigs which thrive in the forests. In fact, the locals call Sayang Mossy Forest, "The Playground of the Deer."
Another hunter shared to me that parts of the forest have stunted vegetation, thus, one could deer and wild pigs running around.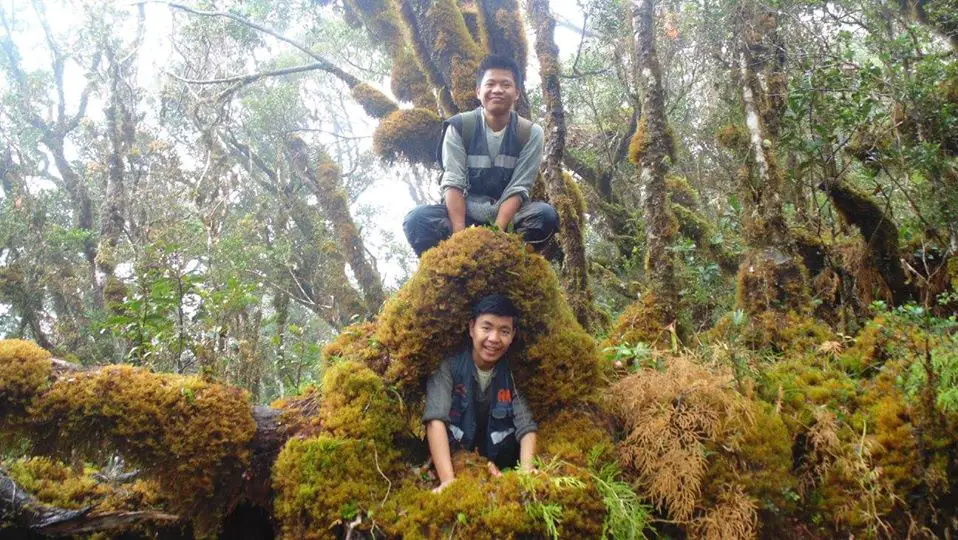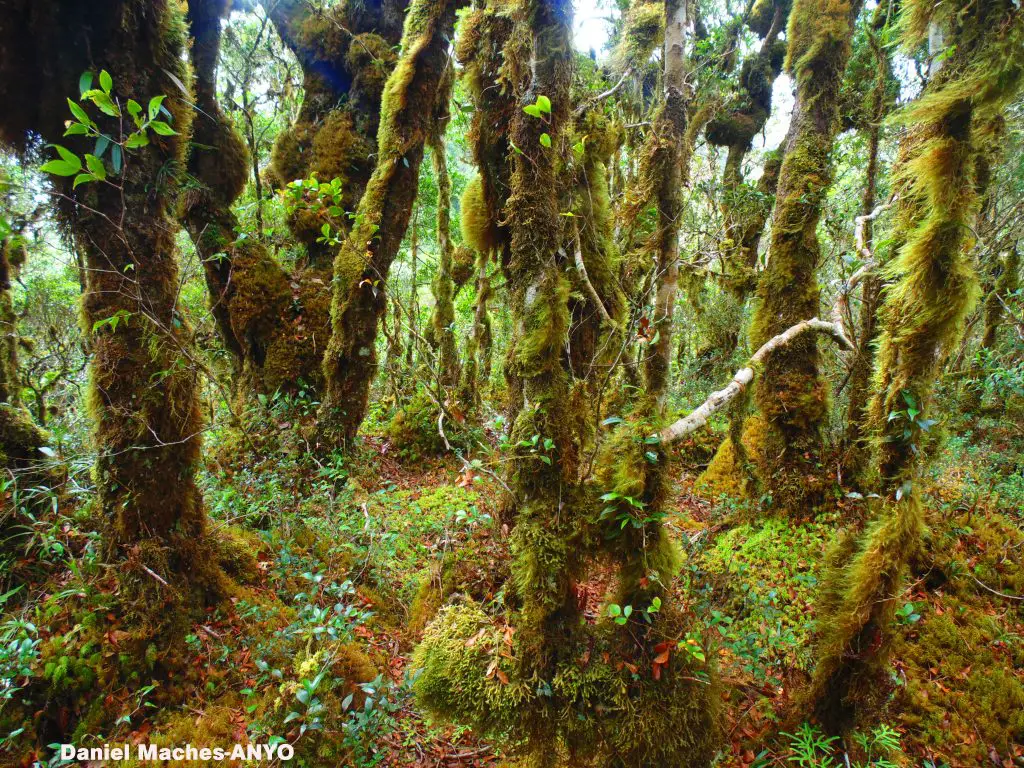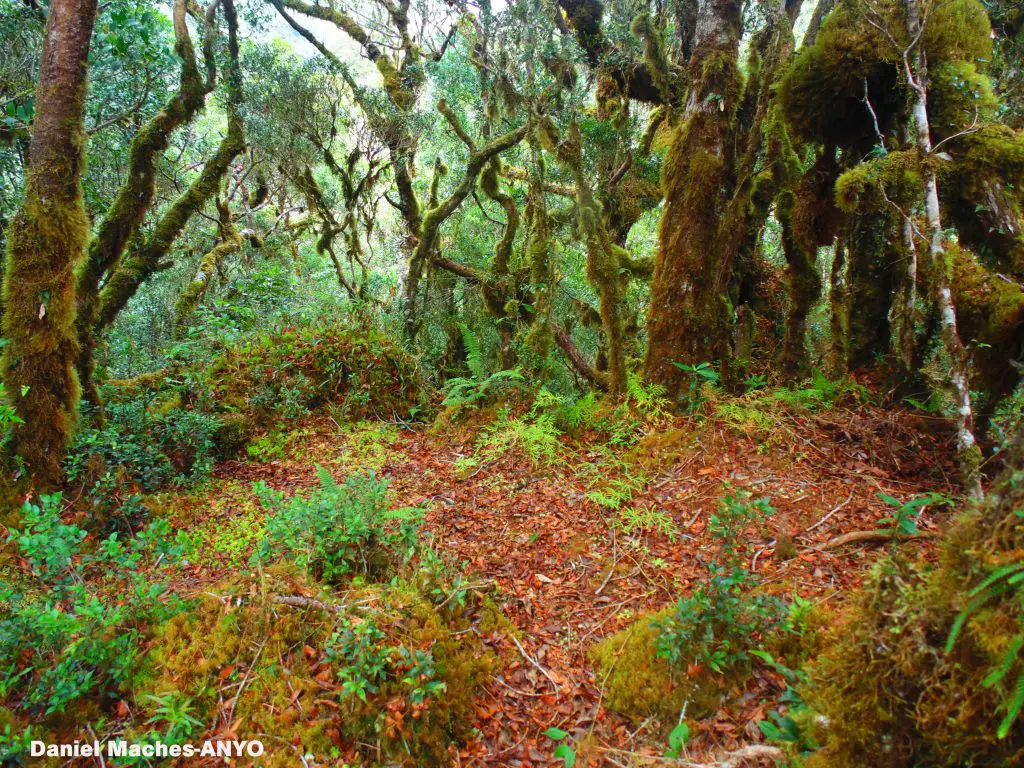 Sayang Mossy Forest feeds a stream that meets with the Tanudan River downstream. Along this stream, one can find multiple waterfalls, one of which measures a hundred meter high. But it's an extreme challenge chasing each one of them as there are no established trails.
We literally had to hang unto roots and vines as we clambered across steep terrains to gaze at these waterfalls. Any reckless move could have sent us falling down the precipice and God knows what's next. But these were thrill that made our adventure memorable.
Sayang Mossy Forest is not only a critical ecological sanctuary but an important facet of the rich culture of the Lias' tribe. For centuries, the I-Lias as they are aptly called valiantly defended it from tribal adversaries.
For them, Sayang Mossy Forest is a cultural heritage from their ancestors, thus, the need to nurture and protect it.
Adventure Musings
Hiking to Sayang Mossy Forest in Northern Philippines was indeed an exhilarating experience and I could not help but think about the memories we've had from time to time. There's so much to explore there despite the difficulties of reaching it. It's every nature lover's dream destination.
As much as Sayang Mossy Forest rewarded us with lifelong memories, we are also compelled to advocate for its sustainable management. It's a fragile ecosystem that deserves attention and measures for conservation.
Extra Photos