I used to think that Bontoc would not appeal much to tourism in Mountain Province. Hello? Who would even visit a crowded and urbanized center when everybody nowadays is looking for a rustic experience? But Blue Lagoon belies this.
As I go on exploring Bontoc, my initial assumptions were completely shattered. Yes, it now comes straight from me that Bontoc is worthy of further exploration and admiration. Far from what many of us think, Bontoc is home to hidden gems that are promising to boost the municipality's ecotourism drive.
Now, one of these gems is the so-called Blue Lagoon. Surprised? For all you know, Bontoc is merely a commercial and an educational hub. To add to your surprise, this gem is just a few minutes' drive away from the town center.
By the way, I am not certain why the place is called the Blue Lagoon or who even named it that way in the first place. If I know it right, local visitors, mostly students, gave the name. After all, it's not yet a well-recognized destination on existing tourism brochures and other promotional materials. I've only learned about it through the social media posts of some students of a local college.
On the Trail to the Blue Lagoon
To get to the Blue Lagoon, you can simply walk for an hour or two, following the national highway. Or do take a tricycle ride from for just about 10 minutes. From the jump-off point, the trail leads down to a river, after passing along rice paddies.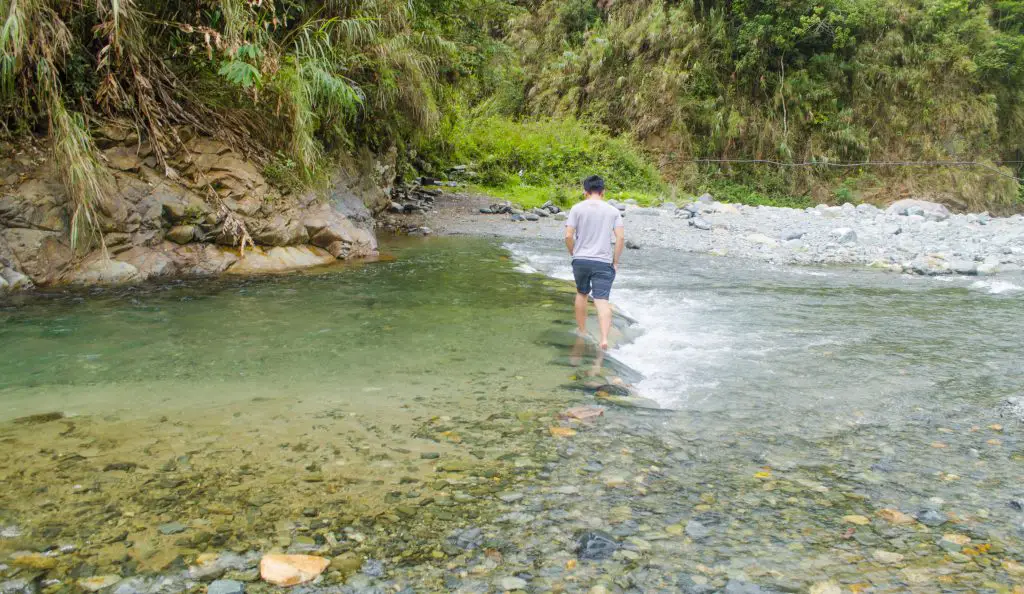 The said river emanates from the famed Mt. Kalawitan, one of the highest peaks in the Philippines. It has cold and crystal-clear waters, making it a favorite swimming destination among the locals during summer.
After crossing the river, one then follows the brook leading to the blue lagoon. Now, this is the challenging part of the trek, especially for starters. One needs to wade across the brook several times and jump across slippery boulders. However, there is no need for panic since the waters are shallow. Just take a bit of caution and you'll make it fine and perhaps, thrilled.
On some parts of the trail, one needs to cling unto rocks and vines to avoid slipping. Definitely exciting right?
Finally, after some 10 to 15 minutes of arduous trekking, one can now catch a glimpse of the first waterfall.
Behold the Blue Lagoon Falls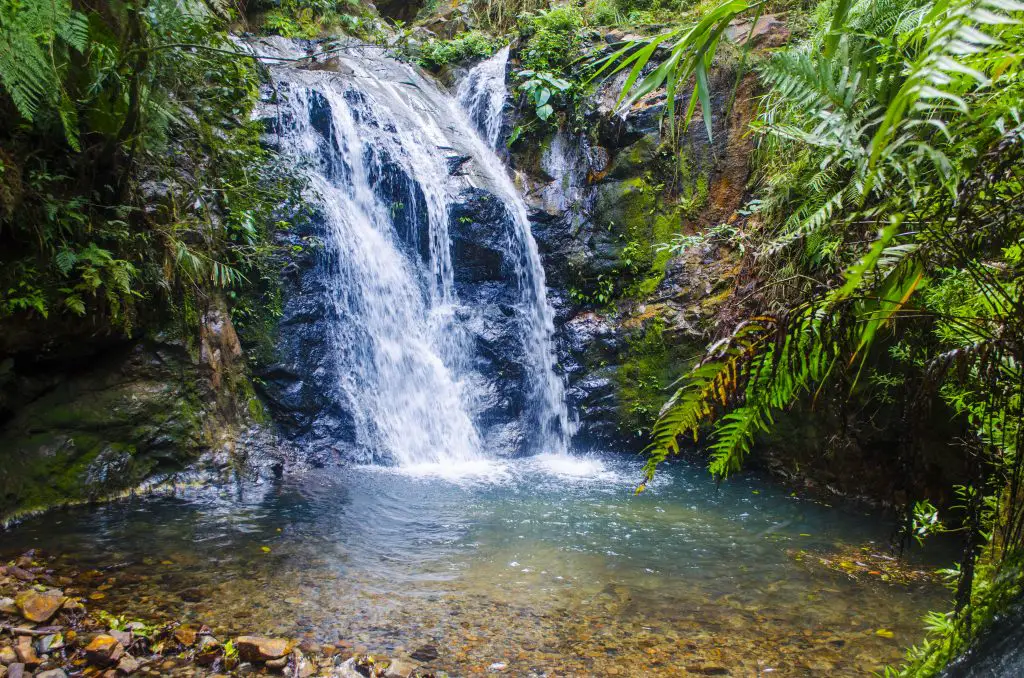 The Blue Lagoon Bontoc is a series of beautiful waterfalls. Yes, it is not a giant basin of water or a sea-looking body of water.
As per observation, the naturally-built pools of these waterfalls are bluish, even though some are just shallow. Perhaps, that is why they are aptly named as the Blue Lagoon.
Going back to the first waterfall, it measures around 18 feet high. It cascades on a rock face, stained with sulfur as evidenced by its orange color. It has a shallow pool where one could indulge for a first soothing bath. An irrigation canal is made atop the falls, leading to a set of rice terraces which are visible along the national highway.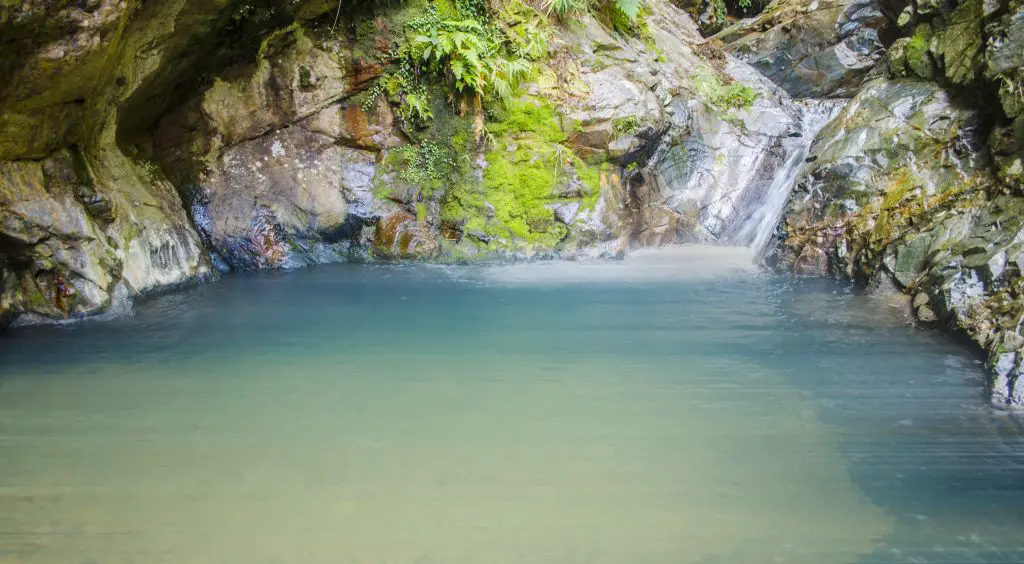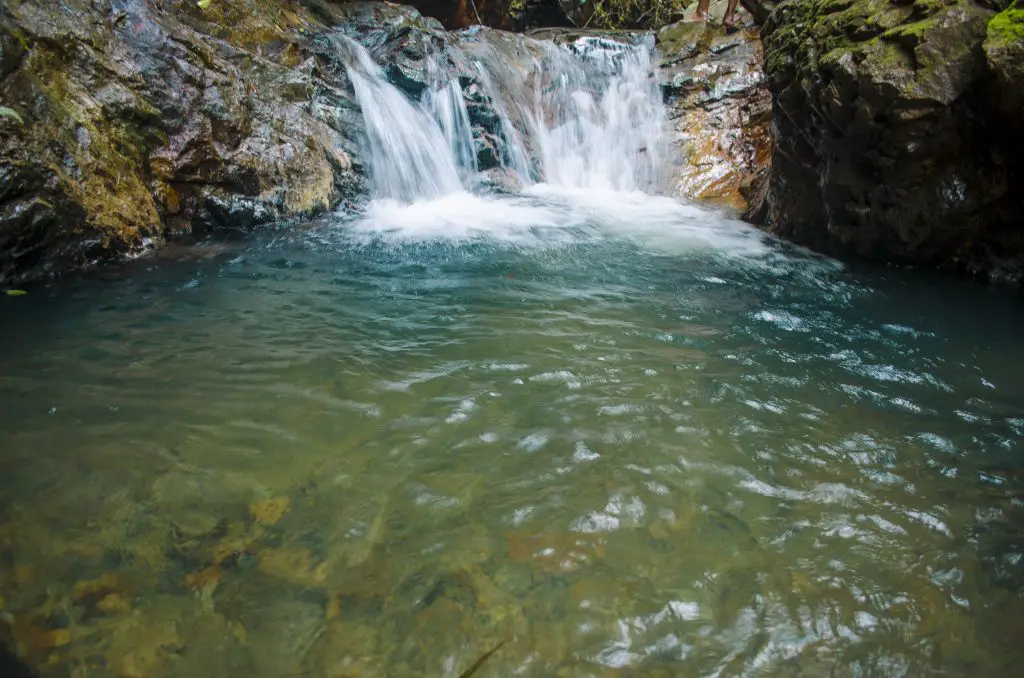 Just a few steps from the head of the first fall is a series of smaller rapids with deeper and circular swimming pools. The fun part is you get to experience these rapids by climbing them. To climb them, definitely, you need to cling on to rocks while the rapid's current awash you. I tell you, these are thrilling yet gloriously satisfying moments. In addition, you can slide your way along these rapids down to the deepest pool. Oh, what a way to rejuvenate the muscles!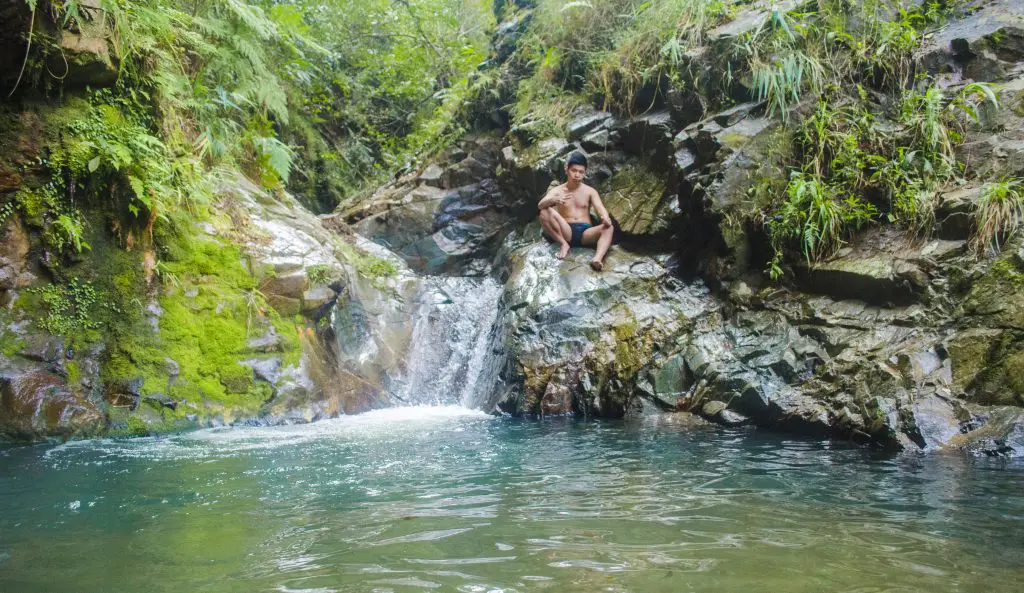 There are higher waterfalls upstream but there are no established trekking paths to get there. Literally, the few brave ones who glimpse of such had to hang unto vines, rock crevices, and plant roots to get their way across.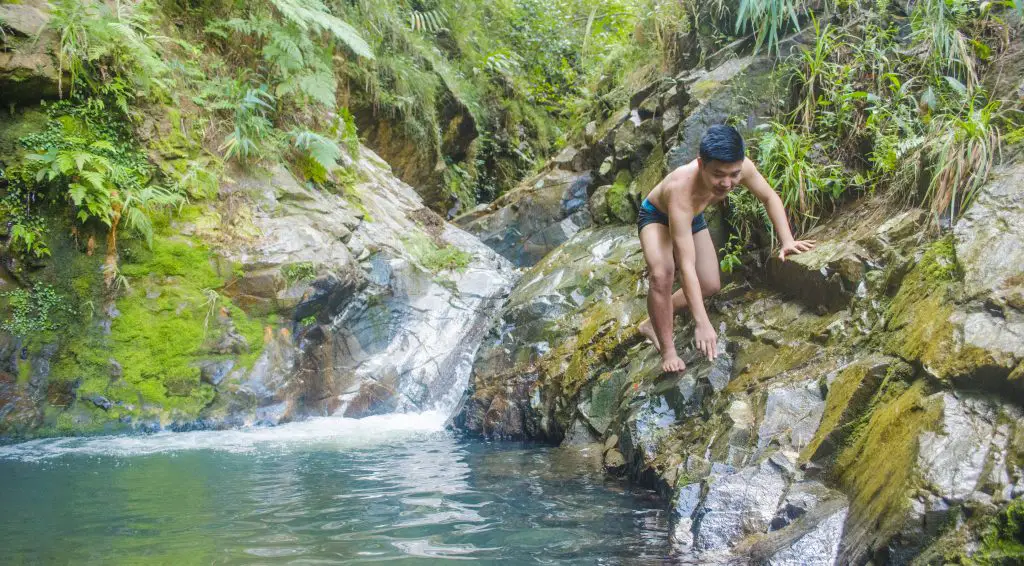 Definitely, memories and experiences of spine-chilling yet fulfilling adventures await you when you trail to the falls of the Blue Lagoon.
By the way, the best time to visit is during the sunny months such as March, April, and some occasional days from June to November. During these times, the falls' pools are at their full blue appearance. Yes, these falls are so blue at some days that you may think you are gazing on the ocean.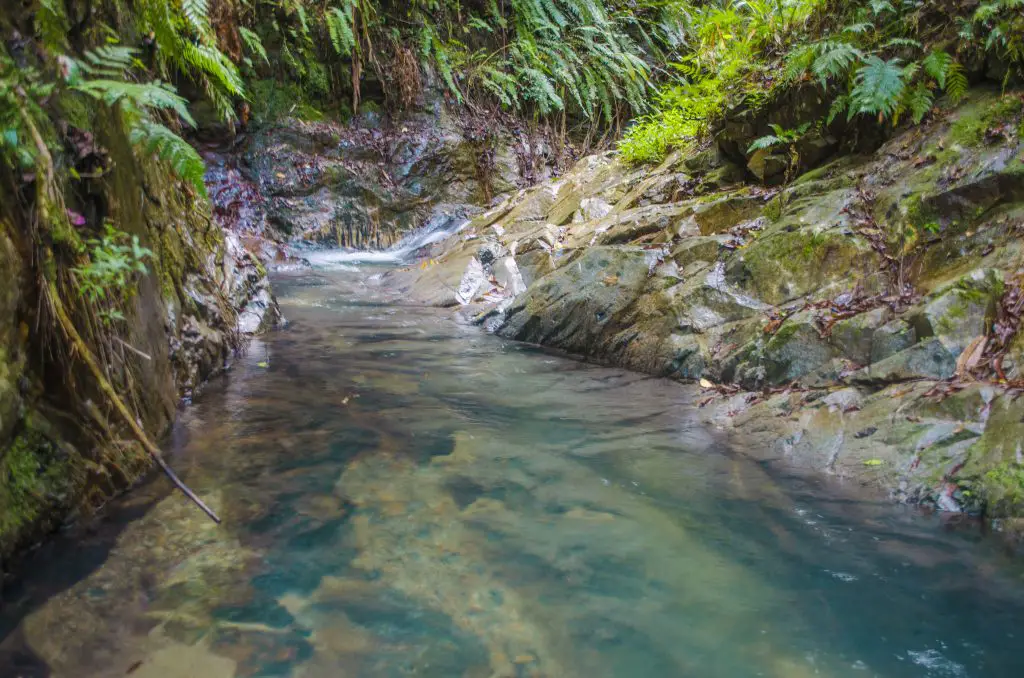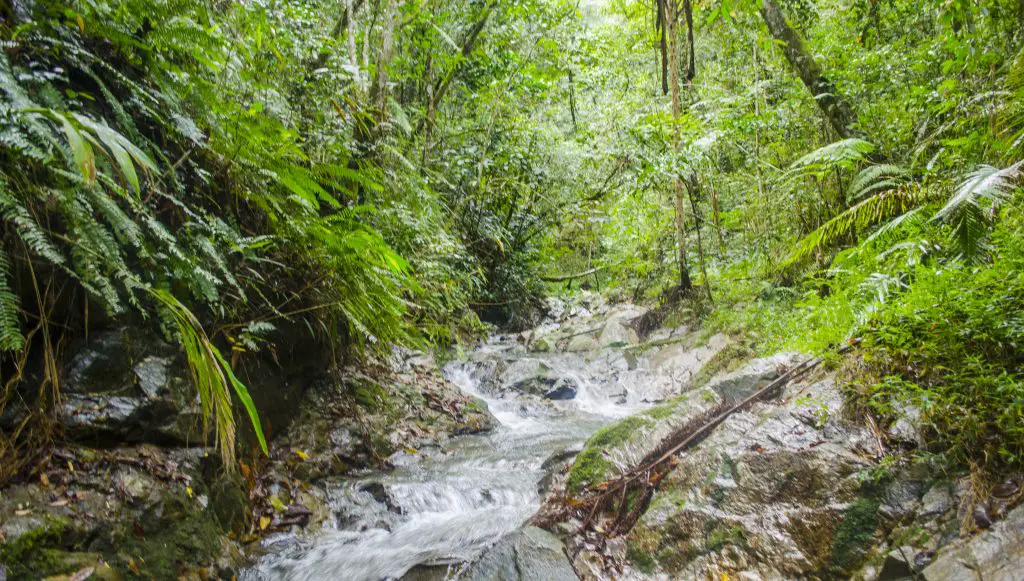 Sustaining the Blue Lagoon
While the Blue Lagoon is indeed a hidden treasure, I noticed litters along the trails. Bottles, plastics, and cans left by picnic-goers are visible along some resting spots. I could not help to think that if no actions are made, then the Blue Lagoon will be awash with garbage. Subsequently, its beauty will be spoiled even before it is brought into local promotion.
Somehow, I felt sheer disappointment seeing the trashes and made me wonder, "Don't these visitors have the common sense that what they are leaving will put the place and visitors alike in peril?"
I just hope though that the local government in partnership with aligned agencies would institute plans and programs to develop while protecting the site. It is a unique wonder of Bontoc that will certainly help boost its socio-economic development while preserving the natural environment.
Things to Keep in Mind:
If you're not familiar with the place, always have a guide. You may consult or inquire from the Provincial Tourism Office of Mt. Province.
Please don't ever litter. Kindly take back what you bring.
Be extra careful when chasing the falls of the Blue Lagoon as a simple mistake of slipping may lead to a serious injury.
Wear proper attire. Going and exploring the falls of the Blue Lagoon is like spelunking in a cave. Thus, use similar attires used in spelunking.
Be one with the falls you are exploring and immerse yourself with the wonders of the surrounding forests. That is how you get to deeply connect with nature and have a lasting trek of a lifetime.
Related Articles:
For your information needs:
If you need further information that may help in setting up your itinerary to the Blue Lagoon Bontoc, simply ask them in the comment section below. You can also message us on our facebook page namely, Daniel's Eco-Travels. I will be more than glad and willing to answer them whenever I can:)