Here is a comprehensive list of eco-cultural Maguindanao tourist spots you should not miss.
Maguindanao may appear a no-go zone for tourists because of all the massacres and violence that took place. Both social media and the mainstream media paint a bleak picture about the said province.
But little do people know that it's actually a relatively peaceful province. The overwhelming majority of its people denounce war and prefer peace and reconciliation. It's only a few group who are inciting violence.
Thankfully, the local authorities are stepping up to promote eco-tourism in Maguindanao. After all, it's a land of pristine nature and diverse culture. Certainly, it could make up to the list of the top eco-tourism spots in the Philippines.
If you are planning to visit, here are the best attractions in Maguindanao to see.
Behold Maguindanao Tourist Spots
1. Liguasan Marsh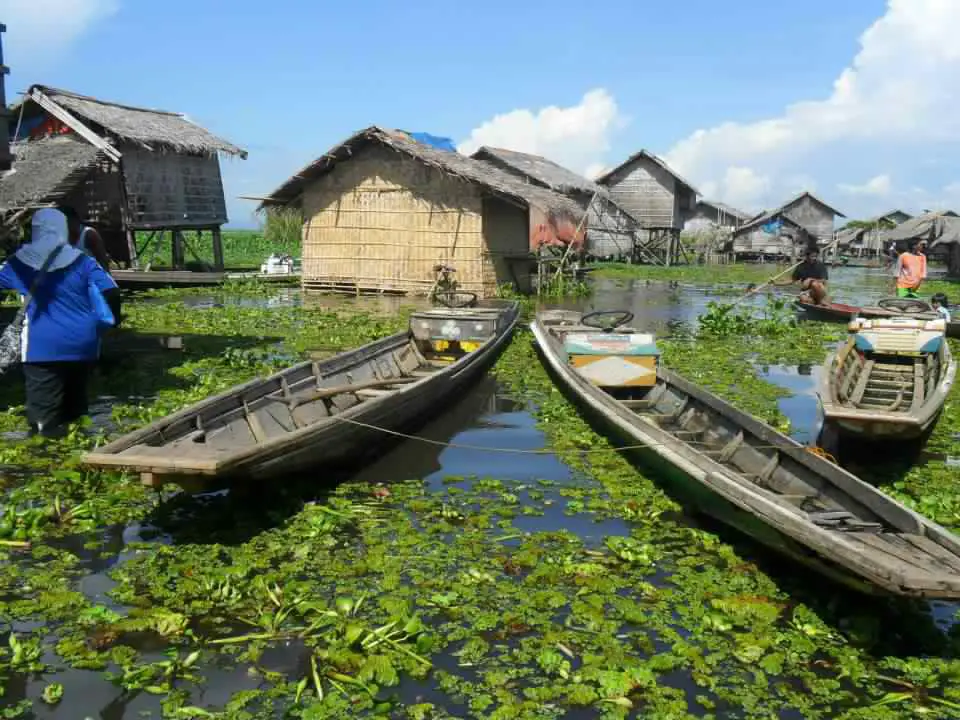 Home to vast natural gas deposits, Liguasan Marsh is an untapped eco-tourism spot inMaguindanao. It covers vast areas of freshwater lakes, ponds, river channels, and peat forests.
These are home to various flora and fauna species, many of which are endangered. If sustainably managed, Liguasan Marsh can provide community-based development for the locals. One way of doing that is via eco-tourism development.
2. Limpongo Hot spring
Limpongo Hot Spring offers you a relaxing escape as dip on its thermal waters and experience the healing effects. Locals from Cotabato City and from the hinterlands troop here from time to time.
Location/Jump-off: Shariff Aguak
3. Lake Buluan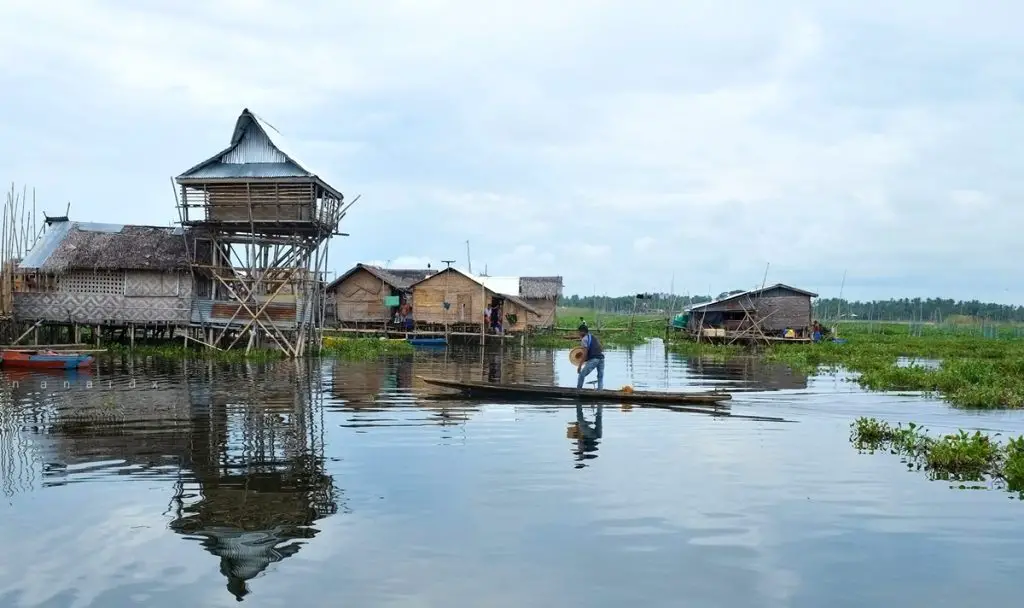 Considered as Mindanao's third largest lake, Lake Buluan is one of the top Maguindanao tourist spots you should not miss.
Locals take advantage of the lake to grow local fish species such as catfish, milkfish, and tilapia. Several rivers converge to form the vast lake. Surrounding mountains add to the scenic view of the lake.
Location/Jump-off: Buluan
4. Blue Lagoon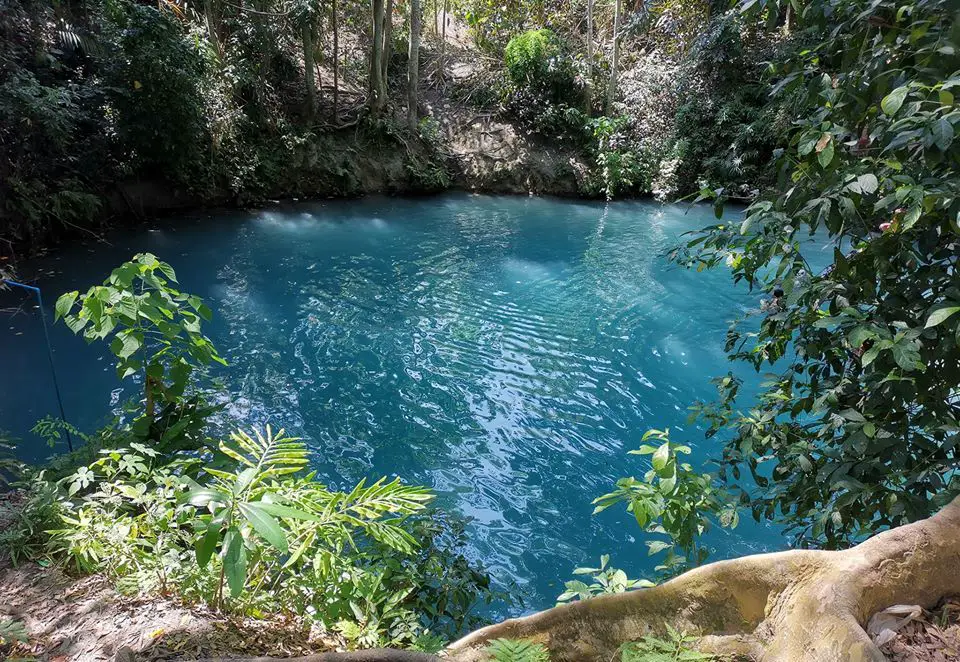 The Blue Lagoon is one of the best Maguindanao tourist spots, located on an idyllic setting of rustic views. It's almost like a lake surrounded with lush forests. The good thing about it?
It's just a walking distance from the national highway. Experience swimming on its pristine and rejuvenating waters as you relish the forests' beauty. The waters come from a spring connected to the Tamontaka River.
Location/Jump-off: Brgy Margues, Datu Odin Sinsuat
Trekking Time: 10-15 minutes
Entrance Fee: None
5. Mount Minandar
Mount Minandar is one of the hiking Maguindanao tourist spots. It is an ideal spot for newbie hikers because of the easy trails. From its top, one can glimpse of the plains, mountains, and seascapes of Maguindanao. It also offers a breathtaking view of the sunrise and the sunset.
Location/Jump-off: Datu Odin Sinsuat, Maguindanao
6. Al Jamelah Weaving Center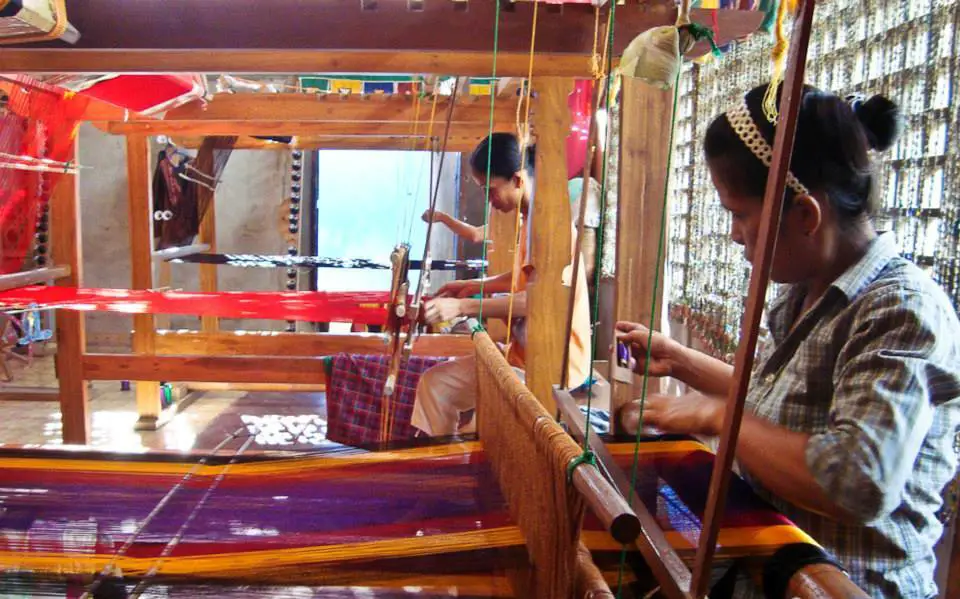 Al Jamelah Weaving Center aims to showcase and preserve the authentic weaving industry of the province. It also provides livelihood to the locals.
One of the main products here is the Inaul which comes in various colors and designs. Because of their world-class quality, Inaul textiles are sold to the international market.
Location/Jump-off: Datu Odin Sinsuat
7. Pedro Colina Hill
Pedro Colina Hill offers a panoramic view of Cotabato City and the vast surrounding plains and mountains. It's an ideal spot for watching the sunrise and sunset.
Location/Jump-off: Cotabato City
8. Kutawato Cave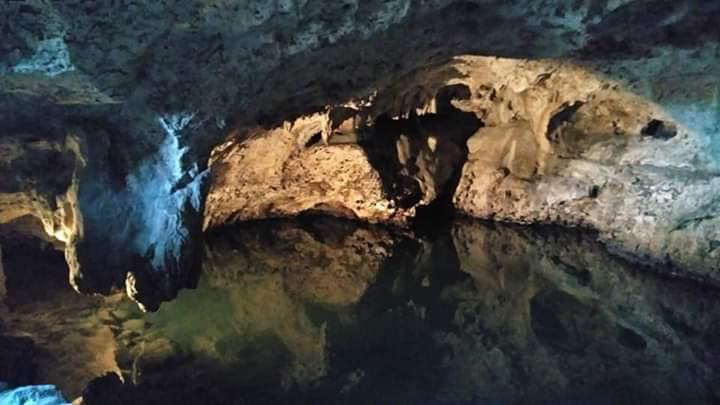 Kutawato Cave lies on the slope of Pedro Colina Hill. It's a small cave that looks like a dwelling place of ancient people. Inside, you'll find interesting limestone rock formations.
During the World War II, the Japanese used the cave as a torture site for prisoners and those who resisted the occupation. It's one of the emerging Maguindanao tourist spots.
Location/Jump-off: Cotabato City
Entrance Fee: None
9. Pink Mosque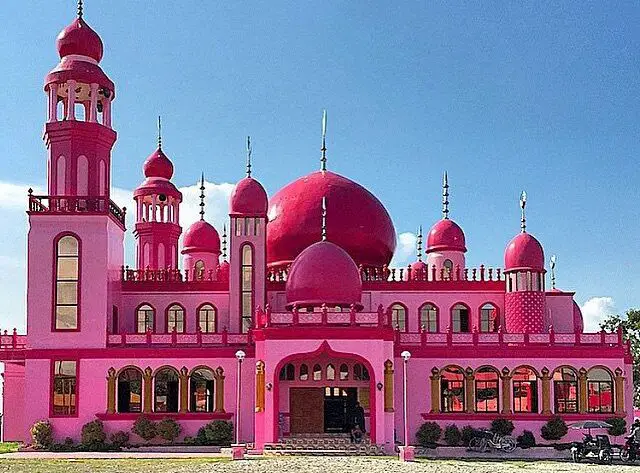 The Pink Mosque is one of the iconic Maguindanao tourist spots. It was completed in 2012 and is meant to signify unity, love, interfaith brotherhood, and peace.
It's vibrant and artistic architecture will surely captivate you. When coming here, please show sensitivity to the Islamic faith.
Location/Jump-off: Datu Saudi Ampatuan
10. White Mosque
The White Mosque is another imposing landmark to see. If you're an architectural-savvy, you'll surely love gazing on the elegant interiors and the simplistic yet regal design of the mosque. It is a favorite pilgrimage sites among Muslims in the province.
Location/Jump-off: Datu Odin Insuat
11. Grand Mosque of Cotabato City
Funded by Sultan HassanalBolkiah of Brunei Darussalam, the Grand Mosque of Cotabato City is known for its golden domes. It appears like a majestic palace catering to a royal family.
You'll feel like in Middle East when you come here. It's one of the top cultural Maguindanao tourist spots.
Location/Jump-off: Cotabato City
12. Kusiong Beach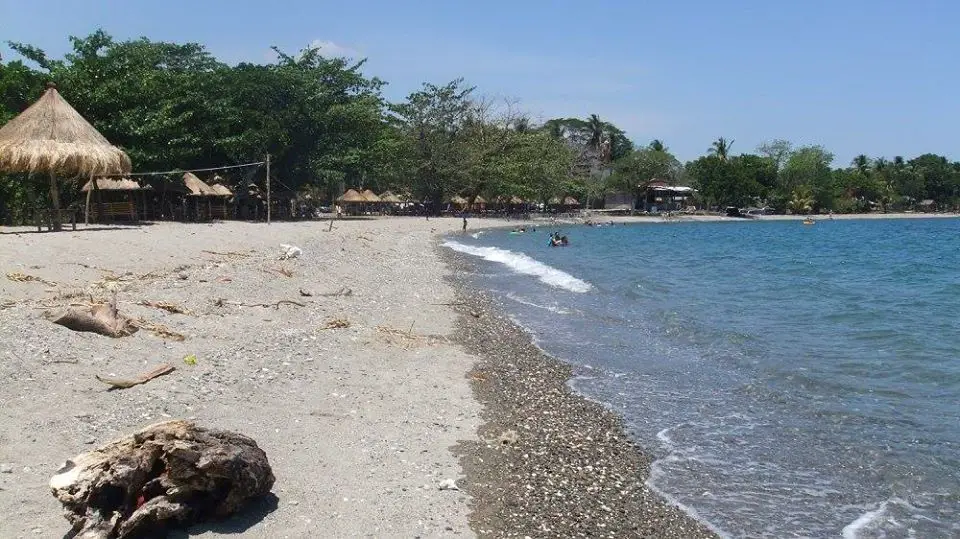 Kusion Beach is similar to Luna Beach in La Union. It is littered with pebbles of different colors and sizes. So, don't expect white sands when you come here.
But what you'll surely appreciate is the pristine condition of the pebbled beach complemented by the calm sea. Locals love coming here to cool off and socialize.
Location/Jump-off: Datu Odin Sinsuat
13. Tamontaka Church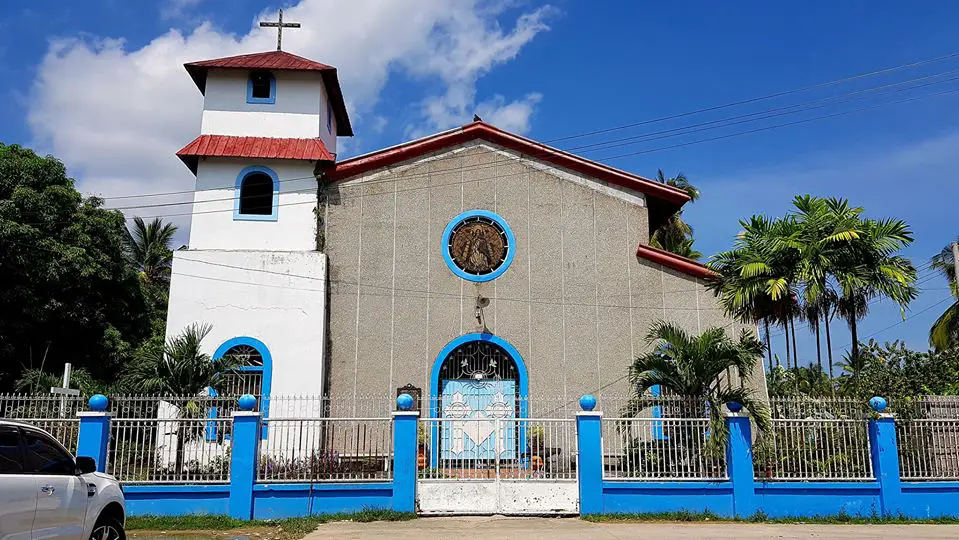 Tamontaka Church is one of the Catholic Churches in Maguindanao. Despite being a Muslim-dominated province, Maguindanao celebrates its diversity as it is home to a sizeable number of Roman Catholics.
Tamontaka Church is the first of its kind in Cotabato City. Both Muslims and Catholic Christians have been living in harmony since time immemorial.
Location/Jump-off: Cotabato City
14. Our Lady of Lourdes Grotto
Our Lady of Lourdes Grotto is another is another popular pilgrimage site for Catholics. It resembles the internationally-acclaimed Our Lady of Lourdes Grotto in France. It's an ideal site for those who wish to experience spiritual solitude and solace.
Location/Jump-off: Datun Odin Sinsuat
15. Tumingay Lake
Tumingay Lake covers around 11 hectares. It lies on a site surrounded by hills which also offer a good spot for panoramic viewing. Beautiful waterlilies grow on the lake. Different kinds of trees line the banks of the lake, giving it a rustic view.
Location/Jump-off: Sultan Kudarat
16. Camp Gen. Salipada K. Pendatun
The camp is one of the historical Maguindanao tourist spots named after Gen. Pendatun. He is a recognized Filipino statesman and soldier. The camp served as barracks of many Filipino soldiers who led battles against foreign invaders.
Location/Jump-off: Parang
17. Tombs of Sultan Kudarat & Datu Mastura
Sultan Kudarat is one of the most locally-known heroes in Maguindanao who led fierce revolts against Spanish invaders. His leadership pitied various Muslim tribes into a united force, thus, ensuring their independence.
Datu Mastura, one the other hand, is another Maguindanaoan figure credited for much of the development that took place in Maguindanao. The tombs commemorate these two figures whom the province consider as heroes.
Location/Jump-off: Sultan Kudarat
18. Lake Balut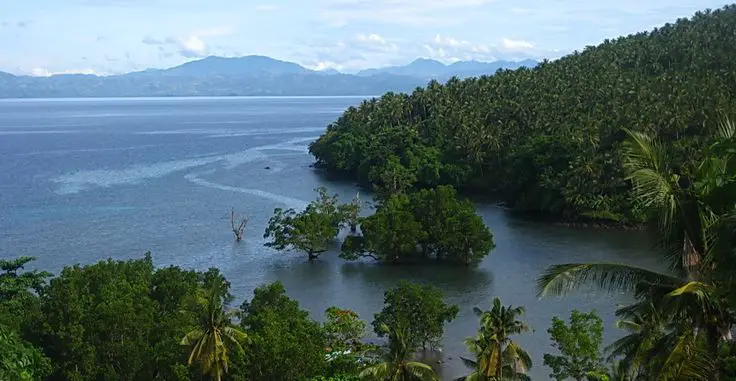 Lake Balut hosts naturally-grown freshwater species such as tilapia, catfish, and eels, making it ideal for fishing. It covers more than 10 hectares. The areas surrounding the lake offers potential sites for family picnic and camping.
Location/Jump-off: Sultan Kudarat
19. Kiga Falls, Sapala Falls, & Tabuan Falls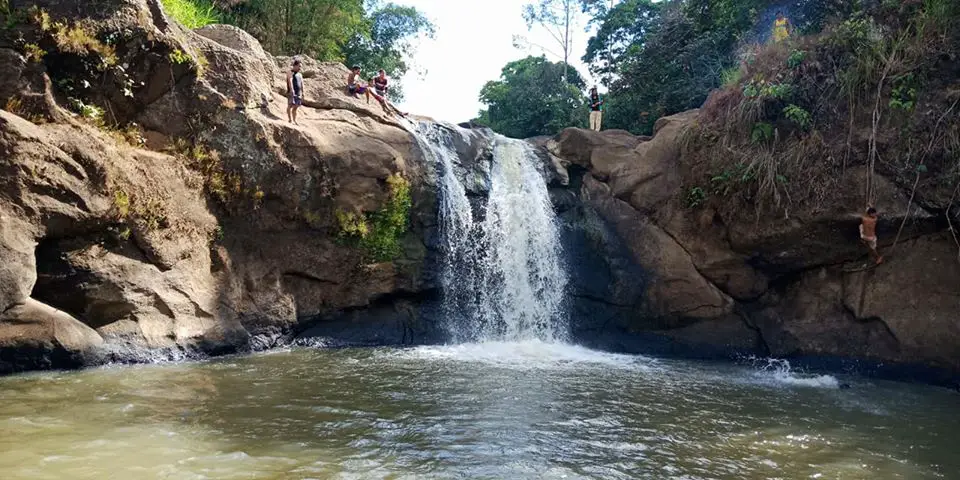 These three waterfalls in Upi municipality are among the potential Maguindanao tourist spots. They have cold and crystal-clear waters that will give you instant relief when you see them. According to the locals, the waters can cleanse and heal you of certain illnesses particularly cold.
20. Bogo Diving Spot
If you're into underwater exploration, then you should check out Bogo Diving Spot. It teems with a variety of marine species such as coral reefs and colorful fishes. It's one of the most preserved Maguindanao tourist spots. To protect it, the local authorities are promoting it for eco-tourism.
Location/Jump-off: Camp Gen. Salipada
21. Rio De Grande de Mindanao
Rio De Grande de Mindanao is the longest on the island and the second largest river in the Philippines. It comes from pristine forests upstream as brooks and streams which then converge to the mighty river it is. It traverses various towns and communities.
Even before the Spanish colonization, the river was used as a transportation and trading route. Along its stretch, one can find beautiful rock formations and other natural formations.
Related Articles