Mt Timbak in Atok and Kabayan, Benguet stands to more than 2,717 meters above sea level (MASL). This makes it the third highest mountain in Luzon, just after neighboring Mt. Pulag and Mt. Tabayoc. Mt Timbak also ranks among the top ten highest mountains in the Philippines.
It was a long holiday when I and two unexpected companions decided to climb Mt Timbak. I have been living in the city for a while and my feet couldn't wait to conquer new heights and set for thrill-filled adventures. Nature has always been my ultimate respite from the hustles and bustles of city life.
Let our Journey Begin
We wanted to catch the sunrise atop Mt Timbak.
So, we decided to make our trip as early as possible. We rendezvoused at Shell Station in Km 5, La Trinidad. Vans plying the Halsema Highway are stationed here. We took the first trip which departed at 3:30 a.m. After an hour and thirty minutes of ride, the van dropped us at what is called Km 55. Here, there is an alighting road. There is also a signage and a waiting shade there.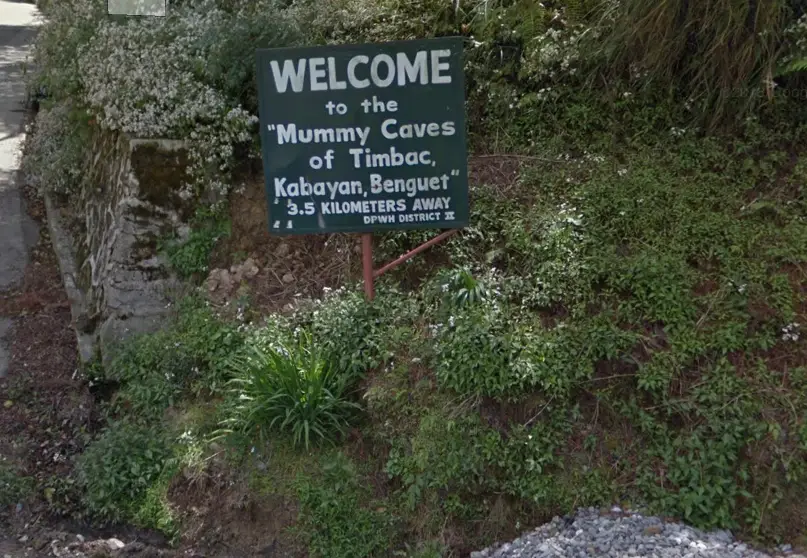 We then started following the road for some 40 minutes until we reached Timbak Elementary School. A few meters ahead of this, there was another road with a signage indicating that it leads to Mt Timbak. We trailed on this road for another 20 minutes until we reached the trailhead. From here, we hiked our way to the summit for around 10 minutes.
Yes, we finally reached the top! And we were just in time for the sunrise.
Just a reminder. It was a chilly morning walk. That is why, don't forget to wear thick jacket and other stuffs to warm you.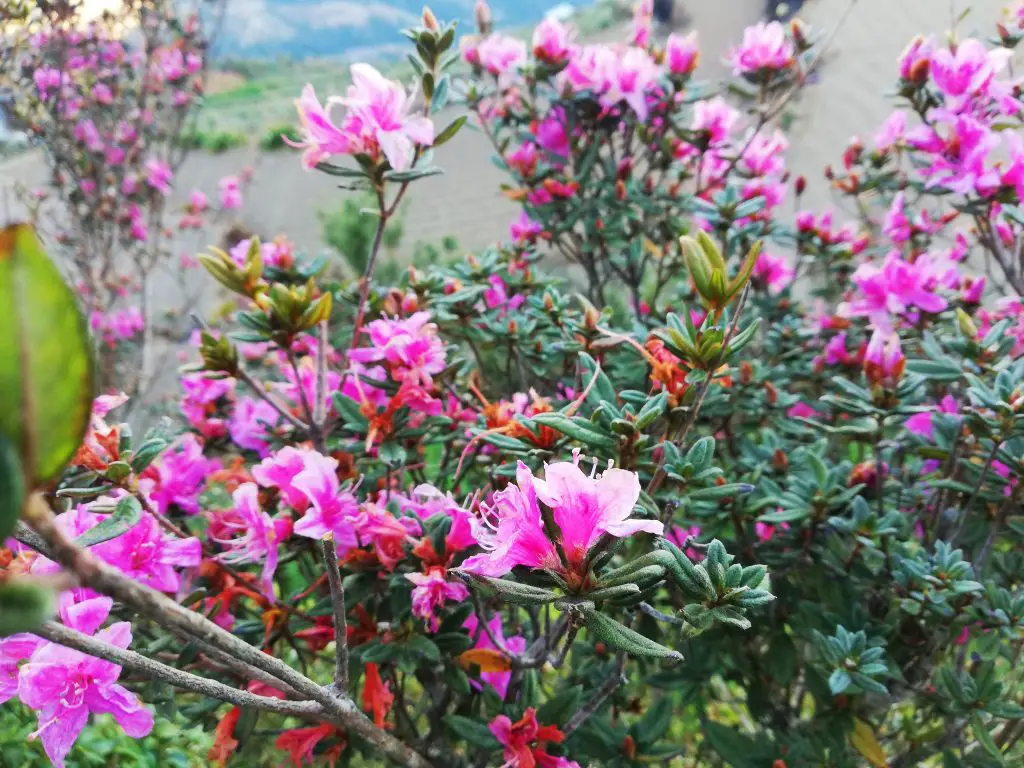 Behold the sunrise at Mt Timbak
As we gazed on the distance, we could see the bright-orange rays of the sun slowly peering over the mountains. After a few minutes, the sun rose and revealed its full display. Its glaring rays slowly uncovered breathtaking sceneries of towering mountain ranges and vast terrace of vegetable gardens.
From Mt Timbak's peak, we could see Mt. Pulag and Mt. Tabayoc. Other notable Cordilleran mountains such as Mt. Amuyao of Barlig and Mt. Kalawitan of Sabangan are visible from here. Unlike these mountains, however, the summit of Mt. Timbak has been converted into vegetable gardens.
According to a local, stunning sea of cloud formations occasionally occur. There is no definite period though of when such appear. So, if you chanced upon them, you are one lucky visitor. The famous Halsema highway can also be viewed here as it snakes its way among the mountains.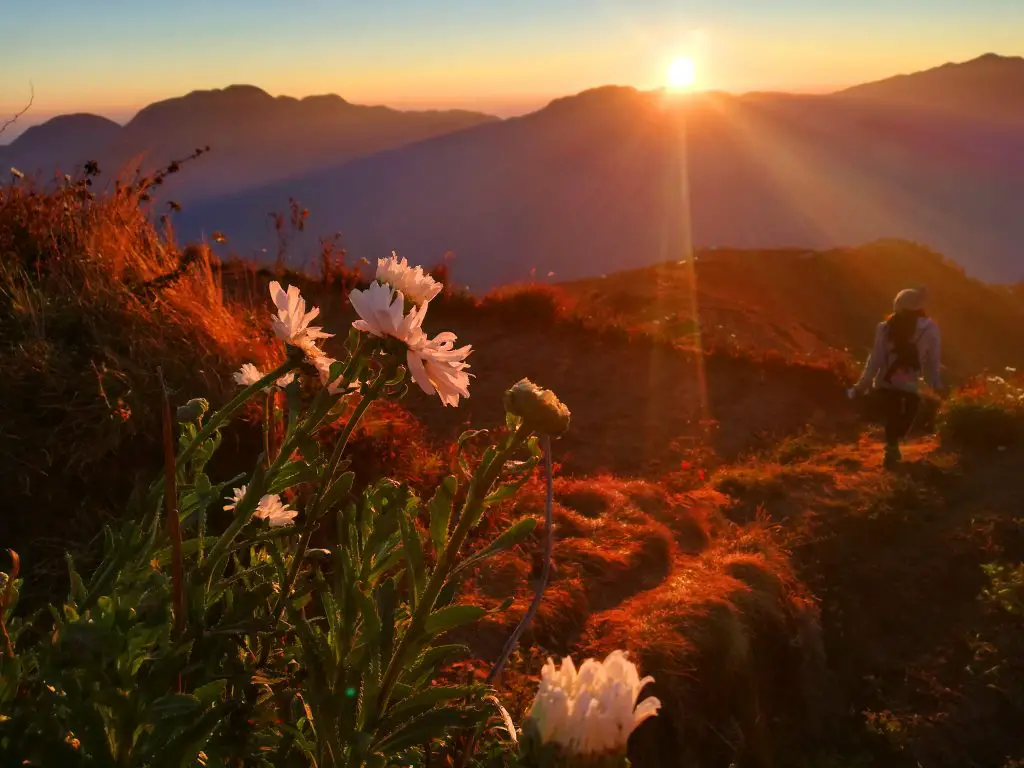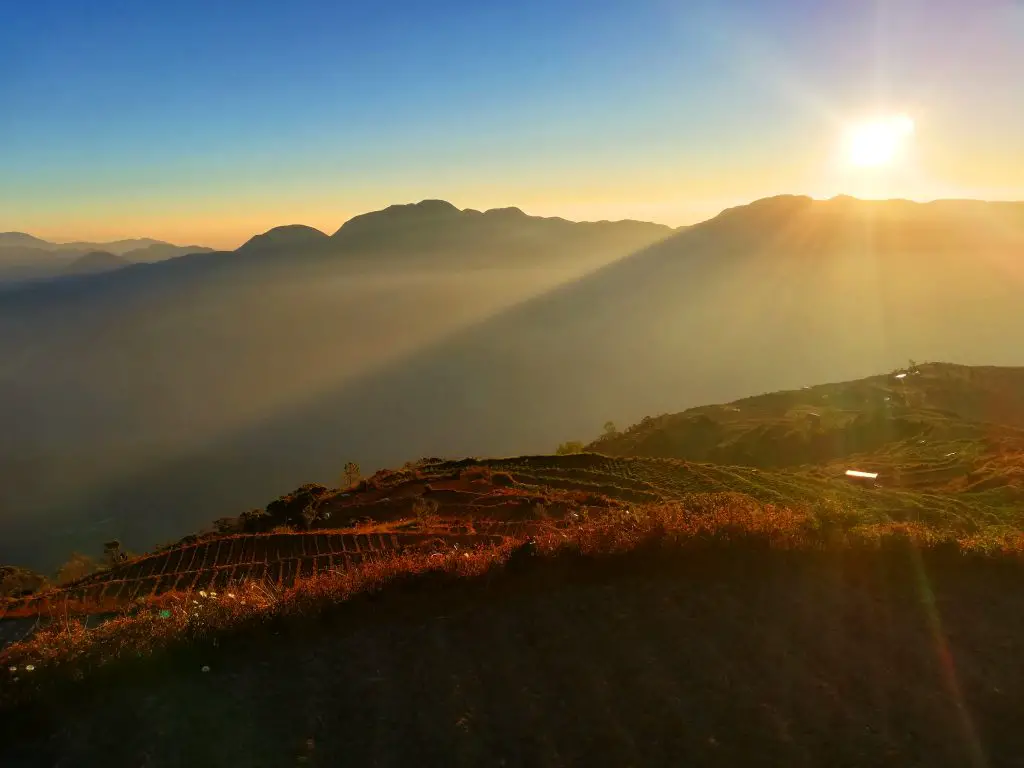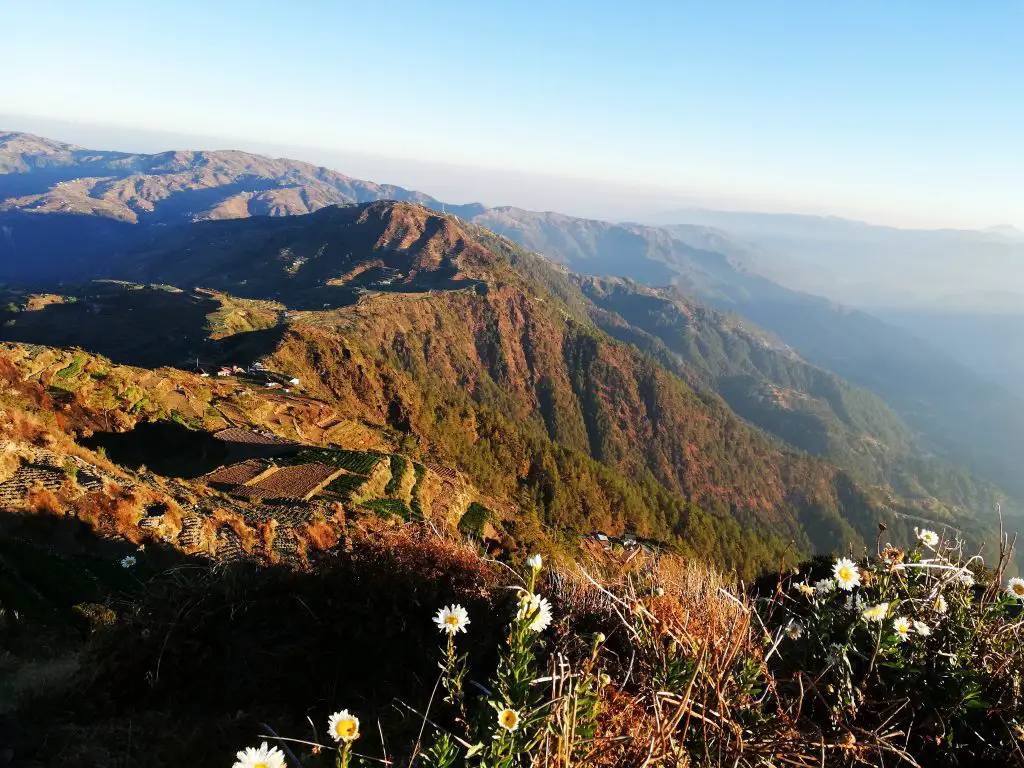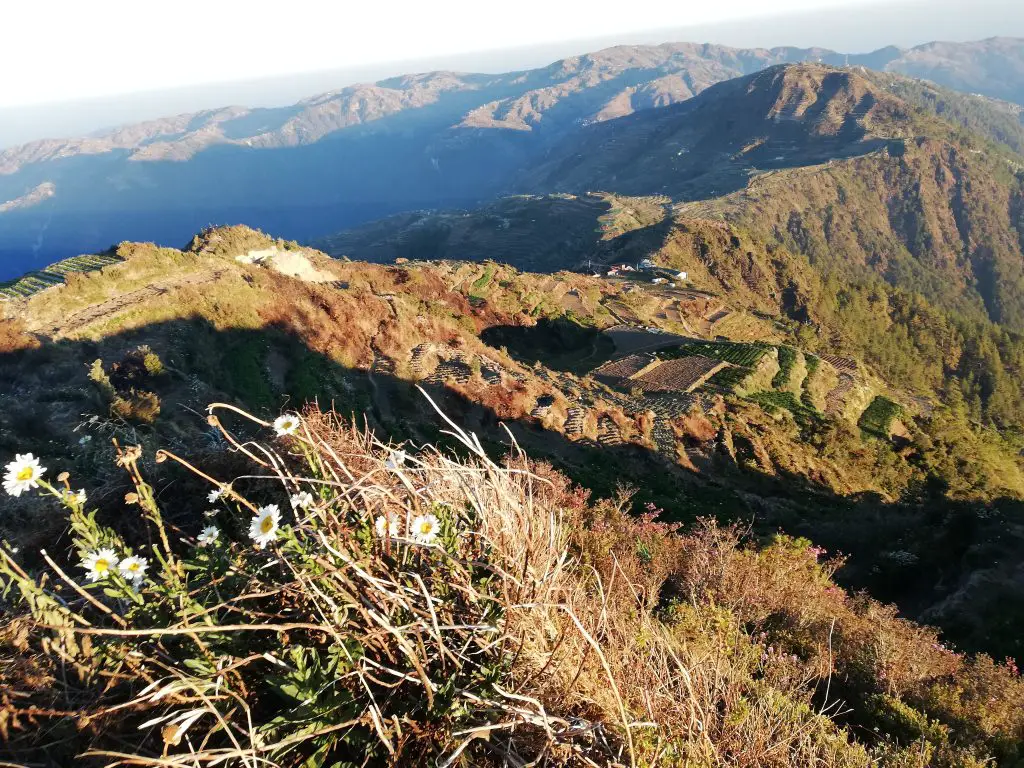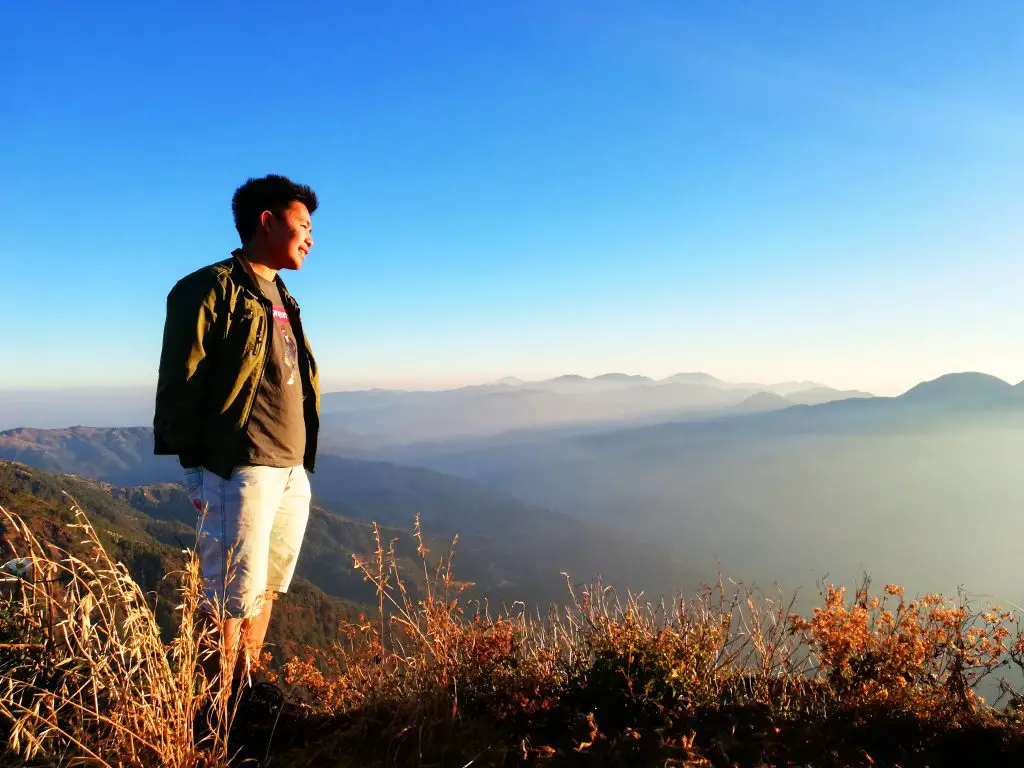 Extra sights to see near Mt Timbak
If you arrived at Mt Timbak's peak early in the morning and still have the energy for more explorations, you might as well visit other spots nearby.
First, there is the Station of the Cross, located just some minutes away from Mt Timbak's viewpoint. This is a suitable place for prayer and meditation. One local, however, mentioned that there are tourists who create loud noises and pose atop the crosses. I just hope that the local authorities will create guidelines prohibiting so.
On the other hand, one can walk for 30-40 minutes from Timbak Elementary School towards a mummy cave. It was temporarily closed during our visit. Entrance fee is 40 pesos. The locals have been imposing certain restrictions to preserve the mummies. For instance, taking photographs or touching the mummies is no longer allowed.
Third, you can proceed to the Highest Point viewpoint. Literally, the viewpoint is staged on the highest elevation of any national highway in the country. From here, you could glimpse of the towering height of Mt Timbak and its pine-covered lower elevation. There is also a waterfall at a distance. It measures around 50 meters high. It is best viewed during the rainy months.
From the Highest Viewpoint, one can then ride to the Northern Blossom Farm at Sayangan, Atok which is some 3 kilometers away. Every guest, however, first needs to pay an environmental fee of 20 pesos at the tourism office. On the other hand, the entrance fee for the farm is 250 pesos. The farm is around two hectares and it sits on a terraced slope. Mt Timbak can be viewed from here. Different flower varieties can be seen here such as sunflower and cabbage rose.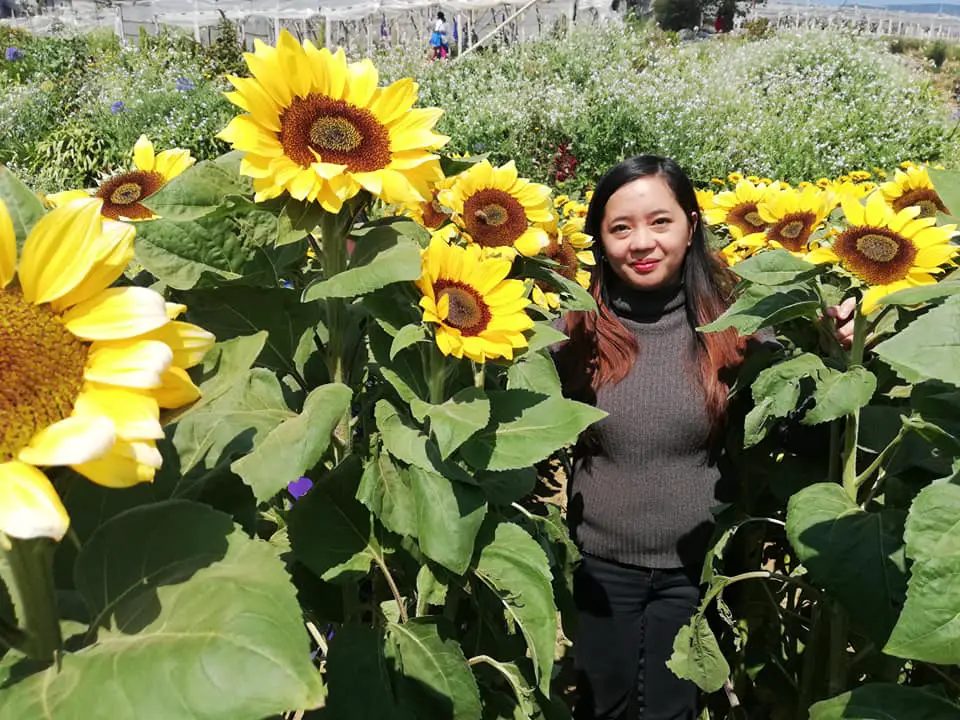 Tips and Reminders
The best views of Mt Timbak are its sunrise and sea of cloud formations. That is why, arrive here early in the morning. Or if possible, try camping for the night and brace yourself for a magnificent morning view.
Wear thick jackets. The weather is extremely cold during early morning and night time. You wouldn't want to catch a cold, would you?
Don't ever litter. As much as possible, bring back your garbage or wastes from where you got them.
Be careful when passing along vegetable gardens to avoid damaging crops.
If you plan to hike Mt Timbak in the middle of the day, be sure to bring an umbrella because of the simmering heat.
Don't forget to pay the environmental fee at the tourism office in Sayangan, Atok. That's one way for you to help in the local economy.
How to Get to Mt Timbak (Atok trail)
As I've mentioned earlier, we took a van towards the jump-off road to Mt Timbak.
However, there are also other options you can take.
First, take buses which ply the Halsema Highway from Baguio City. Among these are Rising Sun and GL Trans. Rising Sun is stationed at Slaughterhouse Compound in Lower Magsaysay. Time of departures starts from 4 am to 4 pm. On the other hand, GL Trans station is located Dangwa Station, at the back of Center Mall. Time of departures starts at 7:30 am to 2:30 pm.
Second, ride from the same van station (Km 5, La Trinidad) where we departed. Time of departures starts from 3:00 am to 3:00 pm.
Just don't forget to tell the drivers to drop you at Km 55.
Where to Stay/Eat?
There is a homestay near Mt Timbak if you choose to spend the night there. You would have to pay 300 pesos each night per person. The homestay also offers packaged and pre-cooked meals. Price rates for these ranges from 200 to 400 pesos. Cooked rice costs 25 pesos each. If you want to take a bath, you would also need to pay 25 pesos. The homestay could only accommodate a limited number of guests at a time.
So if it is already filled to capacity, you can try setting up a tent. Just ask the locals for a vacant space. You may also stay on lodging accommodations at Sayangan. From here, you can just ride a garage the following morning towards Mt. Timbak.
In addition, there is a store near the homestay. It sells common snacks and drinks. It also serves coffee. If you are looking for souvenir, there are locals selling potted ornamental of different species.
For your Information:
If you need more information that may help in setting up your itinerary to Mt Timbak, simply ask them on the comment section below. You may also message us on our Facebook Page namely, Daniel's Eco-Travels. I will be glad and more than willing to help you whenever I can.
Related Articles:
Please follow and like us: